Scanned, recopied or Internet copy, if there are errors, please e-mail me with corrections:
---
Opening comments: More at the end.

To the main Judicial Inquiry page - to the Hazel McCallion page.
---
Toronto Star - Oct. 7, 2009 - By Raveena Aulakh Staff reporter.

Post-mayoral career path:
Live With Regis and Hazel?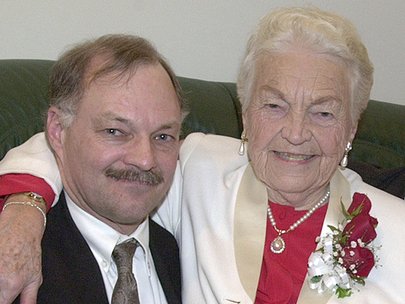 Hazel McCallion with her son Peter.
The Mississauga mayor said her son's involvement wasn't going to prevent her from pushing for the hotel.
KEN FAUGHT/TORONTO STAR FILE PHOTO
She laughed, joked, even sang.
Days after Mississauga Mayor Hazel McCallion found herself facing a judicial inquiry into allegations of conflict of interest, she was enjoying repartee with Regis Philbin.
On Saturday, she was in the audience at Casino Rama, where Philbin – of the New York-based Live With Regis and Kelly show – was performing. He recognized her, called her on stage and the two crooned part of "You Made Me Love You" to loud cheers.
Tuesday morning, McCallion was on Live With Regis and Kelly.
Dressed in a black suit with a black and pink scarf around her neck, she looked at ease as she bantered lightly with the two hosts, sitting in the audience as Philbin introduced her as the 88-year-old mayor of the town "adjacent to Toronto."
There was loud applause when she replied that she had been the mayor for 31 years.
The two joked briefly about the "Mississauga International Airport" – meaning Pearson, which is in Mississauga.
Co-host Kelly Ripa told the silver-haired mayor: "I feel like you are in charge of everything happening here right now." To which, McCallion demurred: "It's a team approach."
McCallion is in New York City for a conference, executive assistant Carol Horvat said. The visit to the show wasn't planned "but we knew it might be a possibility."
Philbin got to know McCallion last year when he was part of a bash in Mississauga celebrating her 30 years in office.
McCallion is facing a judicial review into allegations of conflict of interest after the Star unearthed documents related to a $14.4 million land deal involving her son.
---
Home Page - Main Table of Contents - Back up a page - Back to Top
---
[COMMENTS BY DON B. - ]