Scanned, recopied or Internet copy, if there are errors, please e-mail me with corrections:
---
Opening comments: More at the end.

A case Anser Farooq Barrister is involved in.
---
Toronto Star, Aug. 27 2010 - By Allan Woods, Ottawa Bureau
Police make fourth arrest in terror plot
Suspect's name not yet released, no charges laid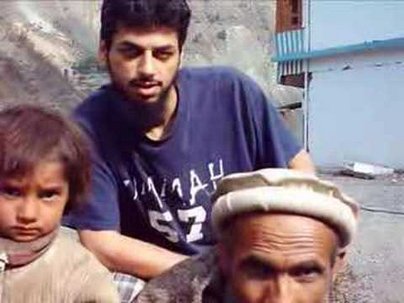 Khurram Sher in an undated photo.
SUBMITTED PHOTO
OTTAWA—Investigators continued to unravel an alleged domestic terror cell Friday with the arrest of another person apparently linked with a plot to bomb Canadian targets.
The Royal Canadian Mounted Police confirmed they had searched an Ottawa residence and arrested an individual, though no charges have been laid. Investigators wouldn't say what, if any link, they may have found to two Ottawa men and a London, Ont., doctor charged Thursday in an international terrorist conspiracy.
Crown prosecutor David McKercher broke the news of the fourth arrest Friday morning, saying that the charges could not be laid without the consent of the attorney general. He suggested that was just a matter of time.
"Additional investigative work will continue in the coming days and it must be recognized, of course, that every individual involved is innocent until proven guilty," the RCMP said in a statement Friday.
The arrest occurred as a London doctor, picked up at his home Thursday and flown to the nation's capital, made his first appearance in court.
Twenty-eight year old Dr. Khurram Syed Sher — his head slicked with hair product and dressed in a light grey dress shirt and dark grey trousers — appeared nervous and his eyes darted around the Ottawa courtroom in a brief appearance.
It was a far cry from the confident prankster Canadians were introduced to upon his arrest video of a 2008 Canadian Idol audition in Montreal showed him performing the moonwalk and singing Avril Lavigne's hit song "Complicated" while wearing traditional Pashtun dress.
"He's okay," said his Mississauga-based lawyer, Anser Farooq. "He's just been brought over, separated from his family, so we're hoping to address the main concern, which is to get into the court and hear the concerns the Crown has and get him back to his family as soon as possible."
Sher faces one count of conspiring to facilitate a terrorist activity in Canada, Iran, Afghanistan, Dubai and Pakistan. On Wednesday, RCMP national security investigators arrested Hiva Mohammad Alizadeh and Misbahuddin Ahmed at their homes in Ottawa. Ahmed faces the same charges as Sher.
Alizadeh faces the additional charges of possessing or producing explosives for terrorist purposes and financing terrorism.
Police say the group had instructional information and electronic material, including more than 50 electrical circuit boards that would have allowed them to remotely detonate bombs.
Money was also allegedly being sent overseas for use by unnamed terror groups active in Afghanistan to purchase weapons and other material to attack Canadian and coalition military forces fighting the Taliban and Al Qaeda.
The group was allegedly months away from being able to commit any acts, but police swooped in because they believed Alizadeh was about to leave the country to meet with international terror contacts.
All three will be back in court Sept. 1 for a follow-up hearing in Ottawa.
On Thursday police also named three co-conspirators — James Lara, Rizgar Alizadeh and Zakaria Mamosta — who are believed to be outside of Canada.
Farooq also represented several Toronto terror suspects in the 2006 police raids that resulted in 18 arrests, 11 of which eventually led to convictions. That group planned to bomb buildings in Canada's largest city, storm Parliament Hill and assassinate Prime Minister Stephen Harper.
Farooq told reporters outside the courthouse Friday that he sees distinct differences in the way police and Crown prosecutors are handling this case.
"It seems that the police have learned a lot," he said. "They seem to be quite more relaxed at this point in time."
The so-called Toronto 18 case began with coordinated late-night raids across the city, police snipers on the roof at court hearings and what Farooq said was a campaign of damaging leaks of information designed to condemn the suspects in the public's mind before the trial even began.
This time around, police have been more helpful with defence lawyers as they tried to make contact with their new clients.
"That has not been an issue for me anyway. That's what I mean by relaxed. There's a lot more understanding on the parts of the Crown and, I suppose, the RCMP, that counsel do have to get access to their client. That was a big problem in the beginning."
Sean May, Alizadeh's lawyer, said the approach may be attributable to the experienced Crown prosecutor appointed to handle the charges. McKercher successfully prosecuted the case of convicted terrorist Momin Khawaja, who was arrested in 2004 for his part in a trans-Atlantic plot.
In the brief court hearing Friday, Farooq requested a publication ban which he said was to prevent Crown prosecutors from leaking details of the government's case against his client, as he said happened in the Toronto 18 case.
But details continued to come out, including reports that police secretly entered one of the Ottawa men's homes some time ago and were able to replace the 50 circuit boards that had allegedly been produced with inert copies that would have been incapable of exploding a bomb.
"I think (leaks) are happening, but I query whether the information is even accurate," said May, who has already received a limited summary of the government's case against his client.
"I think there's an issue there and with so many people involved in the investigation I guess some things are coming out, but some are right and some are wrong."
---
[COMMENTS BY DON B. - ]