CBC News
- Wednesday, September 20, 2006.
2 claim attack by partying off-duty officers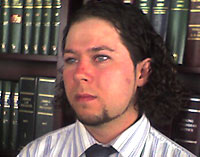 Richard Cimpoesu says his faith in the police force is shaken after
he claims a group of off-duty police officers attacked him and his friend.
(Dave Seglins/CBC)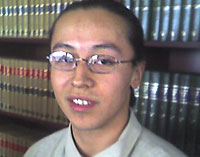 Orlando Canizalez said he can't even walk down the street without looking over his shoulder.
(Dave Seglins/CBC)

Two young Mississauga men claim they were attacked by a group of off-duty police officers they had videotaped holding a late-night drinking party near a police station.
A lawyer representing Richard Cimpoesu, 24, and Orlando Canizalez, 21, said the men snuck up on the party to gather evidence of ongoing disruptive gatherings involving police.
But when partiers spotted the two with a camera, Cimpoesu claims they were chased down by about 14 or 15 off-duty officers, who then beat them and tried to intimidate the pair into handing over the camera.
Cimpoesu said he managed to hide the tape during the chase. Taken at 2 a.m. on Aug. 28, the dark, jumpy video shows more than a dozen men and women drinking, swearing and yelling.
Lawyer Bill Bain says the people shown on the videotape clearly identify themselves as officers at various points.
"It becomes apparent from what they say they are police officers. They're talking to someone, calling him, 'Hey Sarge.' And at some point during the assault they identify themselves as police officers," he said.
The videotape has been turned over to the Peel Regional Police's internal affairs section. Investigators are looking into the allegations and reviewing the tape.
The two men are claiming false arrest, assault and a host of injuries, and want the police force to apologize and offer compensation.
Residents afraid to speak up about loud parties
Residents in the area of Erin Mills Parkway and Dundas West said they've been afraid to speak up about the noisy parties regularly taking place for more than a year in a back alley a half a block from the Peel police's 11 Division station.
"The two young men were endeavouring to gather evidence to make a valid complaint," said Bain, who noted that police officers blowing off steam at the end of a shift is not the problem.
Cimpoesu said he and Canizalez recognized some of the officers from neighbourhood patrols and wanted to put an end to the loud parties with video proof.
"There's a history," said Cimpoesu. "It's happened over a couple of years already. This is just more frequent and they are louder and they are more careless."
Meanwhile, Cimpoesu said the incident has shaken his faith in the protection the police force is supposed to offer.
"I'm scared. I can't walk down the street without, you know, having to look if there's any police after me," he said. "I have a hard time sleeping now. I'm upset at the whole thing."
Canizalez agrees, saying he can't even walk down the street without looking over his shoulder.