Scanned, recopied or Internet copy, if there are errors, please e-mail me with corrections:
---
Opening comments: More at the end.
"Chief Mike Metcalf has made this investigation a high priority,", I would say only because they have a video tape and they only have that because they were very brave to get it & took the beating (by criminal cops), rather than tell where it was hidden - these young men are true Canadian HEROES!
---
---
Toronto Star - Oct. 6, 2006 - Fri. - By Bob Mitchell, Staff Reporter

Officers eyed in party probe
Dozen or more asked questions
`High priority' for Peel police force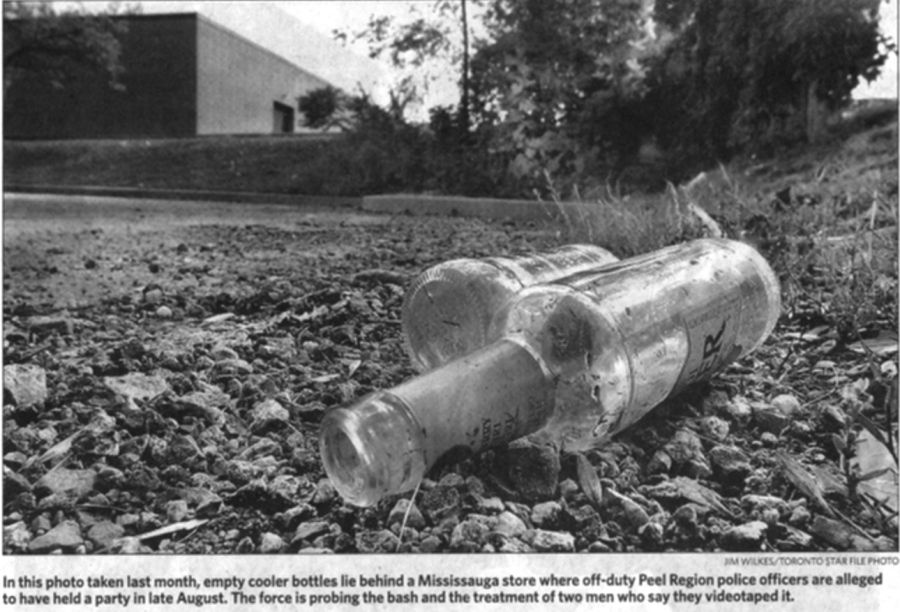 More than a dozen Peel police officers are now being probed for their alleged roles in a loud party videotaped by two young Mississauga men who claim they were roughed up when the off-duty officers discovered they were taping them.
Insp. Steve Mendyk, who heads Peel's professional standards unit, won't reveal specifics about the intensive investigation into the alleged party at the end of August.
But Mendyk said the force was taking the allegations of the two young men seriously.
"Chief Mike Metcalf has made this investigation a high priority," Mendyk said.
Interviews have already been conducted with several officers who worked the 11 Division platoon on the night in question and more officers are expected to be interviewed. Police sources have told the Toronto Star that all officers working a specific platoon that night have been asked to provide a full account of what happened, who attended the alleged outdoor beer drinking event and what their involvement was.
Sources have said that, if implicated, at least five officers could face criminal charges, and others could be accused of several different Police Act offences, including discreditable conduct.
Investigators with the force's professional standards branch have also extensively interviewed Richard Cimpoesu, 24, and his friend, Orlando Canizalez, 21.
The men say they were chased down by as many as a dozen male and female officers and then roughed up, with officers demanding they turn over their video camera and tape. But the young men said they ditched the camera while being chased by two different groups of off-duty officers behind a Mississauga strip mall and into a nearby townhouse complex.
They went to a lawyer the following day after retrieving the camera. Although the tape — said to have been shot between 2 and 4 a.m. — is grainy, several participants howling like wolves can be heard as they partied behind the Ethan Allen furniture store near Dundas St. W. and Erin Mills Parkway in Mississauga, just a few hundred metres from 11 Division.
---
Home Page - Main Table of Contents - Back up a page - Back to Top
---

[COMMENTS BY DON B. - ]