Scanned, recopied or Internet copy, if there are errors, please e-mail me with corrections:
---
Opening comments: More at the end.

Up to the Lakeview Power Generation Station Picture gallery & News article listing.
---
Toronto Sun - June 28, 2007 - By The Canadian Press

Lakeview blasted into history
15 large explosions as generating station demolished in cloud of dust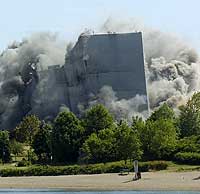 Lakeview Generating station comes crashing down, Thursday. (Dave Abel, Sun)
MISSISSAUGA (CP) — The Lakeview Generating Station in Mississauga has collapsed into a heap of rubble and dust after it was demolished by over 1,000 explosive charges Thursday.
After at least 15 loud booms, the building fell like a row of dominos from one side to the other, leaving thick clouds of grey concrete dust drifting out over Lake Ontario.
The controlled demolition had been delayed twice this week because of winds blowing inland toward populated areas.
With little wind Thursday, conditions were ideal when the station was collapsed just after 11 a.m.
The tall smokestacks of the old coal-fired plant — dubbed the Four Sisters — were demolished last summer.
Contractors will spend the next few months removing debris.
Closing the plant in April 2005 is said to have had the same environmental benefit as taking 30,000 cars off the road every day.
---
Home Page - Main Table of Contents - Back up a page - Back to Top
---
[COMMENTS BY DON B. - ]