Lakeview Power Generation Station
Picture gallery & News article listing.
- They blew it up real good! -

---
Murray Demolition has a web-site with its videos of the 4 smoke stacks being blown up on June 12-06.

Ontario Power Generation - OPG - also have video and information.

CTV has a fair amount as well.

Discovery Channel was out to film the end of the Lakeview Power Station, no idea when it will air.
---
Some overview;

Close-up of the Waterfront Trial sign to show general location of area.





City map of the Lakefront Promenade park.





There is the Port Credit Yacht club right next door, along with a kids playground with splash pad.



---
Dates & Events;

June 12, 2006 - The day that the 4 Sisters (smoke stacks) came down.

June 23, 2007 - The bombs are in place!


June 25, 2007 - First day that they didn't blow up the building.

June 27, 2007 - Second day that they didn't blow up the building.

June 28, 2007 - The day that they did blow up the building.

June 30, 2007 - The aftermath & beyond - mixture of pictures.

---
News Articles;


Sensitive issue
Mississauga News - Mar. 21, 2007 - Letter to Editor, by John Tory, Leader, Ontario Progressive Conservative Party, about Lakeview power plant.

Lakeview station will be dust in the wind
Mississauga News - June 7, 2007 - How to BLOW UP Lakeview Power Generation Station Mississauga, Ontario, Canada,
Real Good! Who say Terrorists have all the fun blowing up buildings?

Ratepayers balk at idea of another Lakeview
Mississauga News - June 23, 2007 -

Lakeview demolition delayed
Mississauga News - June 24, 2007 -

Big Boom is back on
Mississauga News - June 26, 2007 -

Powerhouse still standing
Mississauga News - June 27, 2007 -

Mississauga 'demolition' smashes crowd's hopes
National Post - June 28, 2007 - Has a great listing of what - or did not happen - at what times.

A blast takes care of the past
Mississauga News - June 28, 2007 -

Demolition delayed ... again
Mississauga News - June 28, 2007 - Interesting that it was dated the same day that the power plant was in fact blown up. Does note it could off later in the morning, is this an effort to serve people who live minute to minute by looking at their computers?

Weather delays demolition of plant
Toronto Star - June 28, 2007, 4:30 am - The delay was about what happened on Mon.

Lakeview power station demolished
Toronto Star - June 28, 2007 11:11 am - WOW talk about filing a story in record speed!

Big bang in Lakeview: Finally
Mississauga News - June 28, 2007 - Better picture then was on the cover of the printed edition.

'Holy sugar, that's a really big plume'
National Post - June 29, 2007 - Has a great listing of what happened at what times.

Plant reduced to rubble
Toronto Star - June 29, 2007 -

Lakeview blasted into history
Toronto Sun - June 28, 2007 - Good picture.

Lakeview power plant demolished by explosives
CTV Toronto - June 28 2007 11:06 am - On their web-site has video.
---
Dates & Events;
---
A video of the 4 Sisters
- smoke stacks -
being blown up.
From the Murray Demolition web-site.
"4 Sisters Drop - June 12-06On June 12, 2006 ,
Murray Demolition dropped 4 towers and 4 stacks
at the Lakeview Generating Station in Mississauga . Because of the historical significance, nearly every local paper and TV station ran the story and the highlights could be heard on most radio stations.
Video courtesy of Toronto Star."


New photographs from the public!

Stephan van Heerden has forwarded the pictures he took with his new camera, a Canon EOS 30D, with a Canon EF 100-400MM lens with a 1.4x Tele Extender.
He was standing pictures on the Etobicoke side of the creek just east of the Lakeview Power Plant
when the smoke stacks started to come down.
The first picture shows the 1st stack just starting to move (fall).
If you look close, you look down the top of some stacks.

















People who were out on the Lake Ontario in their boats to watch the event, reported eating the dust from the falling smoke stacks and yes it did leave a bad taste in their mouths.

Which reminds me - ever heard of the Lakeview cough? Some doctors have told me about as it affected many children.
---
June 23, 2007 - Sat.



Just before Mon., and when the implosion was to have taken place, took some pictures and it was pointed out to me that you could now see the bombs strapped to the exposed upright breams. A row of black boxes all in a row only a couple feet below the horizontal beams.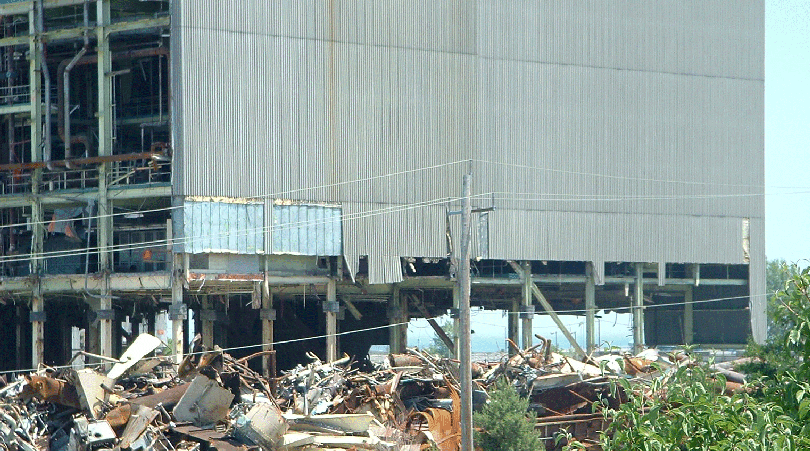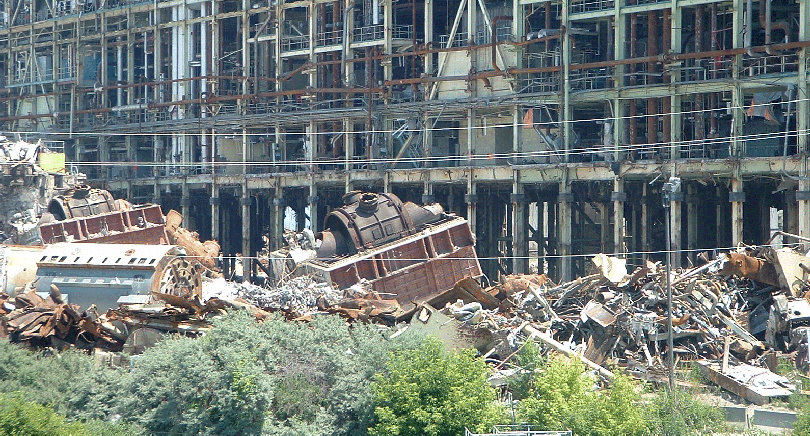 Lakeview waits for its fate like a huge ship that lost its way & ran aground.

---
June 25, 2007 - Mon.



Time & date extended due to weather!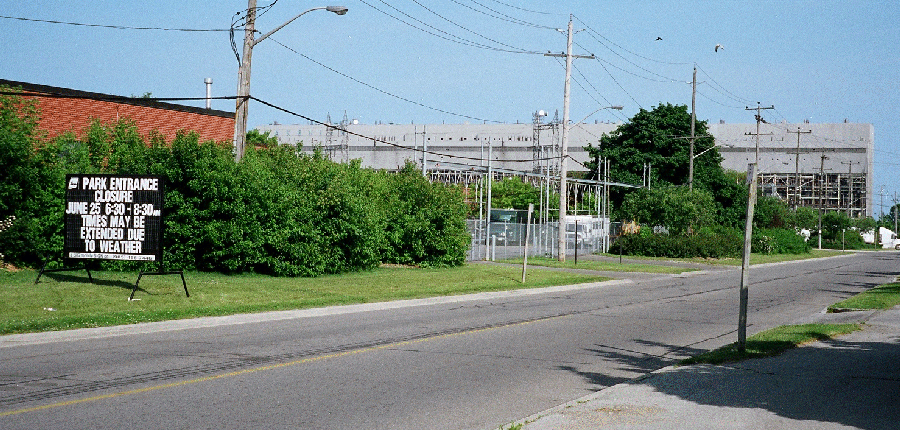 I was out to a part of Lakefront Promenade Park that was fairly removed from pre-July 1st., fireworks or so we thought there would be. Below - it was fairly far away and where I was for the falling of the 4 Sisters and waited and waited and waited ... till heard that it was a no go due to lack of wind & in the right direction.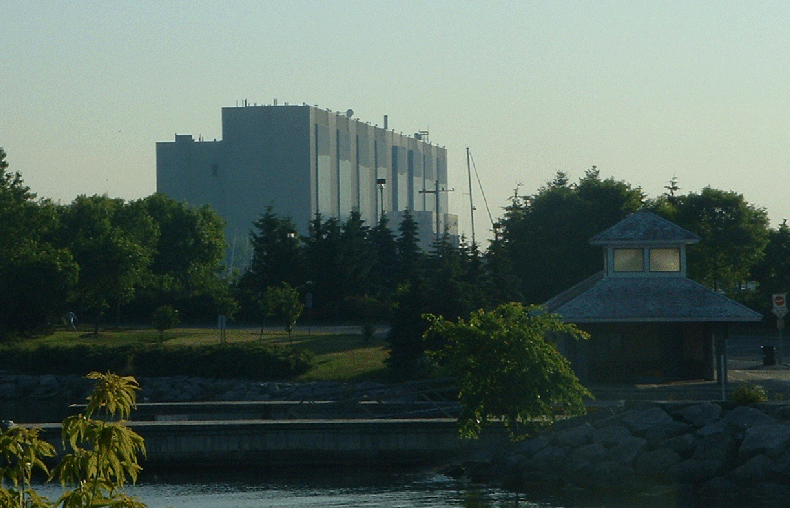 Now with nothing better to do, I rode around looking for the best place to take pictures from for the NEXT time. Asked around and discovered that special members of the community were being allowed to view the event from a roof top close by. So I spared no effort to secure a space along with them.
---
June 27, 2007 - Wed.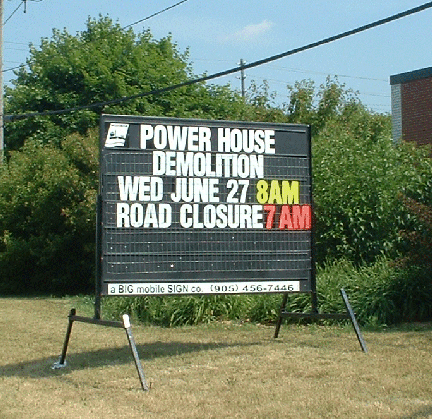 Two great roof views to show the overall site better.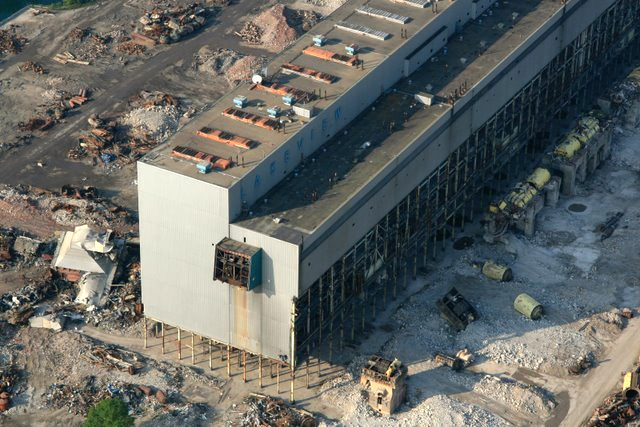 The Lakeview Generating Station in Mississauga, Ont. as seen from the air on
Wednesday, June 27, 2007, by Tom Podolec / CTV News.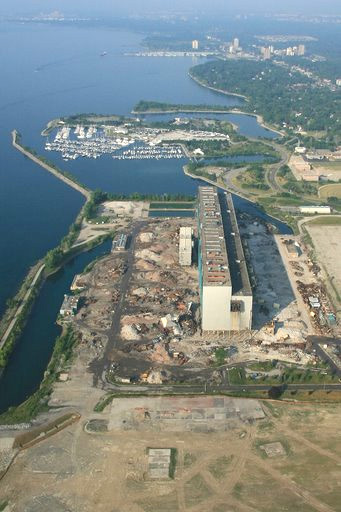 The Lakeview Generating Station in Mississauga, Ont. is seen from the CTV News helicopter on
Wednesday, June 27, 2007. (Tom Podolec / CTV News)

Best in the house - the building in the background is the Waste Water Treatment plant or sewage works. It was a hot day, so the smell that greets you is special. A number of people showed up take pictures from the roof top which was at the south end, those white towers with the black gap between them. In the below picture you can see two large sets of wings, do not know what they are for but likely some thing to do with fact there was an airport on the land years ago.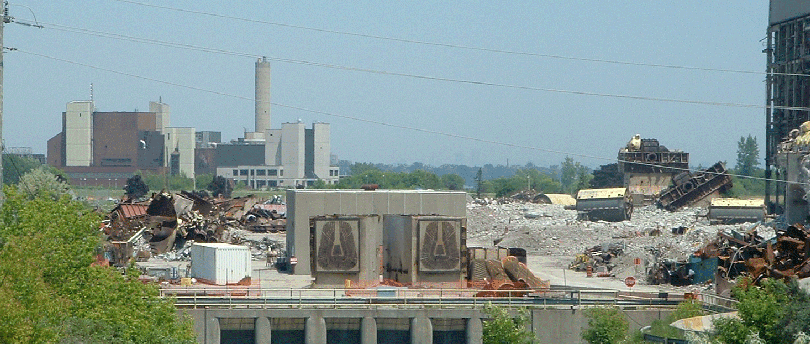 The Waste Water Treatment plant looks like this from the air. The area was to store coal can be easily seen to the right in the picture and the tower we were in was at the south end of the property. There was even coffee and cookie, muffins served - workers got most I think.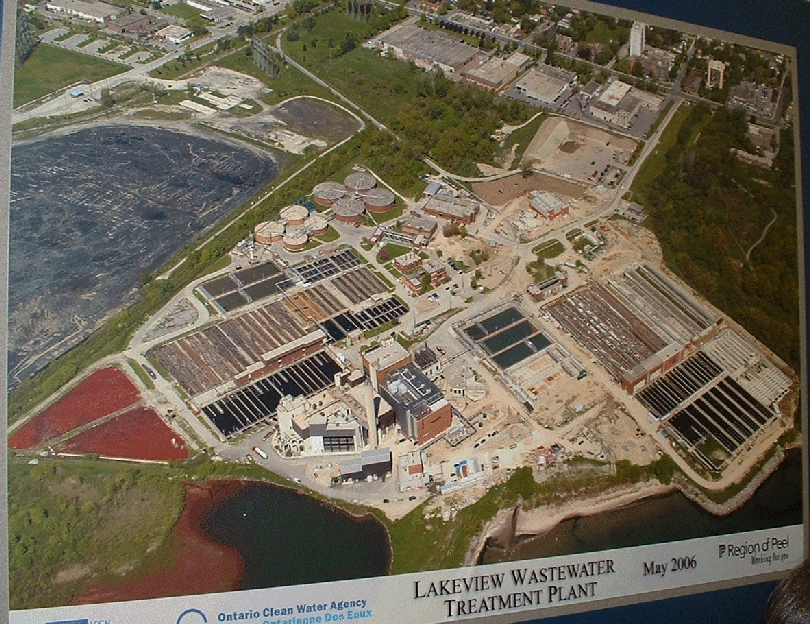 One of those from the community I met on top of the sewage works - Tim Peterson local MPP. I went up to him after it was announced it was canceled for the day and said no blow up today and he replied that in his life, that is a good day - hhhmmm wonder what Freud would say?
It was a hot & hazy day - could not even see Toronto.



It was not a good day for taking pictures.



The wind from wrong direction and light. Actually towards us, so just as well they not light the fuse.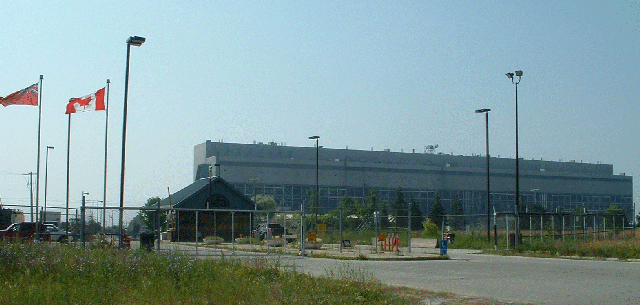 Day dragged on as one time canceled and next set. Watched the Canadian geese going on a walk or waddle.





Returning ...



And going again ...



The media packing up.



Close up of the CTV remote truck which appears to play a greater role in events then some would guess.




Murray Demolition calls us out to a exploding party and fails to delivery.

---
June 28, 2007 - Thur.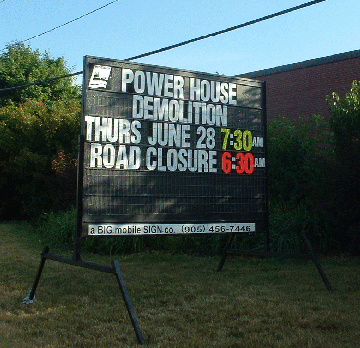 The roads were closed.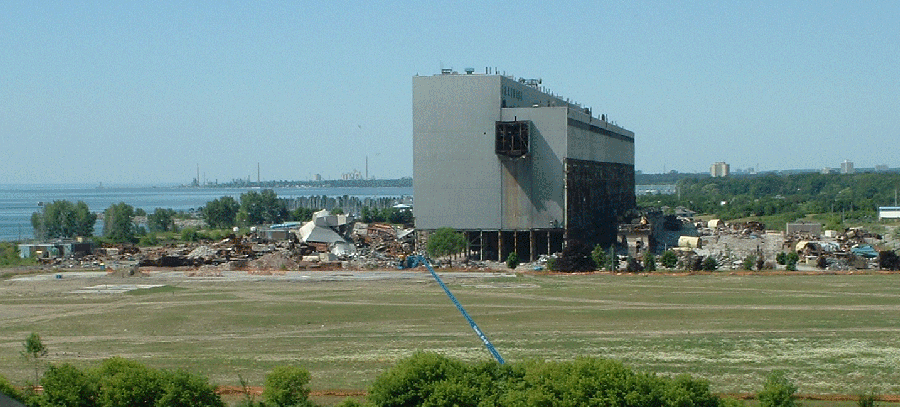 Best seat in the house again & it rained early in the morning so the air was clear. This time had an assistant - my Father - who has never been building blowing up party.


Oh, can you see the explosive charges? And that big hole in the side of the building - that is where the coal was feed into the building from the field it was stored on, which just happened to be between the blue skycrane and building.

June 28-07, just after 11 am and just before the charges were set off. Note the blue skycrane in the foreground, it was not seen before or on any of the other days, so it was not put up till they knew it was going down. The public who were waiting - for days - was not so well informed as to events. The notice said it was to take place at 7:30 am and the winds were good so why the delay?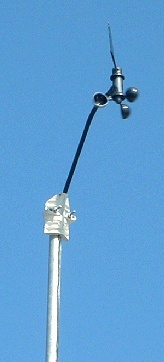 Looking north.

Well for one the CTV remote truck did not show up till after 8 am and then it would need time to set up, general feeling that we were made to wait for others who were taking their sweet time. Another reason this is a very point matter for me is that I had an old and expensive camera set-up with a motor drive on it - the wind was strong enough to blow it over but not strong enough to blow a cloud of dust out over the lake? Yeah, right!



Note that in the left of this early picture no CTV truck and later on a CTV truck



Still we wait .............




And by all accounts the on again - off again demolition count down was responsible for one of the worse weeks for production at the works.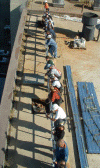 Suddenly see smoke in the distance and people wonder if wrong building has been blown up.



Here are some great pictures that I did not plan on getting but in the heat of the moment (and it was very hot after other camera fell and smashed!), took some panoramic shots. Personally in pictures, I want to see the whole scene like I was there to witness it.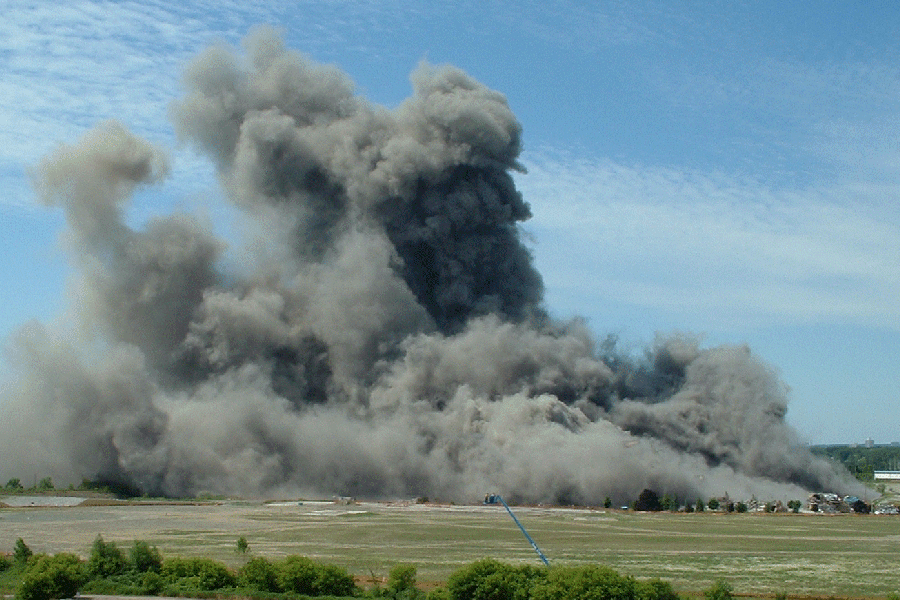 What a cloud of killer dust. Can you imagine what would have happened if it drifted over the Port Credit Yacht Club?
The number of rich members lining up with law suites - my boat is dusty, buy me a new one!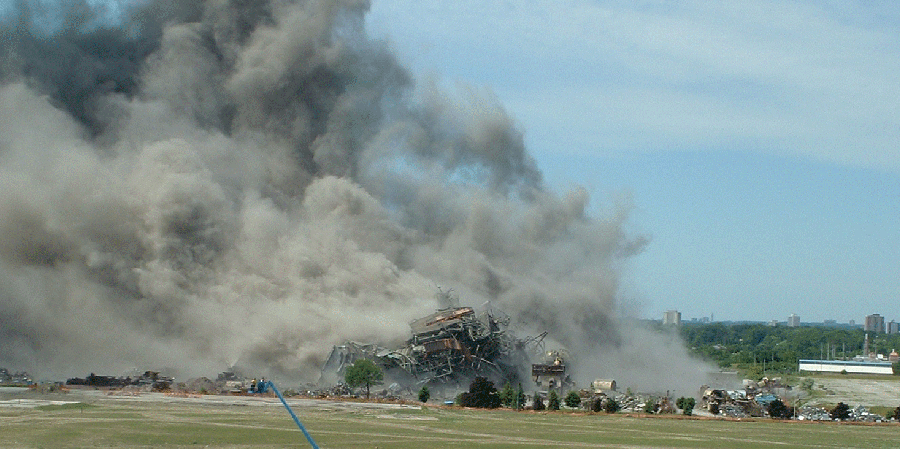 What is that I see? There is still a fairly tall building hiding in the dust.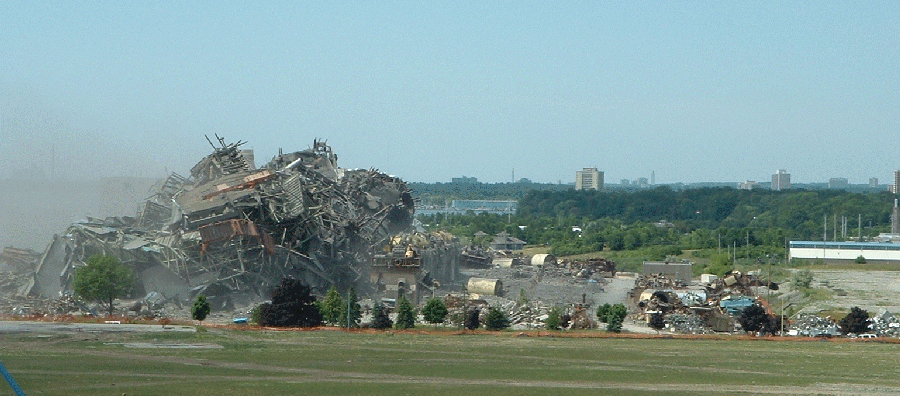 Dust is clearing after only a few minutes. Interesting how it rose up like horns, below. Didn't Hazel had a role in the building of this plant?

| | | |
| --- | --- | --- |
| My Fathers pictures | From digital camera | From my smashed camera |
| | | |
| | | |
| | | |
| | | |
| | | |
| | | |
| | | |
| | | |
| | | |
| | | |
| | | |
| | | |
| | | |
| | | |
| | | |
| | | |
| | | |
A Mississauga cyclist appears not too impressed with the change in scenery.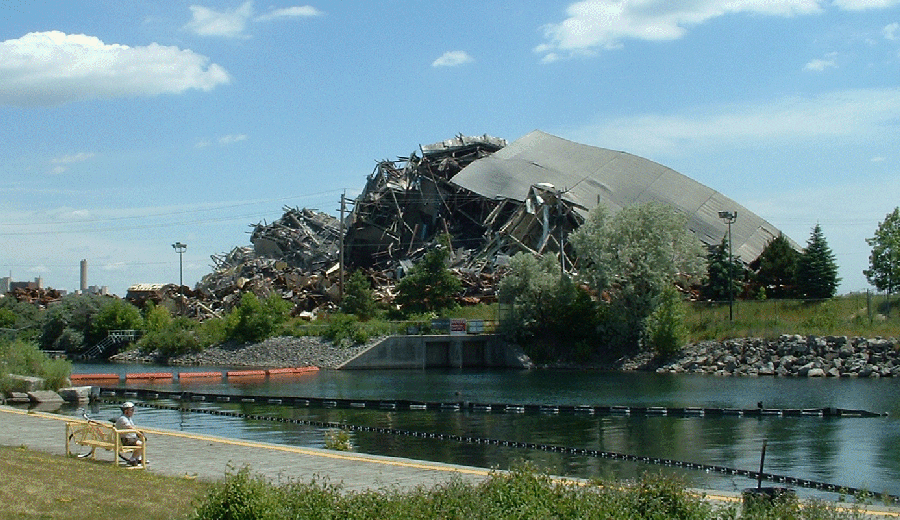 ---
June 30, 2007 - Sat. & beyond - the aftermath.

The banging of sheet of metal in the wind can be clearly heard just as you can smell and taste the dust as it is wiped up by the wind, as a man made hill rises behind a natural one. Note the sheet metal wall that was showing is now gone.




Shots of how the scenery has changed (maybe not to the better - in the short term), from June 2006 to June 2007;



To

To


To

To


To

---
Last word - We can Only hope!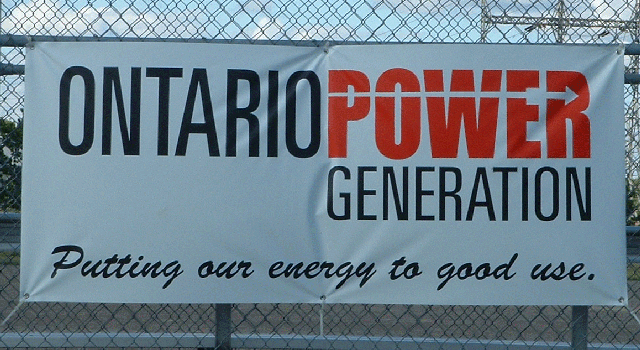 ---
Home Page - Main Table of Contents - Back Up A Page - Back to Top
---

Boingdragon Counters
---