Scanned copy, if there are errors, please e-mail me with corrections:
---

Opening comments: More at the end.

The Apr. 4, 2008, letter from Janice M. Baker, CA - City Manager and Chief Administrative Officer, notes the matter has been reopened and that she will work to "map out a process and structure as to how these complaints will be handled". Clearly I was right! And that complaints will be investigated - in some way. Not kidding self, cover-up is the name of the game at Mississauga hall but this is the second time I have shot down a City lawyer in Council chambers!

Proof also that no one should accept a letter from a government lawyer as being a fair judge of a complaint.
---

Apr. 4, 2008

RE:
Formal Complaints regarding the conduct of:
Brenda Breault, Commissioner, Corporate Services & Treasurer;
Mary Ellen Bench, City Solicitor; Crystal Greer, City Clerk;
Pina Mancuso, Elections Officer and City Security Staff and the City of Mississauga

I have received the four complaints you sent to the City of Mississauga dated March
25, 2008.

As these complaints relate to a number of City employees, I will require some time to map out a
process and structure as to how these complaints will be handled. I expect to be in a position to
bring a report to General Committee on May 6, 2008.

Yours truly,

Janice M. Baker, CA
City Manager and Chief Administrative Officer

c: Mayor and Members of Council
Brenda Breault, Commissioner, Corporate Services & Treasurer
Crystal Greer, Director, Legislative Services and City Clerk
Mary Ellen Bench, City Solicitor
Pina Mancuso, Elections Coordinator
Jamie Hillis, Manager, Security and Operations

---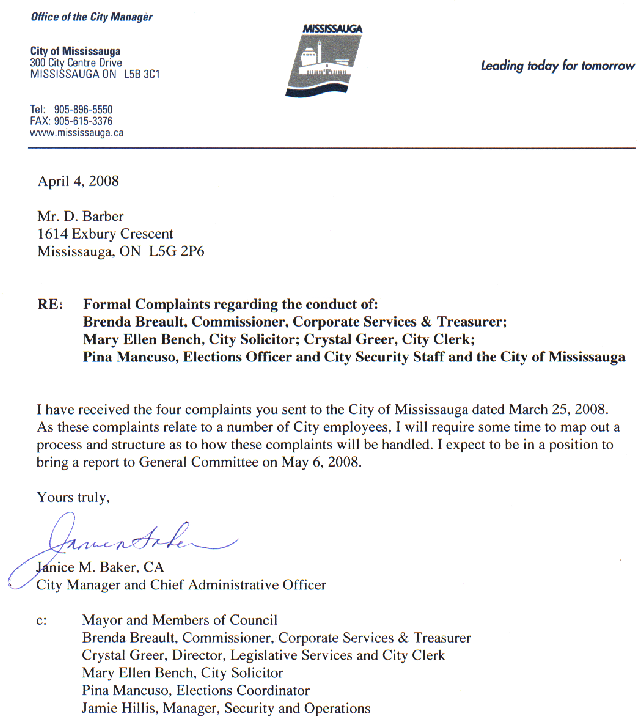 ---
Home Page - Main Table of Contents - Back up a page - Back to Top
---

[COMMENTS BY DON B. - ]