Scanned, recopied or Internet copy, if there are errors, please e-mail me with corrections:
---
Opening comments: More at the end.

Given Hazel McCallion's character, would she not be the ultimate backseat driver?
---
Toronto Star - Apr. 30, 2006, 09:57 AM - By Louie Rosella (Mississauga News), Special to the Star
- mostly the same as - It's time for a driver, mayor concedes - different title - Mississauga News - Apr 28, 2006 - By Louie Rosella.
This article come in two flavors - politically correct and not.
The printed version is not so politically correct and likely someone called up the Star and gave them an ear full about damage control.
The printed version has the main title of Who'll be driving Miss Hazel?
Which in the Internet version was dropped along with the picture of the black chauffeur with the demanding southern bell, like in the movie. It has been noted to me that the chauffeur looks a bit like Cliff Gyles.
---
Who'll be driving Miss Hazel?



Chauffeur being reconsidered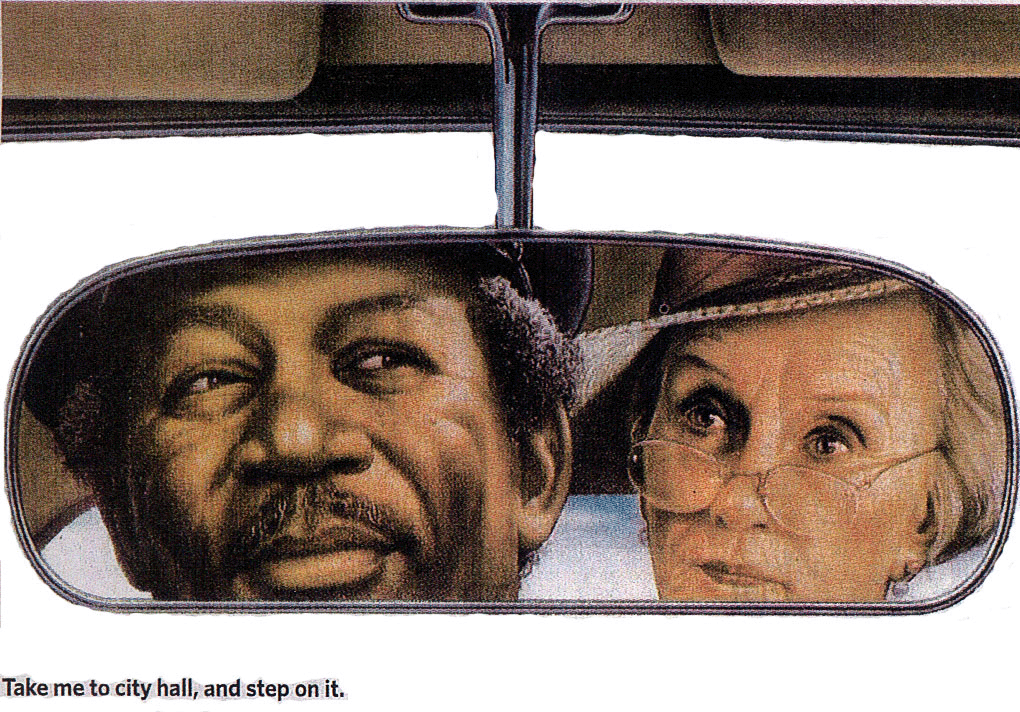 Mississauga Mayor Hazel McCallion admits it's time to get a driver.
After years of resisting the advice of family, friends and city councillors, the 85-year-old mayor said in an interview Friday she should no longer be driving everywhere on her own.
The decision came following Wednesday night's accident when McCallion crashed her car into a signpost while travelling home from a Peel Regional Police function.
Although the airbags deployed and the front-end of her Buick was severely damaged, a visibly shaken McCallion walked away from the crash uninjured.
The mayor said she was taking a business call on her hands-free cellphone when the crash occurred, but insists that had nothing to do with the collision.
"I took my attention off the road, simple as that," she said.
Peel police are investigating the circumstances surrounding the crash and plan to interview the mayor tomorrow; the investigation will focus on speed, traffic and road conditions.
Asked if the accident fuelled her decision to consider a driver, McCallion said: "I'm not sure. It's been more the support and concern of citizens that made me go that way."
McCallion and City of Mississauga staff will consider having a driver take her to work-related functions.
"It would make me very uncomfortable to have someone come and pick me up at home in the morning and wait on me all day and night. That would bother me," she said. "But having a driver available at work is a good idea. I wouldn't mind it if City staff would basically look at my schedule for the week and decide along with me which events I should be driven to."
McCallion said she received a call from Brampton Mayor Susan Fennell after the accident. Fennell's staff has a contract with a driving company that is on call when needed, to take the mayor to various events.
"That's something I would be comfortable with," McCallion said, adding there are safety risks with driving to and from places alone at night. "Council has always been very supportive of me having a driver."
McCallion also pointed out that with a driver, she can get important work done on the way to functions.
Asked whether she's concerned she may be charged with a Highway Traffic Act offence or get a ticket for Wednesday's accident, McCallion said: "It's entirely up to the police. I won't shy away from paying a fine if I've done something wrong."
She paid an $85 fine three years ago after making an improper left turn in Streetsville.
Ontario's Senior Driver Renewal Program requires drivers aged 80 and over to complete a vision and knowledge test every two years -- a test the mayor says she passes every time.
---
Internet version;
Has only a file picture of Hazel McCallion in some kind of terminal and how it relates to the story I do not know.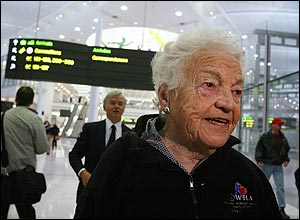 BERNARD WEIL/ TORONTO STAR
Mississauga Mayor Hazel McCallion, 85, thinks it may be time to get a driver. ( you think? And no jokes about air bags! )
---
[COMMENTS BY DON B. - ]