Scanned copy, if there are errors, please e-mail me with corrections:
---

The Mississauga News - June 24 / 1998 - No credit for story [2].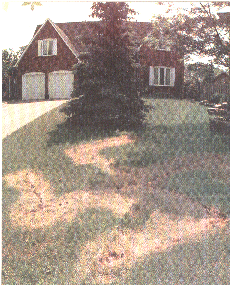 Staff photo by Rob Beinteme

An unwelcome sign for her honor

Mississauga Mayor Hazel McCallion awoke to this unwelcome sign etched into her front lawn Saturday morning - a swastika - burned into the grass with kerosene. Two young offenders have been charged.
See story page 2.

Vandals target the front lawn of the mayor

Mayor Hazel McCallion was able to tip police to possible suspects after swastika was burned into her lawn in an incident early Saturday morning.
"I slept through it," the mayor said Monday of the incident, where someone used kerosene to bum a 12-diameter swastika into part of McCallion's lawn and part of her neighbor's. McCallion, her son and their dog Hurricane all slept through the 3:40 a.m. fire on their lawn. In fact it wasn't until McCallion was pulling out of her drive the next day that she was stopped by police and learned of the incident. "The police are well on the way to finding the guilty party," the mayor said. "It was not done because of any political statement" she added. [ 1 ]

"I was able to direct them to what I thought might be the reason," added the veteran politician, who lives in the Streetsville area. "I told them about some possibilities and there was one thing they quizzed me on. They've taken lead." Later that same day, police arrested two Young Offenders, aged 16 and 17 and charged the with mischief. They made their first appearance court yesterday. McCallion didn't express great concern about the incident, suggesting it was symptomatic of a general problem. "There's, been a lot of vandalism going on in Streetsville recently, especially late at night," she said. "The police are giving special attention to the area." It is expected to cost about $150 to replace the sod. McCallion expressed regret that the culprits had damaged her neighbor's lawn as well as her own
---

[ COMMENTS BY DON B. - Maybe this is not the first clue Hazel has gotten that people don't love her.

[ 1 ] - Maybe it was a comment about her personally? But how would she know at that point in time any ways? Maybe she just says it knowing no one will question it.

[ 2 ] - Maybe the reporter was afraid to report that some people really dislike Hazel McCallion.