EVENTS;
---
Sept. 6/2000 - Bob Hunter from CITY - TV comes out to cover the Cawthra Bush being declared at
Provincially Significant Wetland Complex, story and City staff show up to harass & intimidate us!
That is right the City strikes BACK!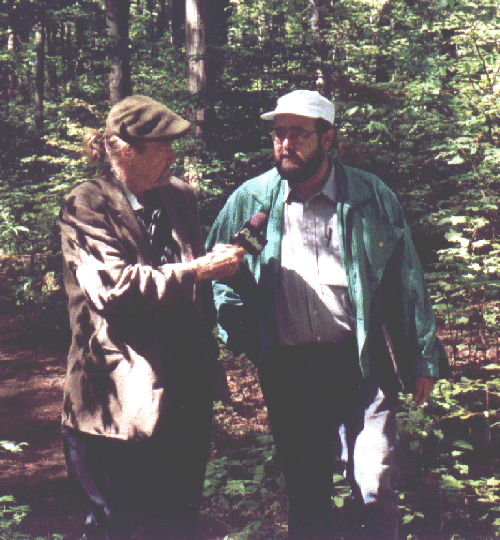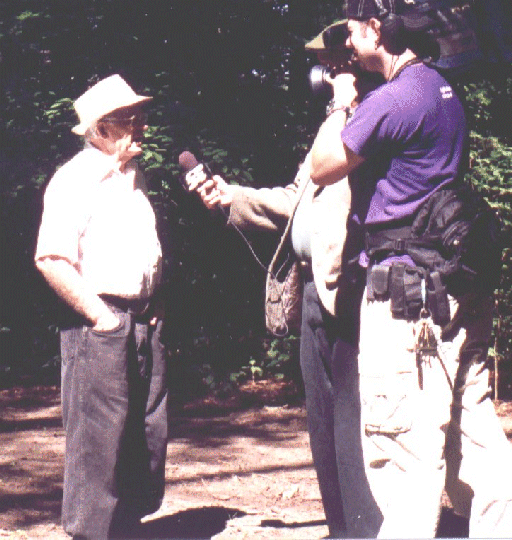 Bob Hunter interviewing Mr. Barber - Mr. Morgan and below C. Hucker.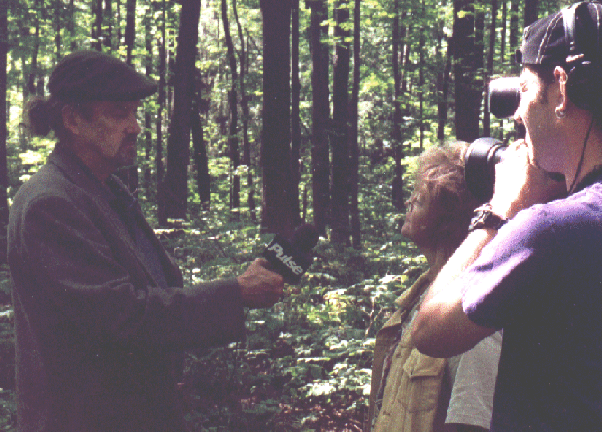 The interview went very well and this was the third time City TV has covered the Cawthra Bush story.
City TV - 57
- interview & shooting at the Cawthra Bush Sept. 6, 2000
- Aired Friday Sept. 8/00 6:00
Announcer;
Ecology and development are on opposite sides of a battle. Our ecology specialist Bob Hunter says we haven't seen the end of yet.
Bob Hunter;
This is a dried up wetland in the middle of the Cawthra Woods, in Mississauga, an area where a battle has been raging for six years to preserve it from development. A battle that is far from over.
Don Barber;
Ultimately we want to save it as a old-growth/wetlands ecosystem, natural and wildlife sanctuary and as a, primary as a educational rather then a recreational area.
- The Jefferson salamander has been found in the Cawthra Bush, it is declared provincial rare,
- the bottom third of this forest has never been touched. Except for the occasional tree being cut but, it goes all the way back to the ice age.
Mr. Morgan;
When we moved into our house in 52, the frogs, there was a chorus of frogs. We just look out our back window and go to bed sleeping, go to sleep with a chorus of frogs. Now there isn't a frog to be heard.
C. Hucker;
There should be birds everywhere and creatures everywhere and we use to have them encroach on our properties, in our back yards, and that has to come back.
John Lohuis, Director of Recreation and Parks, City of Mississauga;
Council has spent a lot of money both on acquiring the site and interpretation of the site to make sure we can retain for future generations, that is entirely the objectives. So the objectives are the same. [ 1 ]
Bob Hunter;
So far as the City of Mississauga is concerned the fate of the Cawthra Woods seemed to have been sealed by a Master Plan that can not possibly be changed but the people who want to preserve it area in its natural state have not given up. I am Bob Hunter in Mississauga for City Pulse.
1 minute and 33 seconds.
Before the City TV crew showed up, a man drives and started to act very strangely. The picture below shows him parking in the entrance way of a parking lot, requiring the City TV van to drive around him to enter. This person with unnaturally over blown muscles was wearing a City of Mississauga tee shirt but refused to identify himself or even say if he is on duty and was heard to yell a slanderous insult at me! To name a little of what he did that day. Then Sept. 13, I drop into the Cawthra Community Centre and the next thing I know he is calling the cops on me and will not say why! His superior informs the police that a City memo is the reason behind his unprofessional behaviour !!!!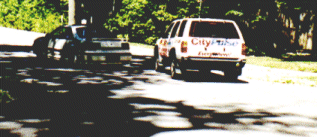 There will be more follow up to this as City staff are taking this to dangerous level of conformation. It would appear that this latest victory has City Hall very upset and they do not want to suffer my presence any longer. Our Mayor told the City Freedom of Information Co-ordinator to stop me from getting City records that were shared with taxpayers. The FOI Co-ordinator did so by falsifying records to serve the Mayor and to hell with Canadian law! This latest event is part of a plan to keep me off City property and out of the Cawthra Bush. My efforts have found the rare and threatened species at Cawthra and the City hates me for it. It is getting to the point where the City doesn't care how they stop me, legal or other wise.
WARNING !!!!! - When you talk to City staff do not tell them you are with a group that trying to save the Cawthra Bush or not agreeing with the City or its politicians. Even if the conversation appears to have been a normal one, there is no telling what can be written by City staff afterwards. City staff will write false reports to discredit both the members of our group and their efforts.
Why would the City be upset that the Cawthra Bush is declared a Provincially Significant Wetland Complex?
A). This is Hazel's town and she hates it when an another level of government is putting their fingers into her pie. The significance's of the word provincial in "Provincially Significant Wetland Complex" means the province now has an interest and say in what can or can not be done in or around the Cawthra Bush.
B). The City's plans call for a dry park, not a wetlands and wetlands take more effort to keep a wetland. If the public didn't fight so hard for a wetlands evaluation, petition and letters, it would never been done. In the words of David Culham, ex-City Councillor, to me about the wetlands evaluation,
"I think you are to be commended because it is your efforts that made that happen".
C). The City is now in the embarrassing position of the public being in the right (especially Mr. Barber), and the City being in the wrong, AGAIN.
The City has never treated the Cawthra Bush properly (as wetland) and it wants to create a reason to eliminate the opposition to its plans. Cut off the head and the body dies, in other words get rid of Mr. Barber (but make sure he is discredited first).
D). The Mayor has made it known that she is very concerned about what I say when I go to the local schools (the facts madam, nothing but the facts). It would be one of her main political goals to create a reason to use, to keep me out of the local schools.
---
[COMMENTS BY DON B. -

[ 1 ] Completely untrue - the City's objectives and ours are very different and he knows it. The way he makes it sound is if we are not smart enough to understand what the City is doing. The City has yet to commit to ensuring the survival of Cawthra's rare and threatened species and their habitat.