Scanned, recopied or Internet copy, if there are errors, please e-mail me with corrections:
---
Opening comments: More at the end.

Mayor Hazel McCallion told By-law staff to "back off." or did she.

The News article.

Wrote a letter about this, as the City is over looking developers signs when it comes making money by way of fines.

Mister twister (his web-site http://www.mistertwistericecreamtruck.com/ ), or Amo sent me an E-mail about the details of his side of the story which are below and he is due to appear on Cable 10's (Rogers Television Peel Region), Special Summertime Edition of Talk Local - Ice Cream Trucks - upcoming this Wednesday, July 18, 2007. The show is live from 9 to 10 PM. The topic of the show is By-law issues with ice cream trucks as the quests know it. The host will be John Letherby. The other guests confirmed in studio are Elaine Buckstein, Director of By-law Enforcement, City of Mississauga, Zoltan Sebesi, Owner of Cool Treats in Brampton and Matt Holland, Director of By-Law Enforcement, City of Brampton. The format of the show is discussion and debate and calls from viewers. Producer Talk Local and One on One is Jyoti Sharma (Pronounced Joe-Thi).

Now on to Mister twister or Amo's details of his side of the story & background information, useful is understanding this whole issue.
This is his account, his words (except for some spelling errors), and I have not had a chance to check up on all the details. However what he is saying rings true to what I know City staff will do to get their way.

Ice cream trucks have been selling ice cream in the City of Toronto since 1958 and they are allowed to sell up and down residential roads. Ice cream trucks first started to sell ice cream in Mississauga and Brampton in the late 70's. Mississauga and Brampton did not want to license ice cream trucks so trucks continued to sell in the cities because of the high demand from residence.

In 1997 I approached Mississauga Council and requested that ice cream trucks got licensed. An ad hoc committee was set up and we started to look at licensing ice cream trucks in Mississauga. During the ad hoc committee every attempt was made by Elaine Buckstein not to license ice cream truck in Mississauga. She claimed them to be unsafe and she uses an accident that happened in Windsor in 1970 as an excuse not to give a license. Elaine Buckstein was a Windsor resident in 1970 working for a law firm in Windsor as a student.

Finally after a year or so there was allot of public support and the ad hoc committee decided to do a City of Mississauga survey to see how many people want ice cream trucks in Mississauga. After the survey was done it came back that 92.5 percent of residents living in single family homes and town houses wanted ice cream trucks. Elaine Buckstein was furious because she never thought that the numbers would come back so high. This proves the demand for ice cream trucks is very high. The National Post asked Elaine Buckstein and James Bisson about this survey this year when he wrote his story and they denied it every happened. I went to the clerks department this year after they said the survey did not exist and was able to find it and now have a copy that is date stamped June 1998.

After the survey was done it became clear that residence in Mississauga wanted the ice cream trucks so we were given a very restricted license. The first draft of the restricted license we got was so restricted that I made a map of all the areas that we could not sell ice cream from in the city of Mississauga and the only area that was left over was the airport runways. I showed the map to the ad hoc committee and some of the restrictions were lifted to allow us some areas to sell.

We then were licensed in 1999 by the city of Mississauga. After we got our license that is when the night mare began. Elaine Buckstein had her full staff By-law and parking ticket guys and the animal control people just driving around looking and following ice cream trucks every single day of the summer. It was so bad we were followed more than we were selling ice cream. The drivers were pulled over so frequently that it affected sales and they held the driver for over an hour each time they pulled over a truck.

Elaine Buckstein went even further by calling the Peel Police Traffic unit and asked them to target the ice cream trucks.

I got a call from an anonymous person telling me not to operate my trucks on the Saturday and Sunday approx 7 years ago. I asked the caller why. They told me the police will target the ice cream trucks and pull the license plated off. I did not believe the caller and ignored the warning. So that Saturday I went into work and my ice cream trucks started to leave my depot going to work. The first 3 trucks that left were pulled over by 3 police cars within minutes and right near my warehouse. The driver called me and told me that there is 6 police cars on the street waiting for all the ice cream trucks to leave. The drivers got a few tickets each and returned to the warehouse. I stopped all the other trucks from going out that day and no trucks went to work.

I went to the Sergeant that was at the scene in charge and I asked him what is happening. He told me that the City of Mississauga told him to do this. I told him its not true I know the Councillors and allot of people and they would not do this. He then asked me if I knew Elaine Buckstein and I said I did and he said She called him and asked her to do this and he has to since its coming from the city of Mississauga. He then went on to say there is something seriously wrong with Elaine Buckstein that she has a big problem with ice cream trucks. He then told me he was just doing his job and that he will be back again all day Sunday.

The 6 Police cars were there all day on Saturday and returned on Sunday. The Sunday we did not send any trucks to work and watched the police cars just sit in front of our warehouse. One police officer even drove down the next doors driveway to see inside our warehouse to make sure the ice cream trucks were still there.

I then made a complaint to the City of Mississauga Mayors office and the police. The Mayor sent up a meeting in her board room with staff and told the By-law department to do thing by the book and not to harass or target an industry or company and not to hold them up for over an hour giving them a ticket when it takes only 5 minutes to write a ticket. The By-law department was only to act on complaints not to hunt and search for ice cream trucks and leave all other By-law matters hanging.

Well the By-law department still drives street by street looking for ice cream trucks and they do NOT only act on complaints. They target only ice cream trucks and if you talk to the other industries you will see that they never ever see the By-law department. Even if you take a look at the ticket book you will see almost all of the tickets are for ice cream trucks and there is no enforcement of the other By-laws. Sure they will say that because the others are not doing anything wrong. Well if they were followed all day every day they will receive the same amount of tickets.

I am a Mississauga resident and I see every day in our city unlicensed Tow trucks , taxis , limos, Coffee trucks , ice cream bike, hot dog carts and allot of unlicensed ice cream trucks from Toronto that come into Mississauga on a daily basis. The By-law department do not deal with or enforce those unlicensed operators because they spend all their man hours chasing down ice cream trucks street by street taking up all of there time.

This year when I went into the City to renew all My license and pay for my Park permit almost $10,000.00 in fees I was told by the
Manager of By-law JAMES BISON that he will start to tow all my ice cream trucks and dump all the ice creams in the garbage. I asked him why, he told me there is too many complaints. I asked him how many complaint and he told me that last year there was 20. I said you must be joking only 20.

One year in front of Council, Elaine Buckstein, after we received our license in 1999, she made a recommendation to council to ban Ice cream trucks because they had 15 complaints and again she brought out the accident in Windsor in 1970. After that council meeting I called the city of Windsor and asked them if they license ice cream trucks and they told me they did. I asked the city of Windsor what about the accident that happened in 1970 and they told me that is to long ago and it was an accident and they still license ice cream trucks today. I then told council about the accident and that they still license ice cream truck and some Councillors said why are we going back wards. Another said I get more than 15 complaints in one day for other By-law offences. Councillors voted not to ban ice cream trucks.

I then asked Manager James Bison if he has kids and told him I do. I asked him if his kids buy ice cream and he told me he does not let his kids buy ice cream from an ice cream trucks and tells them the trucks are illegal. I can't imagine not letting a child buy ice cream and tell them ice cream trucks are illegal.

Here are the personal views of the 2 people in charge of this department both have a discriminating attitude towards the ice cream truck industry and should not be in the position they are in the City of Mississauga. The City of Mississauga should not Discriminate.

This year has been a terrible year starting off of being threaten By James Bison to tow all my trucks and being followed daily.

My drivers are being followed for over an hour at a time and then when they are getting pulled over they are kept for an hour to give them a speech to discourage them and tell them not to drive an ice cream truck. The 1 hour long speech have made 5 of my drivers quit. The National Post Reporter David Menzies and James Bisson asked why the drivers are being spoken to for over an hour and he responded saying in was a public service they were providing.

One By-law officer was following my ice cream truck in a red Cadillac for over an Hour. He called me and I was about to call 911, finally the person approaches the driver and shows his ID to the driver and said he is Mississauga By-law. I asked the By-law office why are the By-law officer driving their own cars this year. I was told that there were 7 By-law officers, that 5 are working at one time and there are only Mississauga By-law cars for the officers that follow all the ice cream trucks they have to drive there own cars and are paid mileage for there personal cars. I asked the Peel police and a Justice of the Peach JP if a By-law officer can follow you for an extended period of time and I was told that it is illegal for them to follow an ice cream truck or anyone for a period of time. I was told that the By-law officer has to either write a ticket or leave him alone and go about his job and not to follow. The police told me that would be the same as a police officer following you for an hour after he gave you a ticket or even before , its called harassment and its not legal.

Even when my drivers are given a ticket they are still followed. The police officer told me that if he gave someone a ticket he could not continue to follow him for an hour. I wonder why the By-law enforcement has taken the law into there own hands.

The tickets we received this year, allot of them are consecutive in there numbers showing proof of targeting. Sure By-law might say its not but in a large city like Mississauga how can we be so unlucky to get consecutive tickets its like winning the lotto.

They said last year they had 20 complaints but issued 70 tickets, just that statement alone shows that they are not acting on public complaints alone that they are out there just driving around looking for trucks.

This year I was selling ice cream myself in the Jack darling park where I have a permit to sell from. I was approached by a By-law officer and I was asked for my drivers license even though I was not driving. I had my picture ID City of Mississauga license around my neck and told him here is my picture ID. I asked him if anyone complaint and he said no so I said why are you bothering me. I asked him if he was going to check the hot dog cart parked 50 feet from me or the 2 ice cream bikes that were 20 feet from me or if he was just going to target me. He told he was just checking me. I asked why not them and he did not answer. I asked him why is he asking for my drivers license when I have My Mississauga picture license around my neck. He did not reply. He then got into the car and drove away without checking the others. That is one case of discrimination I witness myself.

On the City of Mississauga's web page it says we encourage you to make complaints about ice cream trucks. I don't see that on there web page for any other business in Mississauga. One would ask why the majority of time is spent enforcing 15-20 complaint if 160,000 people a week buy ice cream from all the combined trucks in Mississauga that ads up to over 3 million for the summer. There would have to be only one answer James Bisson and Elaine's Bucksteins personal views on ice cream trucks not allowing them to perform there job that they were given.

I am a Mississauga resident and business owner so why am I being told about an accident that happened in Elaine's hometown 37 years ago? They license ice cream trucks there, why is she not trying to ban them there? On one side of Winston Churchill in Oakville you could sell ice cream on the residential streets and on the other in Mississauga you can't. On one side of the 427 in Toronto you can sell ice cream from an ice cream trucks in residential, on the other side of the street in Mississauga you can't. To the north in Vaughan you could sell ice cream on the street along with Orangeville and Barrie and many many other cites you can but in Mississauga you can't.

I wonder why is it safe to sell in all those other cities but in Mississauga By-law claims its not safe to sell, why is it safe to sell on one side of the road in a different city and not safe in the other. Or should I say there personal views do not allow them to have an open mind to run there department properly. They even license Ice cream trucks in Burlington where Elaine Buckstein lives. I wonder why she has not tried to ban them in Burlington.

I even got a number of calls from residents of a street called Tayside, that they request ice cream trucks to come there and why the truck does not come no more. I told them James Bisson lives on the street and every time a truck goes on the street he calls one of his By-law officers to ticket them. I get calls and emails all the time and every day requesting an ice cream truck that I decided 3 years ago to make my number unpublished.

The ice cream truck industry is one of the safest with almost no accident that is why insurance rates for these vehicles are cheap.
If there were accidents in a big City like Toronto rates would go threw the roof. I contacted an OPP officer and asked him for stats on accidents involving an ice cream trucks and he told me there is none. There was an accident with a tow truck in Mississauga a few years back involving a pedestrian, why didn't they ban tow trucks? There are accidents involving school buses daily so why not ban school buses? But there is an accident in Windsor in 1970 in Elaine's Home town so lets ban all ice cream trucks?

On July 1, I got a call from a good friend of mine Frank Bellmonte who I have known for many years he owns the best ice cream store in Mississauga called Murphy's ice cream store in Streetsville. He called me in a panic telling me he has 7 ice cream trucks very close to his store and people are walking buy his store with ice cream in their hand. There were 2 in the park for fire works and 5 parked on the street. He asked if I can help he had 9 people on staff working and was loaded up with ice cream for the July 1st day fireworks.

I gave him the phone number to By-law and he asked if I could call for him so I did. Well By-law did come and kick out the 5 trucks and By-law left. 10 minutes later Frank called me back and said the trucks went around the block and came back. None of the trucks were mine. I then called By-law back and they told me By-law was finished at 7 pm. I called Frank and told him no more By-law. I spoke to Frank the next day and he told me all the trucks were parked there all night and that he lost a lot of business. The point I am making is that because the By-law dept is chasing trucks using up all there man hours they have no time to deal with real complaints and book off early and go home.

In the By-law it says ice cream trucks can not be near any business area, near an ice cream store. Frank has even told me when he is too busy that I should bring one of my trucks and park it in front of his store to relieve some of his line up. I told him I don't think its a good idea. I use to supply allot of ice cream stores in Mississauga and Ontario until I sold off that part of the business and I still supply Frank with ice cream and slush when he runs low on weekends.

Some Drastic changes need to be made and all personal views should be left at home when you leave the house for work. I could go on on but here is some background. I have allot of info that I have collected over all these years that I am writing a book and I have many pictures and videos of what has happened. I even now have cameras and audio on the trucks to record what is being said, that is how far I had to go.

Next year will be my 25th year on the road and I hope one day I can operate my business without discrimination and prejudice.

Thank you - Amo - Mister twister
---
Mississauga News - June 22, 2007 -
By
Louie Rosella
Ice cream vendors demanding the City cool down on enforcement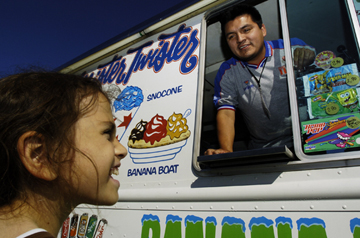 Chantalle Vella, age 9, considers her choices before buying a chocolate ice cream cone
and a Jolly Rancher popsicle from Cesar Arauco in her neighbourhood on Friday afternoon.
Vella's neighbour 14-year-old Dominique Croteau stated if the ice cream truck
couldn't come to her street, "I wouldn't look forward to summer as much."
Staff photo by Nikki Wesley
I scream. You scream. We all scream for ice cream!

However, those who sell the popular summer treat from their trucks might not be answering that call for much longer, and they're blaming Mississauga's By-law enforcement officers.

Amo Blazys, who owns Mister Twister Ice Cream Trucks, said he'll be forced to stop doing business here because the By-law officers are "harassing" his drivers.

"This year has started off horribly. We have just been selling ice cream for about one month now (in Mississauga) and received 20 tickets alone in the first month," Blazys said. "At this rate, I should have about 130 tickets by the time the season ends."

James Bisson, City of Mississauga manager of mobile licensing enforcement, denied the City is targeting ice cream trucks. He said his staff responds to complaints and lays charges accordingly.

Blazys operates 15 trucks in Mississauga, serving about 160,000 people weekly. He's been in business here, legally, since 1999, when the City first allowed ice cream trucks to operate.

He said five of his drivers have already quit this year because of "By-law harassment" in Mississauga.

Since April, Bisson said, there have been 21 complaints from residents about the trucks, resulting in 24 By-law charges. Last summer, there were 31 complaints, resulting in 78 charges. Typically, complaints are about the noise/music coming from the ice cream trucks. The well-known chiming is only supposed to sound for 20 seconds and is prohibited from being played after 7 p.m., Bisson said.
Drivers have been ticketed mainly for operating without a licence, which carries a fine of $200, and offering goods for sale on public roads, a $360 fine.

Blazys and other ice cream truck owners admitted some drivers are in the process of getting licenced.

In Mississauga, ice cream trucks are only allowed to sell ice cream at industrial/commercial areas and at condominium and townhouse complexes. Selling on residential streets is prohibited because, Bisson said, there are safety concerns.

Earlier this month, he said, a boy in Toronto ran out onto the street when he saw an ice cream truck and hit the side of a passing car.
Several years ago, a girl was hit by a car in Windsor while crossing the street to an ice cream truck. Her family sued the ice cream company and the City of Windsor.

The City of Mississauga also has to consider potential liability, Bisson said.

"Simply put, if the ice cream truck drivers abide by the By-laws and sell where they are supposed to sell, then we won't have a problem," he said.

Bisson said Mister Twister and other companies are given the opportunity to sell in parks and are regularly invited to do business at events such as the annual Teddy Bears' Picnic in Clarkson.

Blazys said he has the same problems in Brampton regarding ticketing, but has little trouble in Toronto, where ice cream vendors are allowed to sell from the roadway in certain districts.

Tickets this year amount to more than $10,000 in fines for Mister Twister, according to Blazys. It's a dollar figure Bisson disputes.
"It appears the city's vanilla-twist-loving residents may be out of luck when it comes to fulfilling their ice cream fix this summer," Blazys warned.

Blazys said enforcement cooled down in recent years after Mayor Hazel McCallion told By-law staff to "back off." In an interview Friday, McCallion said she never said such a thing.

"They (ice cream truck operators) made the claim that we were harassing and targeting them, but that isn't the case. If complaints come in, they should be dealt with by our By-law officers. That's what they do. They respond to complaints," she said. "There are By-laws in place (for the ice cream truck drivers) and they must adhere to them for safety reasons."
---
Home Page - Main Table of Contents - Back Up A Page - Back to Top
---
[COMMENTS BY DON B. - ]