Scanned copy, if there are errors, please e-mail me with corrections:
---
Opening comments: More at the end.

Many have called Hazel McCallion in the past a BULLY, as have I and this proves it was not a passing phase of her life.
To say "Hazel McCallion has been called Hurricane Hazel, the queen of sprawl and a feisty fighter.", is to say, she will attack you and abuse her power to get rid of you. She is not the kind little-old Grandmother the media often makes her out to be.

One thing to remember is that there are 3 cities on Peel Regional Council and it is reasonable to say that Hazel is so little at diplomat and so often a bully that she loses votes because she can't work with the other members of Peel Council. Those who have dealt with Hazel make it clear,
its her way or the highway.
---
Toronto Star - May 4, 2005 - By KERRY GILLESPIE - QUEEN'S PARK BUREAU



McCallion accused of bullying

Mayors object to new legislation Restructures Peel Region council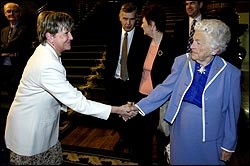 SIMON HAYTER/TORONTO STAR
Caledon Mayor Marolyn Morrison, left, shakes hands with Mississauga Mayor Hazel McCallion at Queen's Park yesterday.
Despite the smiles, McCallion is at odds with Morrison and Brampton Mayor Susan Fennell over legislation that restructures Peel Region.
As Mississauga's long-time mayor, Hazel McCallion has been called Hurricane Hazel, the queen of sprawl and a feisty fighter.
Yesterday, the mayors of two neighbouring cities added a few more names to the list:

schoolyard bully and intimidator

.
This increasingly

personal fight

is over provincial legislation to restructure Peel Region's council.
Second reading of Bill 186 — giving approval in principle — is expected today, with public hearings to follow on Friday.
Brampton Mayor Susan Fennell and Caledon Mayor Marolyn Morrison arrived at Queen's Park yesterday with busloads of people hoping to make an impact on the final day of debate on the legislation.
"This is the result, I am absolutely convinced, of legislation being hastily cobbled together to suit the agenda of one municipality," Fennell told reporters.
"It's time the McGuinty government began asking the citizens of Brampton and Caledon how they want to be governed, not just how the mayor of Mississauga thinks we ought to be governed."
Under the existing system, Mississauga has 10 seats on Peel Region council. Brampton and Caledon, despite their smaller populations, have a combined 11 seats and can vote together to block their bigger neighbour.
The new legislation gives Mississauga 12 seats and Brampton and Caledon combined another 12. A chair elected by council members brings the total to 25.
Fennell and Morrison fear that a pro-Mississauga chair will be elected, giving McCallion effective control over the region.
What McCallion would prefer is getting her city out of Peel Region, which delivers a variety of services, from welfare to roads.
"We're a mature city now and for 30 years we've been propping up the taxpayers of Brampton and Caledon," McCallion said in an interview, adding an independent financial report found that Mississauga could save $32 million a year by getting out of the region.
"We feel the end has got to come. We need the money to handle the needs of our municipality."
Acknowledging that dismantling the region isn't a fight she can win right now, McCallion called the restructuring "progress."
Critics of this restructuring — which ignores the recommendations of a provincially appointed facilitator to give more seats to Brampton — say it is an effort to placate McCallion.
"

(McCallion) is acting like a schoolyard bully

who has to get their own way or else they're going to take all their marbles and leave," Morrison said.
The Mississauga mayor, never one to pull punches, has been keeping things low key.
"I've stayed away from comments about the mayor of Brampton and the mayor of Caledon. They haven't, but I have and I'm proud of that," McCallion said. [1]
Once the legislation becomes law, likely later this spring, the mayors will have to get along, said Liberal MPP Brad Duguid (Scarborough Centre).
"They'll have to work together for what is in the best interest of Peel Region, not Mississauga or Brampton or Caledon," said Duguid, parliamentary assistant to Municipal Affairs Minister John Gerretsen.
Duguid downplayed the Brampton and Caledon mayors' concerns. "There is nothing dramatic about this at all, it's a slight adjustment to ensure balance in representation."
Mississauga has 62 per cent of the population, and after the restructuring it will still only have 50 per cent of the seats, he said.
Conservative leader and Caledon MPP John Tory questioned whether the government had more in mind than just restructuring Peel Region.
"If the real agenda here is to dismantle Peel Region, the government should be honest ... be straightforward with people," Tory said.
---
[COMMENTS BY DON B. -

[1] - Like any ture "
schoolyard bull
" Hazel does her worse in the shadows where there are no witnesses, then lies about it, these people know that. ]