Front-page News Victims
of
The Mississauga News
or the
"Missing News"
---
Since this took place Kalista Zackhariyas has really got in trouble with the law.
more later.
---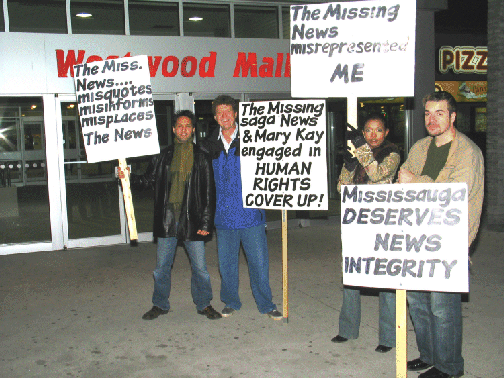 Ron Reyniers and Kalista Zackhariyas and supporters who are front-page news victims of The Mississauga News or the "Missing News". Ron Reyniers protested against Mary Kay Cosmetics' and Kalista Zackhariyas the MCI Pageant's discriminatory practises. Both now protesting The Mississauga News' lack of reporting integrity at Westwood Mall on October 28th, 2003.
Publisher Ron Lenyk was in attendance at the Mall as a moderator for the Ward 5 Municipal elections all candidates debate. Mississauga News photographer, Rob Beintema who photographed the protest, was heard to say " if what you guys are saying is true, then I guess we won't be printing this picture, right?" Both the story and photo found their way into the "Missing News" Bermuda triangle reporting bin.
(more on this later)