Scanned, recopied or Internet copy, if there are errors, please e-mail me with corrections:
---

Opening comments: More at the end.

The PDF file - page 1 - page 2 My letter to the Editor regarding this.

Have now received a letter from the Chief of Toronto Police - William Blair or who he saddled with the task of responding to it. Clearly if poor old Mr. Antonio Batista still lived in Toronto he would never have been arrested but being the kind soul that he is, he moved to Mississauga to be closer to his granddaughter.
---


Toronto Police Service
ATTN: William Blair, Chief of Police.
40 College Street
Toronto, Ont. M5G 2J3

RE: Formal request for charges & arrests in regards to a death threat and/or intimidation towards City of Toronto Elected
officials, City of Toronto staff and suggesting destroying City hall.

Dear Sir: Apr. 28, 2008



In the Toronto Sun, Apr. 27, 2008, the below cartoon was printed that clearly advocates the terrorist act of blowing up Toronto City hall and specifically making sure that the City "Council chamber is full before detonation" of Toronto Councillors. It also shows wires running to other parts of Toronto City hall for what could only be to promote the idea of blowing up the whole building with explosives - killing all inside.

A legal precedence was recently set in Peel, in the case of Antonio Batista a 75 year old man who wrote and did a very limited distributed of a satirical poem suggesting that a Mississauga Councillor who thought pot holes were not all bad, should be buried in one. He was found guilty of the offence of uttering a threat to cause death, pursuant to s. 264.1 (l)(a) of the Criminal Code of Canada. As the "actions of the accused crossed the line from permissible political comment to prohibited criminal conduct." At the very least the charge of Intimidation towards elected officials should be laid.

- 1 - ....2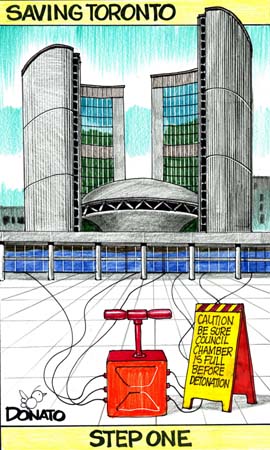 I am willing to discuss this matter with you and there is an answering machine you can leave a detailed private message on.
My phone number is (905) *********** & E-mail donbar@eol.ca.
Sincerely yours;
_______________________________
Mr. Donald Barber - Editor - Candidate for Mayor of Mississauga 1994, 1997, 2000 and 2006.
Mail to: **************************************
cc. The media.
---
May 14, 2008 Re: Donato Cartoon
I have been requested by the Chief of Police to respond to your fax letter of April 28, 2008.
I have researched the matter on behalf of the Chief and I am satisfied that the cartoon in questions does not meet the threshold to constitute an offence under the Criminal Code of Canada.

Your truly,

Jerome Wiley, Q.C.,
Counsel
Office of the Chief of police
:bh
c.c. Chief of Police William Blair
Sergeant James Hogan, Office of the Chief of Police of Police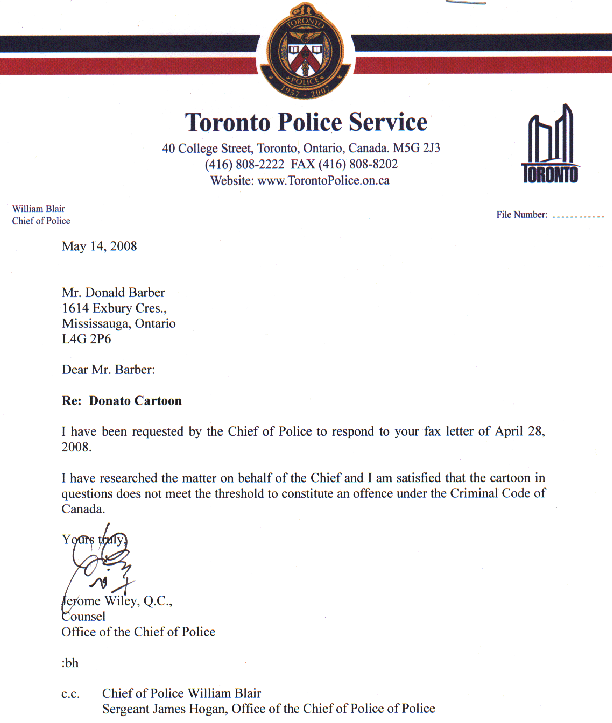 ---
Home Page - Main Table of Contents - Back up a page - Back to Top
---

[COMMENTS BY DON B. - ]