---

Opening comments: More at the end.

This letter is being sent to many others & they will be listed here soon.






The full section in the rules of how the Courts should be run is below;

Courts of Justice Act - R.S.O. 1990, CHAPTER C.43

PUBLIC ACCESS - Prohibition against photography, etc., at court hearing

136.(1) Subject to subsections (2) and (3), no person shall,
(a) take or attempt to take a photograph, motion picture, audio recording or other record capable of producing visual or aural representations by electronic means or otherwise,
(i) at a court hearing,
(ii) of any person entering or leaving the room in which a court hearing is to be or has been convened, or
(iii) of any person in the building in which a court hearing is to be or has been convened where there is reasonable ground for believing that the person is there for the purpose of attending or leaving the hearing;
(b) publish, broadcast, reproduce or otherwise disseminate a photograph, motion picture, audio recording or record taken in contravention of clause (a); or
(c) broadcast or reproduce an audio recording made as described in clause (2) (b). R.S.O. 1990, c. C.43, s. 136 (1).

Exceptions
(2) in subsection (1),
(a) prohibits a person from unobtrusively making handwritten notes or sketches at a court hearing; or
(b) prohibits a lawyer, a party acting in person or a journalist from unobtrusively making an audio recording at a court hearing, in the manner that has been approved by the judge, for the sole purpose of supplementing or replacing handwritten notes. R.S.O. 1990, c. C.43, s. 136 (2); 1996, c. 25, s. 1 (22).

Exceptions
(3) Subsection (1) does not apply to a photograph, motion picture, audio recording or record made with authorization of the judge,
(a) where required for the presentation of evidence or the making of a record or for any other purpose of the court hearing;
(b) in connection with any investitive, naturalization, ceremonial or other similar proceeding; or
(c) with the consent of the parties and witnesses, for such educational or instructional purposes as the judge approves.

Offence
(4) Every person who contravenes this section is guilty of an offence and on conviction is liable to a fine of not more than $25,000 or to imprisonment for a term of not more than six months, or to both. R.S.O. 1990, c. C.43, s. 136 (3, 4).
---



Ministry of the Attorney General
ATTN: The Honourable Chris Bentley
McMurtry-Scott Building - 720 Bay Street, 11th Floor Fax: 416-326-4007
Toronto, Ont. M7A 2S9

RE: The signs and legal practices of the Brampton Court (and other Courts), that are false, unlawful, (if not illegal) and knowingly misleading taxpayers to deny them their lawful rights.

Dear Sir: June 8, 2011

This letter is part of an effort to restore justice to Ontario Courts for the poor, self represented and politically incorrect (non-Tory), by requesting the knowingly misleading, unlawful, if not illegal practice of posting signs and informing those having Hearings, they can't record them, to be stopped. A number of instances have been witnessed where Justices of the Peace (JP's), Judges, police and Court staff are doing all they can to deny Canadians their legal Right to make notes by recording their Hearings, which is contrary to 136.(2)(b) of the Courts of Justice Act - R.S.O.1990, that clearly allows "a lawyer, a party acting in person or a journalist from unobtrusively making an audio recording at a court hearing,". In fact at the Brampton Court Building (7755 Hurontario St.), it has gone so far as to post a notice on its front doors (the picture of which is on the second page of this letter - it only notes Sec. (1)), there are also signs inside that inform those doing business in the Courts that recording is not allowed. JP's, Judges and Court staff often refuse to acknowledge those before them, their Rights and Peel police will remove from the building those they believe could have a recorder. In this day and age, in Canada no less, such arbitrary, bias and prejudicial conduct towards a group of taxpayers and technology. The signs should be removed and police, Court staff, JP's, Judges should cease and desist from denying Canadians their Rights and signs posted with how to do recordings.

The Honourable Justice J. Douglas Cunningham, Commissioner for the City of Mississauga Judicial Inquiry and currently an Associate Chief Justice of the Superior Court of Justice Ontario, in his Apr. 26, 2010 decision that I am one of only two "citizen journalists", recognized to have equal access at the Inquiry and "I am grateful for the interest and involvement of citizen journalists,". He also notes in his decision, in his very first sentence (to underscore its importance and set the tone of this decision), - "The open court principle is a "hallmark of a democratic society". Public access to our courts allows all those who are interested to see that justice is administered in a non-arbitrary manner and according to the rule of law. As Mr. Downard explained in his submissions as amicus curiae, it enables justice to be done, and to be seen to be done."

- 1 -
- 2 -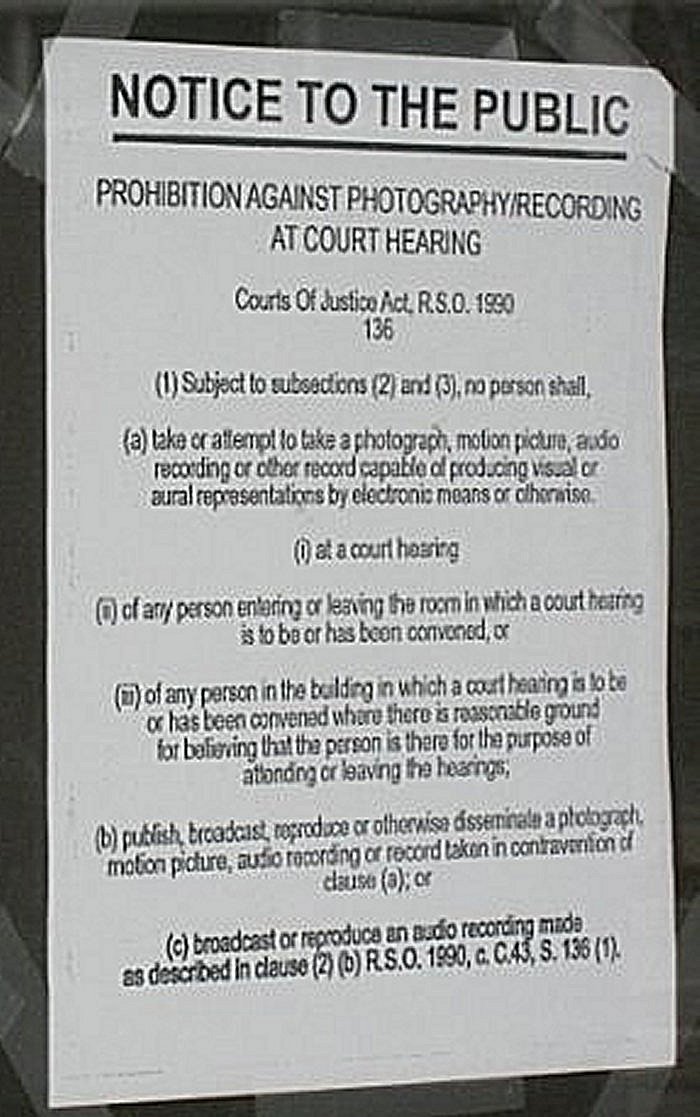 This letter is also going to M.P's, M.P.P.'s and Peel Councillors across Peel as it affects those in their constituency, asking these elected officials to the write Court and discover the facts, such as;
- who posted these signs;
- why such efforts are being made to deny taxpayers their Rights - to the point of using the lie of omission - on the notice above it fails to note Sec. (2) that allows recording, knowingly left off, false legal advice and can even be described with the definitions for the offences of False pretence, Fraudulent concealment, Forgery and Offences Resembling Forgery and Misleading Justice;
- will these signs be removed and replaced with those which correctly state Canadian taxpayers Rights to record.
To properly track this issue they are requested to cc., a copy of their letter of inquiry and its response because this issue is not just about Canadians Rights - it is about if those who's job it is and duty to carry out the expressed will the law makers (elected officials) to ensure not just justice for all, to protect everyone Rights - not to make their own rules & laws to suite their own goals. An unlawful power grab made all the more unjust as Cell phones are allowed in and most can record.

This letter is being sent to many in the legal field as persons may not show up in Court because the police are denying them their right to attend their Hearings on suspicion they may have a recorder or have tried to claim their legal rights at their Hearing and refuse to allow them to enter the Court building.

In Closing. Legal Rights by rule of law can't be turned on or off at the whim of the police, Court staff and administrators because then they are not Rights - they would just be an inconsequential whims of a master towards inferiors, easily revoked without consequence or affecting decisions being made. Rights control how bureaucrats, decision makers and police act and how laws are enforced, not the other way around. It leaves the public fearful to participant or claim their Rights.

It has been noted in Courts that the proceedings are recorded and copies can be bought from the Court Recorder and that is the way they make their money. A way to inflict financial punishment on the poor, as well as time delay. Part of a growing trend to use/abuse legal processes as a financial punishment when the law and a persons Rights ensure a conviction will not be possible. This includes hiring a lawyer to respond to charges the police and Crown know are frivolous and vexatious charges - such as those at public protests or political active
Canadians dealing with Freedom of Expression and Charter issues.

I am willing to discuss this matter with you and there is an answering machine you can leave a detailed private message on.
My phone number is (905) ***-**** & E-mail watcher0I0@eol.ca

Sincerely yours; _____________________ Donald Barber - Editor.

Cc. Media, Ombudsman, etc. (for full list & picture better, see website).

P.S. - To M.P's, M.P.P.'s and Peel Councillors, why is there no Court building in Mississauga, the 6th largest City in Canada? Mississaugans have to go to another City to deal with many legal matters.
---
---
Home Page - Main Table of Contents - Back up a page - Back to Top
---

[COMMENTS BY DON B. - ]