Scanned, recopied or Internet copy, if there are errors, please e-mail me with corrections:
---
Mississauga Judicial Inquiry Hearing
June 2, 2010

A Significant Historical & Legal Event in Mississauga

Hazel McCallion - aka - The Mayor of Mississauga,
takes the stand to give evidence in her Inquiry for the first time.

More and better pictures to help you feel like you were there.
---
This was also the Hearing that I presented the Commission
with my request for Reconsideration of the Commissioners Ruling of May 25th.
It was not well received.
---
Of all the pictures taken of the Inquiry and of the Mayor,
this one shows the human drama of her being a mortal big city mayor the most.
Click here to see close up and what her eyes say.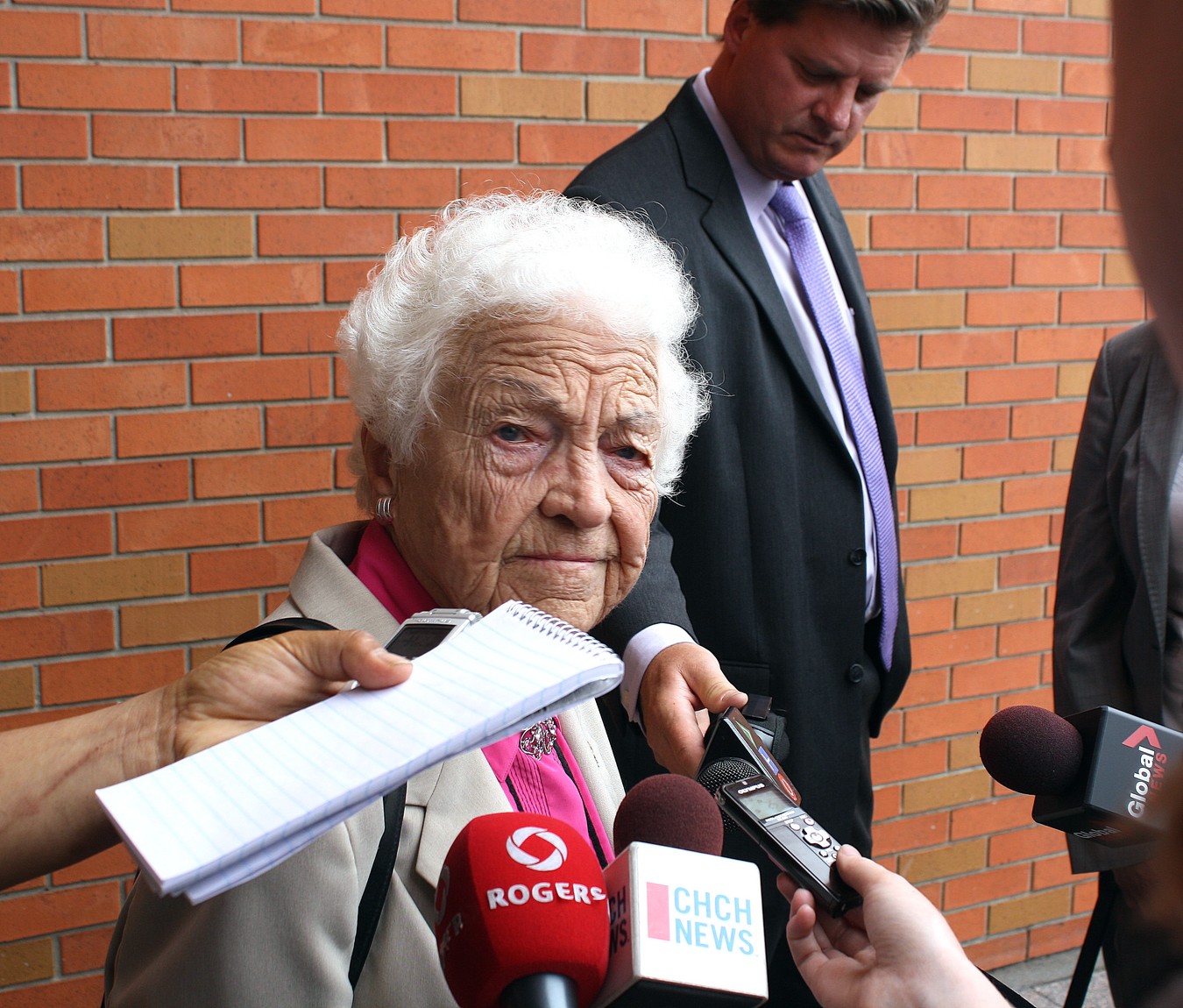 ---
The beginning of a very microphone kind'an day.


So far the Hazel is in fine spirits.

Now - now, no sticking out your tongue at the Commission Counsel!

She does look very small there.

Nothing like smiling in the witness box.
Before the Mayor was questioned the media was herded in for the photo-op.
No pictures during the questioning.
The Mayor at this point was only being questioned about Enersource and fairly easy,
so far, to blame on others.
Still the Mayor's voice trailed off to a whisper at least once.

Interesting she noted that she still drives her self around and that she often goes home during the day.
The issues of Hazel McCallion's age has always been a no go zone for the mainstream media, expect to say how great she is doing for her age and not to show pictures that would cast doubt on that political correct thinking.

A picture like the one to the left is not used.

As you can see her pants are either riding a lot higher then most peoples' or she is shrinking.

Then there is the fact she has been wearing the same outfits over and over for years - we don't pay her Worship enough for new cloths?
Yes, a picture like this can have many captions.

On her way out the media was waiting.



This pictures shows more concerns about age that many people have. Sure you have talked to older people and they have had such a hard time getting the words out, that they close their eyes and have to force them out - here is Hazel McCallion doing the same. More than once.
More images of the media scrum and the Mayor handling them
before off to endless City business.
Police were in the background, 4 or so.
---
Home Page - Main Table of Contents - Back up a page - Back to Top
---
Boingdragon Counters
---