Scanned, recopied or Internet copy, if there are errors, please e-mail me with corrections:
---
Opening comments: More at the end.


---
The CANCER on Democracy Developing in City halls - BANNING those who are
the Whistle Blowers, Ask the hard & Intelligent questions and are more successful than politicians at serving the greater good of taxpayers. The police, lawyers and legal orders are now the WEAPONS of choice as Security Insanity Plague us all!
---
The Halton Herald.ca - October 28, 2006 Sat. - By Robert Heaton.
Town's "pit bull", bites veteran.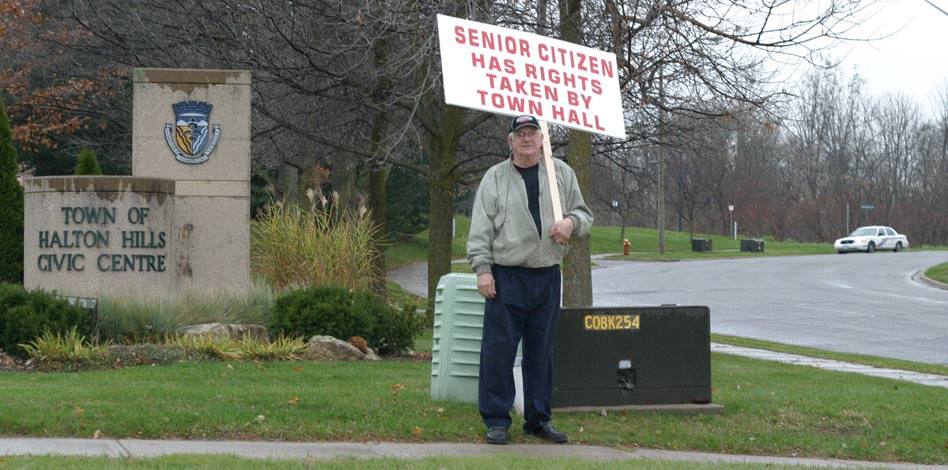 Senior citizen/ veteran Derrick Williams picketing the Town of Halton Hills


Halton – Halton Hills: Yesterday, with police at hand, Georgetown senior citizen, Derrick Williams, was seen picketing The Town of Halton Hills Civic Centre with a sign that read, "Senior citizen has rights taken by Town Hall".

Mr. Williams was served a letter from the Town of Halton Hills, signed by Parks and Recreation Director Terry Alyman dated October 24th, 2006. The letter advised Mr. Williams that the Corporation of the Town of Halton Hills was hereby serving Mr. Williams a 'Notice of Trespass' effective immediately, restraining Mr. Williams from accessing any and all Town owned properties and facilities for an indefinite period of time with an exception to exercise his statutory right to vote in the upcoming municipal election.

The 'Notice of Trespass', the letter explained, was based on the following vague allegations:

A) A series of reported (alleged) incidents involving inappropriate behaviour; including the release of derogatory verbal comments to
staff, and visitors at/to the Civic Centre that (allegedly) occurred between 2005 and September 2006.

B) A recent report of an (alleged) incident involving inappropriate behaviour that (allegedly) occurred at the Civic Centre on the
evening of September 5, 2006 at approximately 6:20 pm.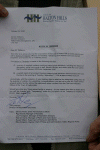 click to enlarge
Details were not provided for any of the alleged incidents reported in the letter which were quoted as being used to ban the senior from accessing Town facilities. The allegations center on alleged unspecified incidences reported by alleged unidentified individuals.
Mr. Williams, who has previously been a candidate for council and continues to be an active opposition member was once described by a member of council; as one of its biggest thorns in council's side. When Halton Hills Parks &Recreation Director - Terry Alyman, suspended a Halton Hills community resident from using any of the Park and Recreation facilities of the Town's community centres, for taking pictures of a hazardous safety concern - after they were published in the Toronto Star - Mr. Williams defended the whistle blower and openly criticizing the director publicly. He was also an outspoken critic of Terry Alyman when the Director singled out one of its nonprofit community groups and discriminated against them from using the Town's arenas bulletin boards. When a "shady" land transaction deal transpired behind our Town Hall's closed doors involving numerous council members with conflicts of interest and a political financial campaign contributor, which many were concerned may have resulted in former CAO Andrews resignation. Mr. Williams logged his concerns with the local police which later resulted in an investigation involving the anti-rackets bureau of the OPP. No charges were ever laid due to "lack of evidence".
We contacted the Town of Halton Hills CAO - Dennis Perlin, and queried him on the "no trespass" order asking; if he would be so kind as to please elaborate as to why the Town wants Mr. Williams to stay off publicly owned property?
Mr. Perlin did not answer our question but he responded;
"If Mr. Williams wishes to discuss the matter further he can do so by calling the Town Solicitor, Mr. Schaljo at 905-877-5206."
Essentially, it equates to the town's continued practice of persecuting community members financially, using Mr. Williams own tax dollars and the civil courts system, effectively bypassing any police investigation which might drop an investigation or any potential charges where there's no evidence of a crime. So now, what the senior citizen is faced with, is, if Mr. Williams wants to discuss the matter further or challenge the Town's actions, he'll have to hire a lawyer at his own expense and prepare to do battle with the taxpayer-funded "Town lawyer" and his taxpayer funded bottomless war chest, an action not many taxpayers could afford to undertake.
We also contacted Deputy Chief Kingston of the Halton Regional Police Services Department to find out if the Town, its politicians, staff or any private members have ever logged any complaints of illegal behaviour but, have to date, not heard anything back. Mr. Williams alleges the police have not contacted him with any complaints of illegal behaviour prior to receiving the letter from the Town.
We contacted all our elected council members asking them; how they felt about taxpayer's money being used to persecute a senior citizen-veteran? We also asked for their opinions on the Town's continuing practices of trying, convicting and persecuting its community members behind closed doors without a proper criminal trail? We hope to publish those response when we receive them.
The 70 year old Mr. Williams was visibly distressed while he told the Herald; "because of this (no trespass order) I won't be able to attend any more of my grandchildren's hockey games, any of our town's senior's centres or visit any of my friends or loved ones in any of the town's graveyards. When I die, I won't even be able to be buried in my own town's graveyard. I'm a prisoner of my own town who can't use any of the facilities that I'm paying for. I've been tried, convicted and sentenced for unnamed acts by unnamed individuals!"
At this point, the only assertion we can make is that it does appear as though, at least on the surface, that Mr. Williams has become another victim of the Town's practice of trying and convicting its opposition members from behind closed doors, without a trial, without a jury, without proper defense, or; an accredited Judge.
---
The people's elected representative of Ward 2 - Joan Robson, responded; Sat, October 28, 2006 11:12 am
Mr. Kirouac,

This is not a political issue. I believe our CAO has already replied to
your enquiry. If Mr. Williams wishes further information, he can contact
the Town's lawyer as indicated.

Joan
---
Home Page - Main Table of Contents - Back up a page - Back to Top
---
[COMMENTS BY DON B. - ]