Scanned, recopied or Internet copy, if there are errors, please e-mail me with corrections:
---
Opening comments: More at the end.


To the Public Question Period Index page.
---
Mississauga News - Aug. 7, 2008 - By John Stewart, jstewart@mississauga.net

No sleeping on the job for Hazel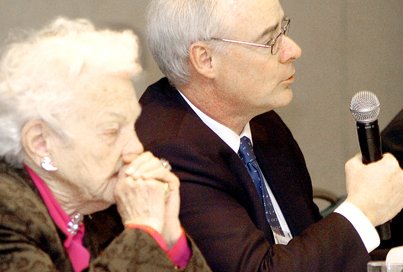 Mayor Hazel McCallion (sleeping).
Mayor Hazel McCallion appears to be taking a cat-nap
while Canadian Chamber of Commerce President and CEO Perrin Beatty
talks to the Mississauga Board of Trade about the infrastructure. File photo

Rumours of her inattentiveness at council meetings have been greatly exaggerated, Mayor Hazel McCallion told her colleagues yesterday at a City Hall meeting.

The mayor drew laughter from her colleagues yesterday when she joked that she ate lots of fish during a recent visit to her hometown on the Gaspé Peninsula, so she could better concentrate on municipal business.

The mayor was referring to an article in Saturday's edition of The Globe and Mail in which an anonymous "analyst" speculated on whether McCallion, who is 87, might retire after this term, her 13th as mayor.

The unnamed commentator suggested the mayor was showing "signs of diminished capacity," including dozing off in meetings and relying more on the administrative assistance of City Manager Janice Baker.

Ward 7 Councillor Nando Iannicca, who sits beside McCallion at council, rose to her defence.

"To say that the mayor dozes off in meetings, as the gentleman who sits beside her ... it is a complete and utter fabrication."

McCallion reiterated to a National Post reporter after the meeting that she doesn't feel she has lost a step.

"I don't know where they got that idea. I'm absolutely amazed," she said.

The mayor reiterated her statements when she was re-elected in 2006 that she intends to continue on the job unless health concerns intervene.

This December, McCallion celebrates 30 years in office as mayor.
---
Home Page - Main Table of Contents - Back up a page - Back to Top
---
[COMMENTS BY DON B. - ]