Scanned, recopied or Internet copy, if there are errors, please e-mail me with corrections:
---
Opening comments: Maybe more at the end.


Back to the Lyndwood School Cover-up.

Comments by others to this web-page - 5 - to this web-page at time of posting.
---
Mississauga News - Jan. 11, 2012 - By Jan Dean - jdean@mississauga.net

Nobody asked us: Parents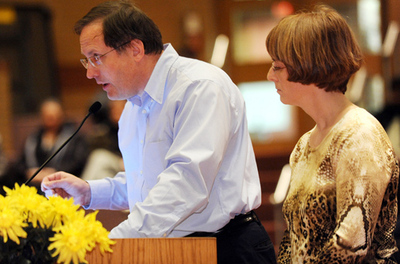 Angry parents.
Randy and Helen O'Malley told last night's meeting of the Peel District School Board
they aren't happy about the renaming of Janet McDougald Public School.
Staff photo by Rob Beintema
Who represented the interests of young students and their parents when Peel District School Board trustees met secretly and decided to rename Hartsdale Ave. Public School to honour school board Chair Janet McDougald?

Parent Helen O'Malley posed that question to McDougald several times at last night's meeting of the school board.
She got her answer. McDougald said no one represented the parents and children.

O'Malley and her husband Randall O'Malley, who have a son attending Hartsdale, were at last night's meeting to object to the recent name change.
They were upset the decision was made in a private meeting, with no input from parents.

The children "(went) to sleep one Thursday night as students of Hartsdale Ave. Public School, and woke up Friday morning attending a different school," said Helen O'Malley.

Her husband argued that trustees were fiscally irresponsible in renaming a school during the school year. He said the associated costs of implementing that name change could have been better spent dealing with the school's shortage of books that the new Janet McDougald Public School principal Bea Jankowski told him is desperate.

The O'Malleys said 7,000 books in the school library had to be re-stamped after the name change.

Moreover, Randall O'Malley said, it was a conflict of interest for trustees to name a school after a sitting trustee. McDougald has been a trustee for 23 years board chair for 14 years.

He said it would have been more appropriate to re-name the school in honour of the Lynd family, who donated the land for Lyndwood school, or for Neil Matheson, a respected principal of 33 years. The former Neil C. Matheson Junior Public School was closed along with Byngmount Beach to make way for Janet McDougald Public School.

O'Malley said he wants a rule forbidding naming schools after sitting politicians.

The Board took no action on the O'Malleys' deputation, meaning it does not plan to change its decision to rename the school. A letter thanking the parents for their deputation will be prepared for the next Board meeting, to be held Jan. 24.

This story has been update on Jan. 11 at 12:40 p.m.
---
Comments by others - 5 - to this web-page at time of posting;
---
hio Jan 22, 2012 9:05 PM

why was this article NOT in the printed version of the Mississauga News?

Is everyone becoming to complacent - and not concerned that YOUR TAX MONEY is being WASTED????? PLease call the Mississauga News and ask them WHY this article did not make the printed paper!!!


---
thebusinessman Jan 11, 2012 9:55 PM

We cannot have this as a precedent

Why is Peel the only board in Ontario that does this? www.facebook.com/JanetMcDougald
---
thebusinessman Jan 11, 2012 8:53 PM

McDougald's legacy is CORRUPTED

In the middle of a school year the elected board decided to rename a school. How is this a benefit to the constituents? The person it benefits is Janet McDougald and the trustees who made side agreements to get theirs.

Agree 1
---
Fartleberry Jan 11, 2012 3:22 PM

Give her a gold watch and get rid of her.

I am so sick and tired of hearing about public employees "serving" for a decade or more. That's absolutely nothing unusual but somehow seems to make a good headline. 3 years left to mount an effective push to dump the trustees that started all of this nonsense.

Agree 1
---
Downtown Citizen Jan 11, 2012 12:39 PM

The same me first look after my own attitude is alive and thriving in the school board.

They may espouse equality and values for the general student population but their own example is one of selfish, self congratulation. This is extreme narcissim at it's worst and does not demonstrate good governance by so called adults. Instead they look like a closed club patting each other on the back for a really bad decision.

Agree 3
---
---
Home Page - Main Table of Contents - Back up a page - Back to Top
---
[COMMENTS BY DON B. - ]