Scanned, recopied or Internet copy, if there are errors, please e-mail me with corrections:
---
Opening comments: More at the end.

Don't you just love the look on her face - like that of so many in old-folks home, she is so happy to see you, if only she could remember who you are & why you are here! Well she has her cup, time for meds.
---
Mississauga News - Jan. 23, 2009 - By Julia Le, jle@mississauga.net

Hazel celebrates lucky 88th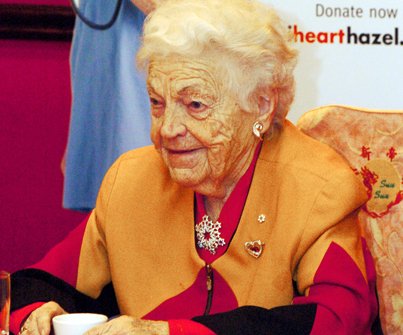 Hazel to visit Orillia.
Mayor Hazel McCallion is the guest speaker at an April 3 fundraiser in Orillia,
in support of Green Haven Shelter for Women.
File photo by Fred Loek
There's much to celebrate this lunar new year.

Not only is it the Year of the Ox, to be rung in on Chinese New Year next Monday, it's also the year of Mayor Hazel McCallion's 88th birthday, which falls on Feb. 14.

That's why the Mississauga Board of Chinese Professionals and Businesses and the Trillium Health Centre Foundation are throwing a party on Feb. 7 at Sun Sun Restaurant, in the Mississauga Chinese Centre on Dundas St. E.

The Spring Banquet, which starts at 6 p.m., includes performances by Don Choi and Feng Shui Master Paul Ng, a 10-course Chinese feast and a draw for 88 limited edition souvenir coins.

Mississauga residents are invited to dress that evening in Chinese clothing. McCallion will also be sporting a Chinese outfit, shipped from China.

A silent auction is also part of the event.

A portion of proceeds from the banquet will be donated to the I Heart Hazel campaign, launched last Nov. 19, 88 days before her 88th birthday, in support of the Hazel McCallion Centre for Heart Health at Trillium Health Centre.

A corporate table of 10 costs $880 and a regular table of 10 costs $480.

For tickets, call 905-828-6800 or e-mail cpb@cpbmississauga.com.
---
Home Page - Main Table of Contents - Back up a page - Back to Top
---
[COMMENTS BY DON B. - ]