Scanned, recopied or Internet copy, if there are errors, please e-mail me with corrections:
---
Opening comments: More at the end.


Back to the Lyndwood School Cover-up.

Comments by others to this web-page - 3 - to this web-page at time of posting.
---
Mississauga News - Jan. 25, 2012 - By Torstar Network

School board to examine naming policy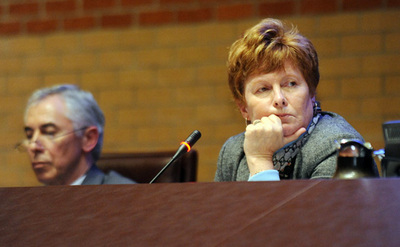 The name game.
Peel District School Board Chair Janet McDougald has been at the centre of controversy
since her colleagues decided to rename a school in her honour. Staff photo by Rob Beintema

The Peel District School Board will examine its school-naming policy in light of the controversy over a decision to rename a school after Chair Janet McDougald, says the director of education.

Tony Pontes doesn't expect the board to review the process or decision in the McDougald case, "but clearly there have been some questions raised here, and so we will absolutely (discuss) it.

"Can I promise you it will change? No," he said.

The decision to rename Hartsdale Avenue Public School in honour of McDougald, a 23-year trustee who has served as chair for the past 14 years, has prompted criticism from parents who say it was done in private, with no public consultation and no notice - and for no reason, in the middle of the school year.

In a letter to the board, the Mississauga Lakeview Ratepayers' Association called the decision both inappropriate, given McDougald is a sitting politician, and an "insult" as she was part of a committee that closed three schools in the area.

Those children are now being bused to the school named after her, the letter says.

While noting school names are a local issue, boards are expected to make such decisions in public and should consult with the community, said Greg MacNeil, press secretary to Education Minister Laurel Broten. He said the ministry has "no opinion" on the Peel board's actions "as we are not privy to the information discussed."

"When it is done this way, it's not surprising that it attracts public attention," said John Bell, an education lawyer at the Shibley Righton law firm. "One would have thought that, if the board is going to give a school name to a community stalwart, that community involvement would occur."
---
Comments by others - 3 - to this web-page at time of posting;
---
Alan Kan Jan 25, 2012 1:37 PM

I wonder

What the level of vitriol was when Hazel McCallion Senior Public School opened its doors?

Agree 3
---
macman Jan 25, 2012 11:48 AM

Pathetic!!!

This makes my blood boil every time it comes up. A school is named after a politician who is currently active. This is an insult to democracy and will sway the next election. This is better then having 5000 lawn signs. A permanent method to keep her name alive in the community in the ward she was elected in. I feel sorry for anyone who runs against her in the next election. You may be better off just sending your money off to a charity or something.

Agree 7
---
Fartleberry Jan 25, 2012 10:20 AM

So they will stubbornly stand by their secret decision to name the school after McDougald

but will be around at re-election time saying they've changed the process to satisfy public concerns. Pleeeeeze ... and some of us even remember that using a personal name was at the bottom of the criteria ranking list. Reverse this decision if you want to keep your elected position.

Agree 6
---
---
Home Page - Main Table of Contents - Back up a page - Back to Top
---
[COMMENTS BY DON B. - ]