Scanned, recopied or Internet copy, if there are errors, please e-mail me with corrections:
---
Opening comments: More at the end.

To the main Judicial Inquiry page - to the Hazel McCallion page.


Comments by others to this web-page
- 5 - to this web-page at time of posting.
---
Mississauga News - July 27, 2010 - By Katharine Sealey - ksealey@mississauga.net

McCallion co-signed loan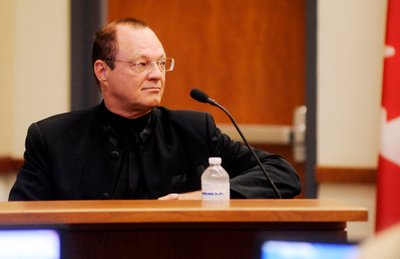 On the hot seat.
Peter McCallion took the stand this morning at the courthouse on Burnhamthorpe Rd. W. to testify at the Mississauga judicial inquiry.
Staff photo by Fred Loek

Peter McCallion has admitted he falsely represented himself as a signing officer of World Class Developments to borrow $50,000 needed to keep the company afloat.

During this morning's testimony at the Mississauga judicial inquiry, McCallion admitted he did not have the authority to act on behalf of WCD in requesting the loan from TACC Group Inc., a development company based in Streetsville. He told the inquiry he acted as his own co-signer when he borrowed the money.

The money he borrowed was among several large amounts, ranging from $30,000 to $75,000, McCallion deposited into WCD accounts to pay bills from consultants and vendors as the company tried to stay afloat during a failed plan to build a hotel and condo block in the downtown core.

Although not an officer of WCD, McCallion said he continued to invest his own money, borrowed and otherwise, because he wanted the deal to continue.
"If I didn't use my own money, all my efforts of the four (or) five years (of arranging the deal) would have gone down the drain, which isn't uncommon for a real estate agent," he told the inquiry.

During the period he was putting money in, McCallion was also being paid amounts by the company ranging from $770 to $6,000 in expenses and consulting fees.

"I needed money to live," said McCallion. "I needed money to pay my own expenses."

Although described as a principal in the company, McCallion testified that while he helped bring together many of the key players, he was only acting as a real estate agent for the group. He hoped to be given the job of selling the condos that accompanied the hotel deal.

"I was not involved in negotiations at all," he said.

The inquiry is probing the extent of Mayor Hazel McCallion's involvement in the failed $14.4-million land deal her son brokered for WCD.

Testimony continues this afternoon.

---
---
The Mississauga Muse
Jul 30, 2010 7:04 PM


@ Big E. Regarding former city manager, Dave O'Brien
First a caveat. I missed a couple of hearings and haven't watched the telecast. I can say this. I did watch Dave O'Brien when he was on the stand regarding the Enersource "veto clause". After he was sworn in he rattled off his years of public "service". It would have been nice for context for him to have also said, "I am the trustee for the McCallion family"! What? We find out this far down the path? However, it might have been mentioned in a hearing I'd missed. Either way, I don't know WHEN he was made trustee of the McCallion family. But Hazel McCallion saying that O'Brien "didn't ask nor was he invited" to that Enersource public meeting is no surprise now. Eventually I'll be compiling who gave the most "I don't remember I don't recall"s. Dave O'Brien or Peter McCallion. And yes, the terms of reference are that broad --mandate "look into good governance".
* Agree 1

Big E.
Jul 30, 2010 3:27 PM


Lineup forms to the ...
I too am becoming concerned in O'Brian's involvement that is coming out in the enquiry. I hope the terms of reference allow looking into that sort of thing as well.
* Agree 1
* |
* Disagree
* |
* Offensive
The Mississauga Muse
Jul 30, 2010 2:08 PM


Question. Anyone know when former city manager David O'Brien became trustee for the McCallion family?
* Agree 1
* |
* Disagree
* |
* Offensive
ComeOn
Jul 28, 2010 10:44 AM


Hazel McCallion Scandal Just A Keeps On Growin'
Hazel uses yelling as a tactic. Nothing personal she uses it like a school yard bully would use it. She acts determined, wild and insistent so that you back down or try to reach a consensus. She is no fool. She constructed this tangled web of deceit and it is amazing to see it slowly come apart. But no matter what happens she will declare victory at the end just like when the last Inquiry found her guilty. She will try to spin to us that she is guilt free -- despite the growing mountain of evidence that points to abuse of office -- I would be surprised if this does not lead to criminal charges. It is now making TV and soon everyone will draw the connections between the Enersource dealiings, Peter McCallion land dealings and then the City stepping in to save Peter by buying the land and forcing a settlement to the lawsuit between Peter and OMERS. If that is not enough deceit then what about getting Peter off the hook for increased development charges? Still not enough then what about the fact that O'B
* Agree 2
* |
* Disagree
* |
* Offensive
The Spudder
Jul 28, 2010 12:04 AM


@Snap
Good one snap about it being a long inquiry. You better get your comments in now as it is only going to get worse. Maybe you should do what your name says and snap yourself upside the head to wake yourself up. I guess the McCallion family has an affliction against reading what they sign. Is there a doctor in the house? How anybody can still support this Mayor after today's revelations is beyond me.
* Agree 2

The Mississauga Muse
Jul 27, 2010 11:41 PM


Toronto Star, "McCallion pushed son's project Inquiry hears evidence development company was Peter McCallion's from the start"
[QUOTE] Mayor Hazel McCallion was so involved in advocating for a hotel-convention centre project her son's company was developing she once got into a yelling match with the head of OMERS, a giant pension fund that was dragging its feet on selling the piece of prime downtown property needed. "(Mayor McCallion) is not happy that Michael Latimer (head of an OMERS subsidiary) is not selling the land to her preferred group," president and CEO Paul Haggis wrote in an October 2005 email to Fred Biro, a senior official at the pension fund.''She was actually yelling at me, while saying I should give the whole thing to Michael Nobrega, who of course can do no wrong as far as she was concerned,' Haggis wrote, referring to the man who now heads the pension fund. 'I did a pretty good job of keeping my cool although I did suggest that threatening me was not a good idea.'" The email was part of evidence filed Tuesday at a judicial inquiry probing the mayor's involvement..."
* Agree 2
* |
* Disagree
* |
* Offensive
ComeOn
Jul 27, 2010 8:56 PM


Hazel McCallion Scandal Grows Grows Grows
So SNAP/Mantis same dude(tte) you came back for some more did you? I gave you some reading to do found your Hazel admissions of guilt in the Star Sept 30 , 2009 and yet the blind loyalty is still strong. You know I was worried you might do something drastic. Good to see you are still here to kick around. Here is one for you -- Why is Hazel above the law? I am sorry I make these questions so hard for you.
* Agree 2
* |
* Disagree
* |
* Offensive
The Mississauga Muse
Jul 27, 2010 8:36 PM


Toronto Sun columnist Michele Mandel also part of the "tinfoil hat set"
Toronto Sun, "McCallion's son testifies at inquiry by Michele Mandel" QUOTE, "... McCallion said he was just the ideas man who put the development team together with the expectation that he'd ultimately get a commission on the land sale and another $10 million to $12 million in hawking the 2,500 new condos. 'I was basically acting as real estate agent, promoter of the development — the visionary,' he testified. The question is how much the son with only a Grade 12 education relied on his mommy's influence and back room involvement to secure, and then try and save, the deal. In his opening statement Monday, commission counsel Will McDowell told Justice Douglas Cunningham that 'the mayor battled for WCD to the bitter end.' And indeed it seems the mayor's fingerprints are all over the place." The rest is at: http://tinyurl.com/287dq6k
* Agree 1
* |
* Disagree
* |
* Offensive
The Mississauga Muse
Jul 27, 2010 8:25 PM


Toronto Star's Royson James now part of the "tinfoil hat set"
Royson: Visionary or idiot savant? By Royson James City Columnist The son of legendary Mississauga Mayor Hazel McCallion is either a shrewd businessman and "visionary" brokering deals on the edges of city hall, tapping into Mama Hazel's skills as fixer when needed; or he's an idiot savant who had to be saved from his bumbling self by an eagle-eyed mom. Take your pick. Either way, the commissioner of the Mississauga inquiry into concerns about conflict of interest in a city centre land deal will be hard pressed to conclude that mother and son are not intertwined in the failed hotel-condo project." The rest is at: http://tinyurl.com/3y6rsop
* Agree 1
* |
* Disagree
* |
* Offensive
The Mississauga Muse
Jul 27, 2010 7:04 PM


The Mississauga News is doing a good job summarizing today's hearing
Just a reminder there's nothing like the actual transcript and the Inquiry people are excellent at getting that out quickly. Will advise when it's ready. Just want to serve up this quote from MissyNews. [BEGIN] "I needed money to live," said McCallion. "I needed money to pay my own expenses." [END] I believe that. When I listened I tried to put myself into Peter McCallion's place (I have a good imagination). And it like drowning. I've said it two other places. I feel sorry for him.
* Agree 3

Snap
Jul 27, 2010 6:04 PM


Still Here
Oh we are still hear. Just that, unlike the tinfoil hat set, we have to work for a living, and can't spend our entire lives posting drivel with every story from the News. It's a long inquiry, and there will be lots of time for comment when it's over. Save the hyperbolie for then.
* Agree
* |
* Disagree 1
* |
* Offensive 2
Canadians
Jul 27, 2010 5:38 PM


INTERESTING THAT THE HAZELITES HAVE DISAPPEARED........
from this blog site. It's unfortunate for them, as they have held this woman and her group in high esteem and now what we see is the onion being peeled back. Today we see and they see cowboys. What happened to the FOUR MILLION DOLLARS? Did anyone ask? Taxpayers want their money back or a pound of flesh or something along those lines.
* Agree 1
* |
* Disagree
* |
* Offensive
bentota
Jul 27, 2010 4:30 PM


Corporate Governance
Does the Board of OMERS really have a handle on their CEO and fellow board member----this is no longer funny---OMERS is a public pension fund whose members pensions are at risk with this nonsense and taxpayers are footing a lot of bills for these antics---enough already--this is an RCMP matter already--call in the Mounties
* Agree 6
---
---
Home Page - Main Table of Contents - Back up a page - Back to Top
---
[COMMENTS BY DON B. - ]