Scanned, recopied or Internet copy, if there are errors, please e-mail me with corrections:
---
Opening comments: More at the end.

To the main Judicial Inquiry page - to the Hazel McCallion page.


Comments by others to this web-page
- 5 - to this web-page at time of posting.
---
Mississauga News - July 27, 2010 - By Joe Chin - jchin@mississauga.net

Not a principal: McCallion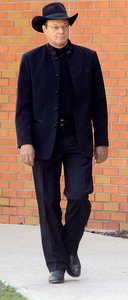 Peter McCallion
Peter McCallion arrived at Provincial Court this morning to testify at the Mississauga Judicial Inquiry.
Staff photo by Fred Loek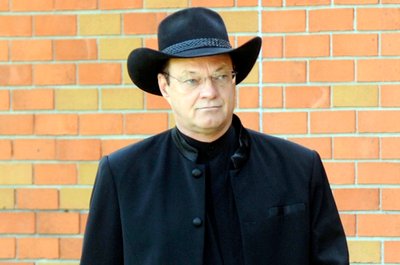 Peter McCallion insists he was never a principal of World Class Developments (WCD) and did not possess shares in the company, which was set up to purchase land to build a hotel/convention centre in the City Centre.

Although he initiated the project, going so far as to sound out Chinese and Korean financiers back in 2002, Mayor Hazel McCallion's son today told the Mississauga judicial inquiry that he believed his only financial benefit from the deal was to sell condominium units envisioned for the surrounding lands.

Peter McCallion, a real estate agent, was making his first appearance at the inquiry.

Once he brought other parties on board, specifically businessman Leo Couprie, who put up the full $750,000 deposit to commence negotiations with vendor Ontario Municipal Employees Retirement System (OMERS), he said his role was very minimal.

"I wasn't involved in negotiations whatsoever," McCallion told his lawyer, Brian Gover, who led him through the early days of the project.

Later, though, in a 2009 affidavit, he swore he was a principal of WCD. He said he only knew he'd done so when it was brought to his attention afterwards by his mother.

"I simply missed it," he said.

"No, I did not think I was a principal," he continued, adding he took steps to correct the document.

"Based on what I know today, I was a principal," he later admitted to Gover.

McCallion also acknowledged that he sometimes attended meetings on behalf of Couprie.

"I represented him because he wasn't interested (in attending meetings)," he said.

Even later, as talks with OMERS progressed, McCallion said "nothing had changed" in his role, although he personally loaned money to meet some financial obligations.

Sure to raise some eyebrows is McCallion's assertion that he sometimes did not read agreements between Couprie and himself.

The mayor was the witness in two of the agreements, one the initial deposit agreement and a trust agreement drafted when he and Couprie embarked on a trip abroad.

"It was just in case something happened on the plane," he said.

McCallion said it was his habit to speak with his mother "five, six times" per week on his business affairs, but only in a "general" nature.

"If I did mention anything (about the deal), it would be I thought it was taking a long time," he said.

McCallion acknowledged a meeting took place at the mayor's residence with Tony DeCicco, Murray Cook, himself and his mother. DeCicco and Cook were brought on to lend their expertise and financial wherewithal, he said.

McCallion's testimony continues this afternoon at 2 p.m.

---
---
The Mississauga Muse
Jul 30, 2010 12:50 PM


HAHAHAHAHAA okay get this. Peter McCallion says he is not a principal of World Class Development
Now check out Joe Chin's article where Peter McCallion states, "I did nothing wrong" Now go to the Judicial Inquiry transcripts where he's testifying. First July 27th http://mail.tscript.com/trans/mississauga/jul_27_10/index.htm And now July 28th http://mail.tscript.com/trans/mississauga/jul_28_10/index.htm Now count up the number of "I don't remember. I don't recall"s. Plus the "I didn't read"s. I submit he just doesn't REMEMBER he created World Class Development with him as principal and remember that he read!
* Agree
* |
* Disagree
* |
* Offensive
ComeOn
Jul 27, 2010 9:02 PM


Hazel McCallion Scandal Exposes Contradictions and Convenient Stories
Hey Mantis check out your cowboy brother. He did good today he switched his story a few times -- I am sure no one noticed. He apparently reads nothing - family tradition here. If the document can get you into trouble claim you cannot read. Tell them about the aliens that made you sign it -- oh it was terrible. Nope not just me and my kin lining our pockets at the public expense. No sir no us nope.
* Agree 1
* |
* Disagree
* |
* Offensive
Tony Jackson
Jul 27, 2010 3:24 PM
How convenient!!!!!!!!!!!!!
They have no LIE DETECTORS in use.
---
---
Home Page - Main Table of Contents - Back up a page - Back to Top
---
[COMMENTS BY DON B. - ]