Scanned, recopied or Internet copy, if there are errors, please e-mail me with corrections:
---
Opening comments: More at the end.


To the Public Question Period Index page.

Comments by others to this web-page 7.
---
Mississauga News - Oct. 1, 2009 - By Radhika Panjwani, rpanjwani@mississauga.net

Councillor apologizes to speaker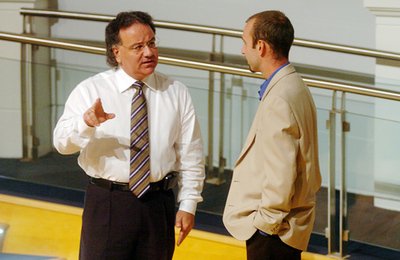 Face to face.
Ward 7 councillor Nando Iannicca met briefly with Andrew Hamilton-Smith
prior to council dealing with the question period issue.
Staff photo by Fred LoekWard 7 Councillor Nando Iannicca says he's sorry.

Mississauga resident Andrew Hamilton-Smith says he's chalking it all up to experience and moving on.

Hamilton-Smith was verbally berated by the veteran councillor when the University of Toronto Mississauga student appeared at City Hall in August to talk about preserving public question period.

Councillors wanted to move public questions to the sub-committees that deal head on with most issues and Iannnicca wasn't amused when Hamilton-Smith, a card-carrying member of the NDP, took them to task about it.

At one point Iannicca told the mild-mannered student to "just move along and get an education and learn how things actually work."

Yesterday, after councillors voted unanimously to keep the 30-year tradition of public question period alive for at least another six months, Hamilton-Smith received an apology from Iannicca.

Iannicca said he met up with Hamilton-Smith a few weeks ago and the two of them talked about things over a cup of coffee.

"You were a better man than I was," Iannicca told Hamilton-Smith. "Thank you for your time here and the way you handled the whole affair looks very good on you."

Hamilton-Smith, who remained calm and focused at the time, said he was taken aback and thought Ianniccca's actions were extremely unprofessional.

"As it was my first appearance before council, I wasn't sure what to expect," Hamilton-Smith said. "But at least it turned out to be a memorable experience. It also brought a lot of attention to the issue of public question period, so it had some positive consequences in the end."

When Hamilton-Smith appeared before councillors again yesterday, Iannicca praised him for his tenacity on the issue of public question period.

---
Home Page - Main Table of Contents - Back up a page - Back to Top
---
[COMMENTS BY DON B. - ]