Scanned, recopied or Internet copy, if there are errors, please e-mail me with corrections:
---
Opening comments: More at the end.

Noting Clayton Ruby as their lawyer is a BIG element to this story and should be noted at the top of the story.

Requests have been made to the "Missing News" for a copy of the article regarding "comments Saito made in the newspaper story that pot holes" but the news can't find it as their computer system does not store their own News stories!!! That is the reason why they are not quoting their own story.

Pat Saito admits she is responsible for involving the Peel police who charged 75-year-old Antonio Baptista - "said she had nothing to do with having charges laid, other than having referred the matter to police. "I suggested they give him leniency," she said." Nice try at worming out of it but the fact is Pat Saito knew what would happen if it was referred to the Peel police and WHY did she not call Mr. Baptista up to try and sort it out, even after the Peel police discovered who they thought it was, it could have been referred to her office if there had been ANY interest shown to work it out. Suggested "leniency"? Where is this politician's proof of that being done?
The CANCER on Democracy Developing in City halls - BANNING those who are
the Whistle Blowers, Ask the hard & Intelligent questions and are more successful than politicians at serving the greater good of taxpayers. The police, lawyers and legal orders are now the WEAPONS of choice as Security Insanity Plague us all!
---
Mississauga News - Oct 25, 2006 - By John Stewart

Ward 9 protest candidate faces criminal charges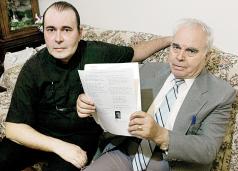 75-year-old Antonio Baptista, and his son Joe,
are both challenging Ward 9's Pat Saito in the municipal election Nov. 13.

Municipal politics is often denigrated by its detractors for being about nothing more than pot holes and parking.
For evidence that such apparently mundane subjects can unleash unusual passion, look no further than this year's Ward 9 City Council race.
Incumbent Councillor Pat Saito's remarks about pot holes, as reported in a 2003 story in The Mississauga News, prompted an angry constituent to write a poem that made fun of her suggestion. That resulted in charges of threatening and uttering death threats being laid against the man by Peel Regional Police in February.
Now the accused, 75-year-old Antonio Baptista, and his son, Joe, are both challenging Saito in the Nov. 13 election.
In an interview at the Brampton courthouse where his trial date was to be set, Baptista said he is running as a protest candidate to bring the public's attention to the charges he feels have been unfairly brought against him.
He explained that comments Saito made in the newspaper story that pot holes and parked cars can act as speed bumps because they slow down traffic incensed him to the point that he wrote a poem, entitled Parked Cars and Pot Holes in the City of Mississauga. In the poem, he referred to building a pot hole that would be large enough to hold the councillor's body.
Baptista said he posted about 10 copies of the poem in his neighbourhood. An off-duty police officer saw one of the postings and brought it to Saito's attention. Her office referred it to police and charges were subsequently laid.
Baptista, who has lived in Churchill Meadows since July 2001, was already upset with the councillor about a tax issue.
"I don't think I did anything wrong," said Baptista, who suffers from prostate cancer. "I wrote it (the poem) to make her feel guilty."
Saito, who has represented Ward 9 since 1991, said she had nothing to do with having charges laid, other than having referred the matter to police.
"I suggested they give him leniency," she said.
Over the years, she has often joked in public that pot holes slow down traffic.
"The whole thing is unfortunate," she told The News. "I didn't want to see him go to jail, but I wanted him made aware that what he was doing was wrong. When you are in politics, this is the kind of thing you open yourself up to."
Joe Baptista, who is his father's campaign manager, entered the race because the conditions of Antonio Baptista's bail prevent him from contacting City councillors directly or indirectly. Since his father could not attend any all-candidates' meeting, he would act as his father's spokesperson, Baptista said.
"It's a satirical poem, which is a form of artistic expression," the son commented.
In an attempt to promote his father's cause, Joe Baptista this week circulated the controversial poem to all the candidates in the municipal election and numerous public officials.
As a result, he has been warned by the Crown Attorney's office to stop, or he could also face charges. In a defiant e-mail in response, Baptista urged supporters to confirm they have received the poem because it, "will assist me to expose the moral bankruptcy that has become our political and justice system."
Antonio Baptista told The News he went to City Hall to register as a candidate, even though his bail conditions banned him from being within 500 metres of the building. His son, who did not know about his father's plan to register that day, said his father had forgotten about the condition until he showed him the bail documents. No charges have been laid.
Antonio Baptista is to appear in court again next April 16. He has retained high-profile lawyer Clayton Ruby to defend him.
Michael Johnson, Bill McBain and Fernando Rodrigues are also seeking the Ward 9 seat.
You can reach John Stewart at jstewart@mississauga.net.
---
Home Page - Main Table of Contents - Back up a page - Back to Top
---
[COMMENTS BY DON B. - ]