Scanned, recopied or Internet copy, if there are errors, please e-mail me with corrections:
---
Opening comments: More at the end.



Comments by others to this web-page - 10 - to this web-page at time of posting.
---
Mississauga News - Oct. 5, 2010 - By Julia Le - jle@mississauga.net

Strict rules thin herd at debate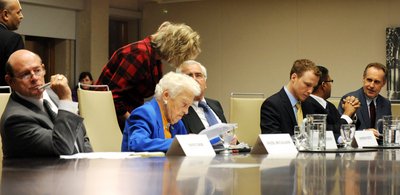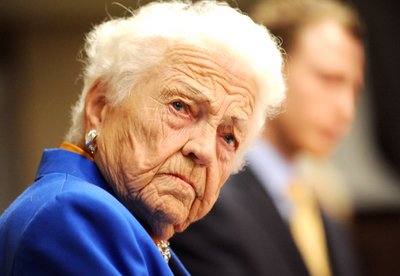 Face-off
Six hopefuls aspiring to be Mississauga's mayor faced-off at the MIRANET
all-candidates meeting taped by Rogers Cable 10 in the UTM Council Chambers.
Staff photo by Rob Beintema
Infrastructure was at the heart of the debate last night when six candidates in the mayoral race duked it out at the University of Toronto Mississauga (UTM) campus.

The audience, made up of ratepayers' group members and political science students from UTM, kept the candidates hopping with a variety of hard-hitting questions about transit, city development and where candidates would find money to maintain service levels without raising taxes.

During the two-hour exchange, candidates were allowed to answer questions briefly and were also given a chance to rebut other candidates' points.
Meeting organizers the Mississauga Residents' Associations Network (MIRANET) and Rogers Cable 10 said the format allowed for the "best chance for true debate".

Several mayoral candidates disagreed, declining to appear at the debate, saying it was too restrictive: Conditions laid down by MIRANET included a "civil behaviour" clause forbidding heckling and a restriction on recording devices.

Mayoral candidate Peter Orphanos said he wanted to see Mississauga make a change for the better.

"I have the exciting vision of one leader that wants to move forward from the status quo...," he said. "I see well-planned communities and making hard choices that prevent problems since the 1980s."

He said he also wanted to see rapid transit built that would be free for young people and seniors, an accelerated 20-year bicycle plan done in five years and a leader who would unite council through "mutual respect and consensus."

Mayor Hazel McCallion said she has heard the many concerns about the city's infrastructure and is determined to work with a "council that will cooperate in making sure the strategic plan, the cycling plan the new economic development plan will be implemented for future of the city."

"I will continue to make Mississauga the financial success it has been in the past even though we will be facing challenges," she said. "I'll continue to pressure provincial and federal governments to give us necessary funding for infrastructure."

Candidate Dave Cook said the single most important election issue is leadership. He said existing infrastructure and transit problems cannot be solved without a leader willing to work through the problems with city council members. He vowed, if elected, to bring unity to the group.

Mayoral candidates Ram Selvarajah, George Winter and Andrew Seitz also participated in the debate.

Those who did not participate in the debate have been offered the opportunity to tape a five-minute profile, to be aired on Rogers. Mayoral candidates have also submitted their platform statements to MIRANET, which is now posted on their website, miranet.ca.

The debate will televised on Rogers Cable 10 on Oct. 11 at 5 and 11 p.m. and on Oct.23.
---
Comments by others - 10 - to this web-page at time of posting;
---
The Mississauga Muse
Oct 6, 2010 12:58 PM


@ ForTheTruth. Thanks for that Globe and Mail article. Proves MIRANET/Tomiuk was blowin' out their @SSeS about following rules!
Quote, "Ms. McCallion, for her part, showed her easy confidence and charisma, speaking without notes and frequently going over her allotted time while moderators tried unsuccessfully to get her to stick to the time constraints. "
* Agree 2
* |
* Disagree
* |
* Offensive
The Mississauga Muse
Oct 6, 2010 12:38 PM


All I can see is that after her re-election Hazel McCallion will be very, very, very GRATEFUL to MIRANET.
MYTHissauga. A Tale of Two Cities.
* Agree 1
* |
* Disagree 3
* |
* Offensive
ForTheTruth
Oct 6, 2010 11:59 AM


There is very little to do in Mississauga
http://www.theglobeandmail.com/news/national/toronto/hazel-mccallion-to-participate-in-upcoming-mississauga-mayoral-debate/article1743983/ "Madam Mayor, you just don't get it. How can you have a downtown that consists of just homes?" said candidate George Winter, a retired teacher and former school-board trustee, in attacking central Mississauga's domination by condo towers and a shopping mall, with little street-front retail. "There has to be a downtown because right now, we don't have one." Dave Cook, a former city councillor, promised to involve councillors in making policy, a clear reference to criticisms Ms. McCallion has tried to keep council under her control. "When I am elected, I will encourage spirited debate, but the end result will be a settlement," he said. The most pointed criticism of the state of affairs in the city, however, came from 32-year-old warehouse worker Andrew Seitz, one of the many little-known candidates in the race. "There's very little to do in Mississauga, espec
* Agree
* |
* Disagree
* |
* Offensive
ComeOn
Oct 6, 2010 11:50 AM


One Thing For Sure -- Vote For Anyone But Hazel!
The time has come to turn the page. Hazel and her back to the future style platform are stale old and pathetic. Her refusal to speak let alone barely acknowledge her wrongdoing shows contempt for voters. Why do we have to put up with this silliness? It is time to pick wisely and move on to our new future.
* Agree 7
* |
* Disagree
* |
* Offensive
ForTheTruth
Oct 6, 2010 11:41 AM


Undecided www.ram4mayor.ca and www.georgewinter.ca feasible short list
Evaluations still needed. Watch debate Oct 11 @ 5 and 11 PM ch 10 Ram has good message , web site, and committe working for him. They all wear Miss pins too. Serious young contendor. George's idea to elicit hazel on welcomming committe would be volumnteer work to keep her busy and tap into knowledge as Obama did with Hillary. Sure he is not loving mayor, and was FOR INQUIRY JUSTICE for sure. He has same views as Raj and others but brings leadership experience. Key is we get someone to replace Hazel now before we are in a mess should she be called for a service elsewhere. Both can work with whoever get councilors jobs so that is good versus hazellll's friends only!!
Therese Taylor
Oct 6, 2010 10:41 AM


@ Eekso I totally agree with you. George Winter no longer a contender for me.
Giving her a job and "letting Mrs. McCallion end her service with honour and dignity." I thought Winter was following the inquiry. Still, he wants to give her a job. Amazing! Just playing to the Hazelnuts, two nights in row no less. Just like Peter Orphanos with his comment at the first all candidates meeting. "We love you, Madame Mayor…" I'd like to know how Orphanos is going to "see well-planned communities," when Mississauga is pretty much all built out with more six-lane highways than anywhere in North America (perhaps anywhere in the world). Also, Orphanos has a personal agenda he's been working on for many years. Getting the Kraft Mill out of his backyard.
* Agree 4
* |
* Disagree 1
* |
* Offensive
Eekso
Oct 6, 2010 10:24 AM


@ForTheTruth
George Winter has flopped around like a fish outta water. I've got his flyer in my hand...hmmmm, no meat or substance to anything resembling a campaign platform... but a lot of examples of why Hazel should get out (as quoted by other people, no less!). And now, he wants to offer her a job if he gets in? LOL If you really want to go ForTheTruth, time to look elsewhere.
* Agree 6
* |
* Disagree
* |
* Offensive
VirignVoterNoMore
Oct 6, 2010 10:14 AM


Amen to City Slicker
For the third largest city in the province, we have nothing to show for as our own identity. How can we ever get out of TO's shadow whn our newspapers are basically ad collections and "live" TV programming has to be taped?
* Agree 8
* |
* Disagree
* |
* Offensive
CitySlicker
Oct 6, 2010 10:08 AM


Call that Journalism?
It's bad enough that we don't even have our own TV or radio station, but our only paper can't even enlighten its readers with decent coverage of a debate inaccessible until a week after the fact!!! C'mon, only 6 candidates...couldn't get a quote from ALL of them? Step up the coverage!!
* Agree 8
* |
* Disagree
* |
* Offensive
Fyrespirit
Oct 6, 2010 9:28 AM


Perhaps there is only one diamond in the muck ?
Lets look at who debated...Cook - an ex Hazelite who wants to continue more of the same if he is chosen, Winter - wants to give Hazelite wannabee who wants to give her a job if chosen to continue more of the same, Orphanos - one trick pony so focussed on bike lanes to the exclusion of all else, Seitz - wants to move from Inquiry scandal to Insurance scandal and wants to keep erindale park open 24hrs(!), McCallion - more of the same same same and then there is Ram Selvarajah who from what I see has focussed on issues, refrained from mudslinging and made the effort to address the needs of all Mississaugans..check it out www.ram4mayor.ca. I think I am all the more closer to a decision.
* Agree 7
* |
* Disagree 1

ForTheTruth
Oct 6, 2010 7:33 AM


"I ask your help in letting Mrs. McCallion end her service with honour and dignity."Winter
"Being mayor is not something to do in my retirement years." Ram SelvarajahSee Star---http://www.thestar.com/news/mississauga/mccallion/article/871264--mississauga-marks-first-mayoral-debate
* Agree 2
* |
* Disagree 1
* |
* Offensive
ForTheTruth
Oct 6, 2010 7:22 AM


Hazel still pushing convention centre and condo clash with others who want businesses and retail
George Winters closing statements are a must to listen to. Please copy and send around muse. Leadership and integrity with 36 years of service were key points along with infrastructure, and all the same as others. They all agreed on a Deputy mayor position. Dave Cook shot down Andrew by saying "grow up" when the insurance plan was being put forth. Lost youth vote I expect, and seemed like he was back on council with Hazel rather than giving an image of leadership and mayor. Too much time on bicycle lanes, don't they know we have snow. Hazel still PUSING for convention centre in core, same speech as night before. Keep an eye on-- www.georgewinter.ca ---
* Agree 2
* |
* Disagree 4
* |
* Offensive
The Mississauga Muse
Oct 5, 2010 11:36 PM


"Those who did not participate in the debate have been offered the opportunity to tape a five-minute profile, to be aired on Rogers."
I'd like to know who is offering this wonderful gesture so I can thank them.
---
Home Page - Main Table of Contents - Back up a page - Back to Top
---
[COMMENTS BY DON B. - ]