"Mrs. McCALLION what is wrong with the City of Mississauga?" (Antonio Batista)
(You may need to click twice or if you wish Go Directly to the clip on Google Video)
This- is Mississauga.
I GOOGLEd the other day "court transcripts" "Ontario" and variations thereof to see how to buy the transcripts of "The Antonio Batista Death-by-Poetry Trial". I was surprised to find it could be an expensive proposition. Not to mention the transcripts might be a long time coming. I found this.
It's the reason that I decided to create a court "transcript" here --on the World Wide Web. Perhaps when someone GOOGLEs "clayton ruby" "freedom of speech", they will find their way here. Perhaps they themselves might be a victim of government and GOOGLE "freedom of information" or "hypocrisy" or "accountability" or "transparency" or "ombudsman" or "evil empire" --who knows? I hope they find this "transcript" useful.
Today's focus is on Antonio Batista --Defendant.
While I don't know how Mr. Batista (charged with "uttering death threats and intimidation against Ward 9 Councillor Pat Saito) feels about me, I can say that I have come to regard him as a friend. I care about him and feel ever-so-sorry for him.
I care about Mr. Antonio Batista mostly because The Corporation of the City of Mississauga "Trust, Quality, Excellence" people treated him so shabbily when he approached them for help.
Seems to me, it isn't possible for this "Best in Canada" municipal government to care any less about a citizen or be any more hypocritical --and that includes right up the food chain to Mayor Hazel McCallion who will be listening to City Manager Janice Baker tomorrow at the University of Toronto Mississauga give a deputation on "Trust, Quality, Excellence" and their "corporate values".
The Stage set, we shall now be Moving Forward...
During the first day of his trial, Mr. Batista showed me the letter he wrote Mayor Hazel McCallion after his repeated attempts to reach his Councillor, Pat Saito failed to bring any response from her.
Mr. Batista gave me permission to reproduce his letter verbatim just as he typed it.
LETTER BEGINS
"Mrs. Hazel McCALLION
Honorable Maior of the
City of Mississauga
300 City Centre Drive
MISSISSAUGA, Ont.
L5B 3C1
Dear Mrs. McCallion
I am Writing to You regarding the new taxes for the year 2001 taxes that I already paid for that year.
I have the bill with me to prove it (ti was 947.44 for the 165 days that I was in the house.
I got it on July 20, 2001 from GREEN PARK.
Now the bill I was sent is for 728.63
Mrs. MCCALLION I do not think that I should pay again the taxes that I already paid and I think that something is wrong with the City of Mississauga and with Mrs. Pat Saito.
I wrote Mrs. Saito one letter in November 4, 2005 and Dafter I phoned Her but she was not in. I was told the she was sick.
About a month later I phoned again and this time she was on Holidays. After I phone again and she was not in.
Mrs. McCALLION what is wrong with the City of Mississauga?
Are these People looking at the MOON easted of doing their jobs?
I am upset and I do not what is really going on.
Can You Mrs. MccALLION have a look at this problem and see if You can get this People workin and do things the right way?
Truly Yours Antonio Batista.
LETTER ENDS
Mr. Batista did not receive a response from Mayor Hazel ("The People's Mayor") McCallion either.


Monday, May 28, 2007 --Antonio Batista (background) and his wife listen to Councillor Pat Saito

Signed, The Mississauga Muse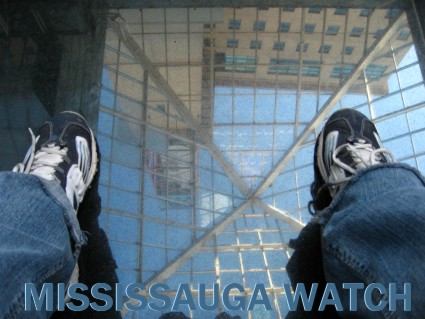 "We must employ every possible tactic to dissuade those who try to silence us with fear." ---The Mississauga News Editorial (March 24, 2007)
"The government must not silence its critics by force." ---Clayton Ruby (May 29, 2007)