Scanned, recopied or Internet copy, if there are errors, please e-mail me with corrections:
---
Opening comments: More at the end.

Get a load of the picture they are using - clearly they want public opinion to focus on what Peter was wearing.
And the name is Peter not Paul and yes he comes from a religious family (or so they claim).


To the main Judicial Inquiry page - to the Hazel McCallion page.
---
National Post - Jul. 28, 2010 - By Megan O'Toole - motoole@nationalpost.com

McCallion's son denies knowledge of own firm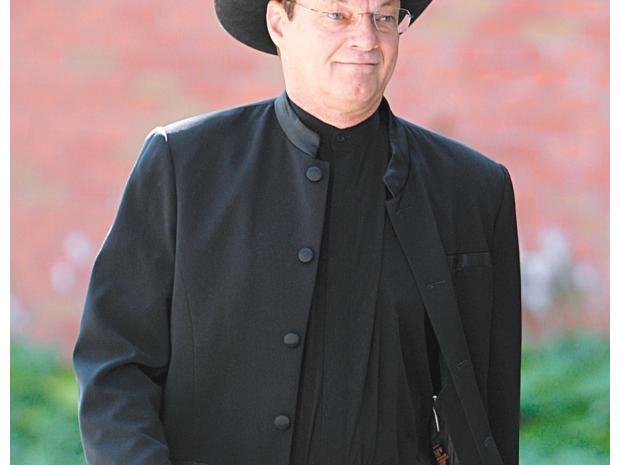 Paul McCallion testified he did not know he held equity in World Class Developments
Peter J. Thompson, National Post
As clearer evidence emerged yesterday of Mississauga Mayor Hazel McCallion's entanglement in her son's failed bid to build a hotel and condominium complex in the city centre, Peter McCallion moved to distance himself from World Class Developments, the firm he created five years ago to push for the project.
A self-described "visionary" who strode into a Mississauga courthouse yesterday clad in a black suit and his trademark cowboy hat, Mr. McCallion told a judicial inquiry into allegedly suspect city business dealings that he was unaware until recently that he owned part of World Class. When it came to discussions with vendors of the proposed hotel lands -- including pension giant OMERS and 156 Square One Ltd.--Mr. McCallion denied any role.
"I was not involved in negotiations at all," testified the 57-year-old real estate veteran who lives moments from his mother's Mississauga home. "I was strictly a real estate agent."
His contention clashed sharply with marketing documents listing Mr. McCallion as a principal of the company, and raised questions as to why, as a mere broker for the firm, he would have poured more than $150,000 into World Class to keep the company afloat amid a deteriorating global economy.
"The company was running out of money," he offered as explanation, noting he expected to earn between $10-million and $12-million in commissions from the sale of condo units, as well as a separate commission when the hotel deal went through. "In order to keep the deal alive, I saw fit that I had to put some money in."
Mr. McCallion also withdrew thousands of dollars from the company on a number of occasions "to pay my own expenses." As he spoke, Mr. McCallion's tight features mirrored his mother's.
Indeed, their reputations are inextricably linked in the inquiry examining whether the Mayor's conduct in the World Class matter was appropriate.
Yesterday, documents emerged to suggest the Mayor put undue pressure on OMERS to push for her son's deal, which had fallen apart by early 2009.
"[She] said she was going to the media unless we did what she wanted," states an email sent by former OMERS chief executive Paul Haggis in the fall of 2005. "She was actually yelling at me ... I did suggest that threatening me was not a good idea."
Mr. McCallion said he frequently spoke with his mother about his work in general, but could not confirm details of meetings between the two of them and Tony DeCicco, who would eventually become a majority shareholder in World Class. Excerpts from the Mayor's agenda show meetings involving all three players in the run-up to, and during, negotiations on the hotel deal.
"It wouldn't have anything to do with WCD at that point.... I can't absolutely say it wasn't, but most likely it was not," Mr. McCallion testified.
The Mayor was also present when her son signed a document three years ago avowing his ownership of World Class Developments, incorporated for the sole purpose of realizing the land deal, which Mr. McCallion valued at $1.5-billion.
The 2007 trust agreement indicates company financier Leo Couprie was holding 80% of the World Class shares in trust "solely for the benefit" of Mr. McCallion. Murray Cook, recruited by the company for his considerable development experience, owned the remaining 20%at the time, the inquiry has heard. (That configuration later changed when Mr. DeCicco was brought on board as a majority shareholder.)
Although he says he did not understand the trust agreement at the time, Mr. McCallion acknowledged he is now clear on its terms: "It would mean I own the company."
When he signed, however, Mr. McCallion says he believed the document's goal was to protect his own interests in the deal as he prepared to travel with Mr. Couprie, "just in case something happened to us on the plane." After the trip, he discarded his copy, Mr. McCallion said.
The Mayor, who signed as a witness, did not read the terms of the trust agreement, which Mr. Couprie drafted by "Googling" the term "trust agreement" and printing out a basic form, Mr. McCallion said.
"She was strictly acting as a witness," he testified.
On another occasion, Mr. McCallion borrowed $50,000 from developer TACC to help fund World Class, signing a promissory note as an officer of WCD, though he contends he did not believe he had the authority to do so.
"Lo and behold ... you were wrong to have thought that you were wrong," city lawyer Clifford Lax quipped during cross-examination.
When the hotel deal fell through, World Class received a $4-million settlement, but Mr. McCallion says he expected only to receive repayment of the money he had lent to keep the company afloat. The Mayor was involved in facilitating negotiations on the settlement, the inquiry heard.
Mr. McCallion-- a 16% shareholder in World Class -- says he did not know until about a month ago he held equity, but agreed yesterday he would therefore be entitled to 16% of the net settlement.
Fuelling the bizarre chain of events, an affidavit Mr. McCallion signed last year linked to litigation over the failed land deal lists him as a principal of the company, but he later refiled the affidavit to delete that information.
Asked to explain the discrepancy, Mr. McCallion said he "simply missed" the reference when he first read the affidavit, but his mother later drew it to his attention.
The inquiry is set to resume today.
---
Home Page - Main Table of Contents - Back up a page - Back to Top
---
[COMMENTS BY DON B. - ]