Scanned, recopied or Internet copy, if there are errors, please e-mail me with corrections:
---
Opening comments: More at the end.


To the main Judicial Inquiry page - to the Hazel McCallion page.
---
National Post - June 16, 2010 - By Megan O'Toole - motoole@nationalpost.com

Councillors told of veto, inquiry hears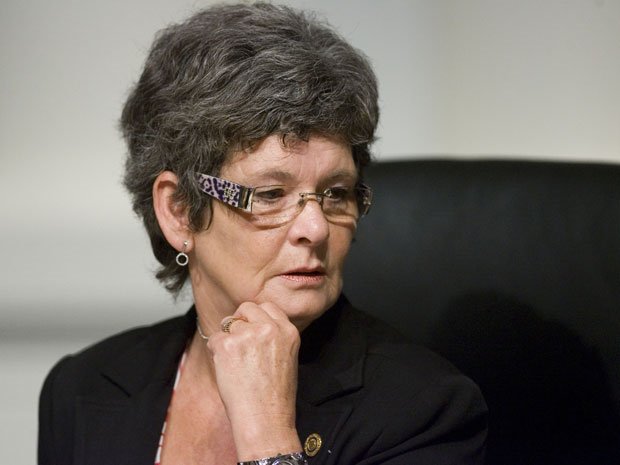 Several councillors were told about a controversial veto in the Enersource contract,
Katie Mahoney testified on Tuesday.
Chris Young for National Post files
In a surprising twist, Katie Mahoney yesterday told a judicial inquiry that -- contrary to sworn affidavits from five of her council colleagues -- councillors were, in fact, briefed on a controversial change to the city's Enersource deal before it was signed 10 years ago.
Ms. Mahoney could not recall the specific date of the briefing, nor which of her council colleagues were in attendance, but on one point she was certain: Mayor Hazel McCallion was absent from the session, her seat occupied instead by David O'Brien, the city's former manager and first president of Enersource.
"Mr. O'Brien ... said there is one addition to the agreement, [and] outlined the veto," Ms. Mahoney testified, under questioning by commission counsel Naomi Loewith.
She recalled a short question-and-answer session before the briefing ended. "There were no objections, to my recollection, and Mr. O'Brien left."
The change Ms. Mahoney testified about is at the heart of this phase of the judicial inquiry, which is examining two questionable city business dealings. It is a clause giving minority shareholder Borealis veto power over Enersource board decisions.
Borealis, a subsidiary of pension giant OMERS, bought a 10% stake in the hydro utility in 2000. The veto clause was added to that deal at the last minute, just days before papers were signed.
Ms. Mahoney is the only councillor who recalls being briefed on the veto. Five of her colleagues who were also in office at the time have signed affidavits stating they were not told of the change before the Mayor signed the deal.
"I would have recollected if Mr. O'Brien or anyone else had briefed me regarding the veto, as I would have spoken vehemently against it," Councillor Carmen Corbasson states in her affidavit.
The inquiry has heard the Enersource agreement ultimately hinged on the inclusion of the "deal-breaking" veto. It was inserted on Dec. 4, 2000, just two days before the deal was signed.
The Mayor has testified she was never informed of the change, and Ms. Mahoney's testimony does not contradict that. For his part, Mr. O'Brien contends it was likely he briefed council on the veto before the deal-signing on Dec. 6, and suggests it is "very probable" he informed Ms. McCallion personally as well.
Ms. Mahoney, who has sat on council since 1991, said she recalled a briefing in the caucus room at City Hall after a council meeting, possibly on Dec. 6. There are no records of any briefing, but Ms. Mahoney suggests it may have taken place during a private and unrecorded session.
Asked why she had never spoken publicly about her recollections of the briefing even as the inquiry process picked up steam, Ms. Mahoney said she told some of her fellow councillors, but because she could not pin down a specific date for the briefing, "it was sort of dismissed."
A couple of councillors say they recall Ms. Mahoney raising the issue privately, while others do not.
Councillor George Carlson, one of the five who swore an affidavit, says it is "inconceivable" such a major change to the Enersource deal would have been done with such little formality.
"The simple fact is that no one, except apparently Councillor Mahoney, was informed of this veto prior to its being added to the agreement," Mr. Carlson said.
"It is highly doubtful that council would have knowingly given away such control to a 10% partner."
---
Home Page - Main Table of Contents - Back up a page - Back to Top
---
[COMMENTS BY DON B. - ]