Scanned, recopied or Internet copy, if there are errors, please e-mail me with corrections:
---
Opening comments: More at the end.


To the main Judicial Inquiry page - to the Hazel McCallion page.
---
National Post - June 3, 2010 - By Megan O'Toole - motoole@nationalpost.com

Not told of changes: McCallion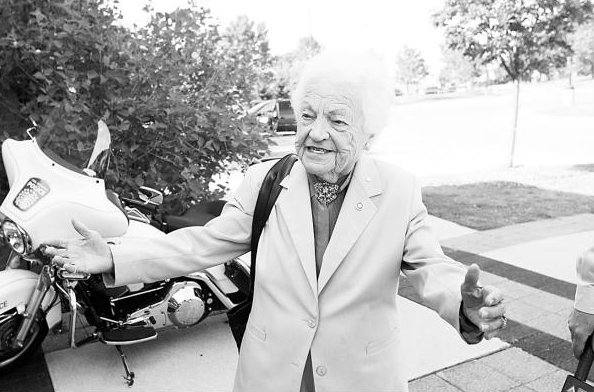 Mississauga Mayor Hazel McCallion, speaking outside the court yesterday, said the city's legal counsel "let us down."

Mississauga Mayor Hazel McCallion yesterday told a judicial inquiry she was not informed of a key change to her city's hydro deal 10 years ago, despite contrary testimony last week from the city's former manager.
David O'Brien, who became the first president of Enersource in 2000 after spending years as city manager, had testified it was "very probable" he informed Ms. McCallion personally of the change, which gave veto power over major board decisions to a minority shareholder.
"I have no recollection of Mr. O'Brien telling me about any changes to the agreement.... There is no record of any meeting that either the council or I was informed of any change," Ms. McCallion said under questioning by her own attorney, Freya Kristjanson.
The change in question relates to a decade-old agreement to establish Enersource. That deal, which gave OMERS subsidiary Borealis a 10% stake in the hydro utility, was tweaked at the last minute to give veto power to Borealis.
The inquiry has heard the Enersource agreement ultimately hinged on the inclusion of this "deal-breaking" clause, but councillors say it was never brought to their attention.
Ms. McCallion acknowledges she never read the final agreement, despite signing a Mayor's certificate indicating she was familiar with its provisions.
"The council depends on the staff and the consultants that are hired to guide us through this entire thing and to implement the direction of council," Ms. McCallion testified.
But even if she had read the deal clause-by-clause when council approved it on Nov. 29, 2000, the veto would not have been present. That was inserted days later, the inquiry has heard, on Dec. 4.
Mr. O'Brien says he believes he briefed all of council on the change between then and Dec. 6, when the final deal was signed--yet there is no record of any such meeting.
"I was not at any meeting that council was told," Ms. Mc-Callion testified.
Mr. O'Brien also told the inquiry it was highly likely he discussed the change with the Mayor personally, as their offices were close together and they kept in frequent contact about city business.
Ms. Kristjanson, however, introduced evidence of the Mayor's hectic schedule during the relevant time period, showing a host of commitments, from external luncheons and fundraising galas to photo shoots and ribbon-cutting ceremonies.
Despite the controversy that has arisen in the years following the Enersource deal, Ms. McCallion said if the necessity for the veto clause had been explained to her at the time, "I would have approved it."
"It was a very important deal. It was unique in the province," said Ms. McCallion, 89, who has led the city for more than three decades.
Outside court, the Mayor laid blame on the city's outside legal counsel, Bill Houston, who was hired to guide council through a "very complex agreement."
"In my opinion [he] let us down," she said.
---
Home Page - Main Table of Contents - Back up a page - Back to Top
---
[COMMENTS BY DON B. - ]