Scanned, recopied or Internet copy, if there are errors, please e-mail me with corrections:
---
Opening comments: More at the end.

Well - Well - Well, what is this?
"assassination protocol, a system whereby people can contribute to a fund that will be used to pay an assassin to kill a public servant."

To the web-page with the list of articles regarding this matter.
---
National Post - Tuesday, May 29, 2007 - Page: A7 - Section: Canada - Byline: Joseph Brean - Dateline: BRAMPTON


Death threat poem actually satire, court told
Criminal trial;
'I'm not the Bad Wolf,' accused told police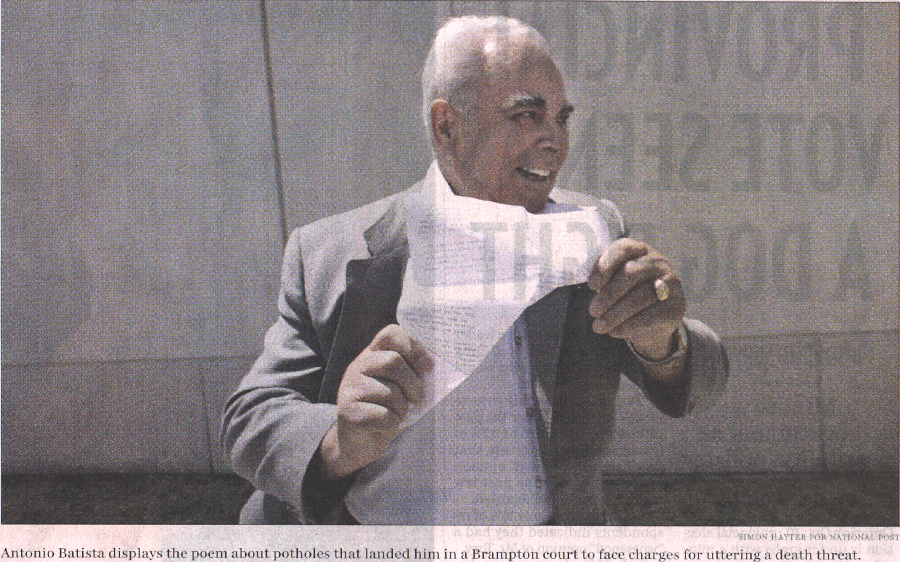 BRAMPTON - Antonio Batista, 75, who came to Canada from Portugal in 1969, and now lives with his wife in Mississauga, where he allegedly uttered a death threat to his city councillor over a tax dispute in a poem he wrote on a typewriter and taped to a few mailboxes in the neighbourhood, is no Mordecai Richler. For starters, he is a Christian.

He is also an unconvincing Margaret Atwood, despite expert evidence in voir dire testimony yesterday, in which an English professor emeritus situated Mr. Batista in the tradition of great literary satire, from Swift's modest proposal that the starving Irish should sell their babies as food, through Ms. Atwood's dystopic visions of America in The Handmaid's Tale.

Dennis Duffy, of the University of Toronto, said satire means something different from what the words actually say, often to political ends.

Testifying under examination by Clayton Ruby, the constitutional lawyer and free speech crusader who called him as a witness, he also cited Aristophanes, Alexander Pope, and writings of Samizdat, the Soviet underground press.

"Quite generally speaking, many of the great satires are in foul taste, and that is where they get their effect," he said.

Mr. Batista can barely string together an English sentence, although he managed to get through his testimony without use of the Portuguese interpreter at his side.

His poem is about a city councillor obsessed with potholes, and says in part, "We are going to dig a pothole about six feet long and three feet wide and five feet deep to hide her body and God will take care of Her Soul, but we cannot forgive her for doing nothing." A newspaper photo of councillor Pat Saito had been photocopied to the paper, underneath the poem.

"Bad Wolf ? I am not the Bad Wolf. Do I look like a Bad Wolf?" he told two detectives in an interview in February, 2006, a video of which was shown as evidence.

A month previously, most members of Mississauga council, but not Ms. Saito, had received a letter signed "Bed [sic] Wolf," which detailed complaints about Ms. Saito identical to those he had raised with her directly.

Mr. Batista had made occasional complaints to Ms. Saito since 2004 about local maintenance issues, but became particularly concerned when, in 2005, he received a delayed tax bill for 2001, the year he took possession of his home, meaning he would have to seek compensation from the builder.

He was not alone in this problem, and eventually reclaimed his money. But, a month after writing to Ms. Saito for help, he had still not received a response, a delay Ms. Saito yesterday blamed on a computer crash.

Police were not called until a parking officer found Mr. Batista's poem taped to a newspaper box. A detective later found four in the neighbourhood, with Ms. Saito's photo and the caption, "Do You Know Her?"

Ms. Batista initially denied to detectives that he was involved, but was unconvincing. "I think whoever wrote this, he did not mean what he wrote. It was just to make fun," he said. "Tell [Ms. Batista] she can be at peace."

Answering Mr. Ruby, the lead detective said today that he had heard of satire, but had not studied it.

Mr. Ruby called Prof. Duffy to establish that satire is a form of "jest," because the Supreme Court of Canada has said a death threat in jest is not criminal. He also cited the artistic merit defence against child pornography as argued in the case of Robin Sharpe. Assistant Crown lawyer Jennifer Goulin said the "correct context is not the literary history of satire. It is the context between Mr. Batista and Ms. Saito."

Ms. Saito also testified yesterday that she found the poem "extremely threatening" and "very frightening."

In a separate development, Mr. Batista's son Joe, who has supported his father's battles and even run (and lost) against Ms. Saito in last year's election, said outside the court that he is a proponent of "assassination protocol," a system whereby people can contribute to a fund that will be used to pay an assassin to kill a public servant. The idea is that, by simply betting on the date of a person's death in a "death pool," participants have put a price on the execution, but avoided criminal liability.

"A properly functioning democracy disposes of its garbage," Mr. Batista said, and confirmed repeatedly that he was serious.

He said he expects to "release" a version of this protocol shortly on the Internet.

Asked if Ms. Saito was a legitimate target for such an auctioned execution, he said, "I think they all are."

Mr. Batista denied that he was involved in writing his father's poem, and said the "we" in the poem, who will dig the grave, refers not to him, but to "the neighbourhood."

The trial continues.

Jbrean@nationalpost.com
---
Home Page - Main Table of Contents - Back up a page - Back to Top
---
[COMMENTS BY DON B. - ]