Scanned, recopied or Internet copy, if there are errors, please e-mail me with corrections:
---
Opening comments: More at the end.


To the main Judicial Inquiry page - to the Hazel McCallion page.


Comments by others to this web-page - 0 - to this web-page at time of posting.
---
Toronto Star - Aug. 17, 2010 - By Phinjo Gombu Urban Affairs Reporter.

Investor recalls close relationship with McCallions
Businessman saw Peter as a co-owner and the mayor as a
friend to their hotel project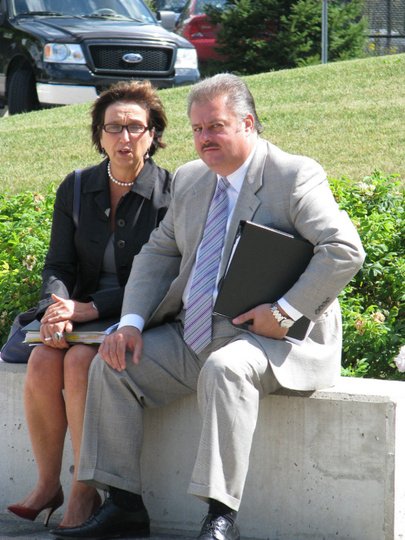 Vaughan developer Tony DeCicco chats with his lawyer, Linda Rothstein, before testifying at the Mississauga judicial inquiry.
PHINJO GOMBU/TORONTO STAR
A "good friend" of Mississauga Mayor Hazel McCallion and her son said he knew full well who owned World Class Developments, the company at the heart of a failed $14.4 million land deal: Peter McCallion.
"My understanding was that (Peter) controlled 80 per cent of the deal," Vaughan-based businessman Tony DeCicco testified Tuesday at an ongoing judicial inquiry, explaining how he got involved in plans for a $1.5 billion downtown hotel, convention centre and condo complex.
Peter McCallion's ownership stake in World Class Developments has become an issue in the inquiry, which is probing the mayor's behind-the-scenes championing of the project in which her son was intimately involved.
Hazel McCallion, through her lawyer, has maintained she thought Peter was only a real estate agent in the deal, and that she was acting in the city's best interests. Publicly, she declared a conflict of interest when the subject came up at city council. Peter McCallion has asserted that he realized only recently he was a part-owner.
DeCicco became a majority investor and co-owner of the troubled company laden with unpaid bills in the summer of 2007, at Peter McCallion's request.
His testimony brought a quick response from the mayor's lawyer, Elizabeth McIntyre, who said outside the inquiry room that, "Regardless of what DeCicco said, (Peter) led his mother to believe he was only an agent."
McIntyre also tried to dampen suggestions that DeCicco had a special relationship with the mayor, adding that, "He was one of many, many people with whom the mayor was friendly in Mississauga."
DeCicco told the inquiry he had known Hazel McCallion since the early '80s and considered her "a good friend."
The friendship was close enough that DeCicco had access to the mayor at many dinners in restaurants and at her home — usually arranged by Peter — where he said World Class business was discussed.
For two years in a row, DeCicco paid $20,000 to win a prize at a charity gala giving him the opportunity, along with 16 friends, to enjoy a barbecue at the mayor's house.
DeCicco involved the mayor in sorting out a conflict with a friend of hers, a minority shareholder forced out of the World Class deal. He also enlisted her to get the deal altered.
Toward the end of 2008, he left a flurry of 17 voicemail messages at the mayor's office begging her to help salvage the deal when it faltered in the middle of a global financial meltdown.
"In retrospect, I put the mayor in an awkward situation," he said.
"I wanted to try my best to bring this hotel to the city centre," he added. "I put a lot of effort and time into it and I did not want to let the mayor down."
He acknowledged that he had worried about the optics of having Peter McCallion sit in on meetings he held with city staff about the project, but when he put those concerns to Peter, they were ignored.
Also testifying Tuesday was Leo Couprie, a Thornhill-based businessman who testified that Mayor McCallion barely glanced at a trust agreement she signed on to as a witness in Jan. 29, 2007, which essentially handed her son part-ownership in the company.
Like Peter himself, he said he saw the agreement, signed at a Toronto restaurant, as a temporary one for "estate reasons" made before a joint trip to Asia. The inquiry has heard that the agreement was never revoked and similar deals were not signed on subsequent trips.
Couprie, who described Peter as one of his best friends, helped get the deal going by putting up a deposit. Through the documents signed that winter day, he loaned Peter $750,000 and agreed to hold shares "in trust" for him.
The company at the time had arrived at a conditional agreement to buy some downtown land from the Ontario Municipal Employees Retirement System.
"Did the mayor look at the documents?" commission counsel William McDowell asked Couprie, who for years was the only publicly known principal of World Class.
"No," replied Couprie, describing how Hazel McCallion paused briefly before asking him if it was okay to ink the deal, something that took all of 30 seconds.
"She just signed it like an autograph?" asked McDowell.
"Yes," replied Couprie.
Couprie said he "didn't understand the trust agreement meant that I lost control of the company."
---
MISSISSAUGA INQUIRY
The issue: What was Mayor Hazel McCallion's connection to a $14.4 million land deal involving her son, Peter?
What's new: A pension-fund official says if he had known Peter McCallion was owner of World Class Developments he never would have entered into negotiations to sell the land because of the perception a conflict of interest existed.
What's next: Inquiry takes a break and reconvenes on Aug. 9.
---
Comments by others - 0 - to this web-page at time of posting;
---
---
---
Home Page - Main Table of Contents - Back up a page - Back to Top
---
[COMMENTS BY DON B. - ]