Scanned, recopied or Internet copy, if there are errors, please e-mail me with corrections:
---
Opening comments: More at the end.

---
Toronto Star - Oct. 17, 2006 - Jessica Leeder, Staff Reporter
Parrish rolls with the punches
Carolyn Parrish is on trail for seat in Mississauga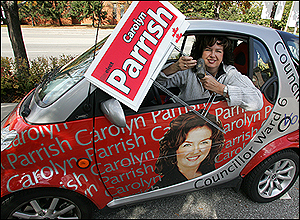 RON BULL/TORONTO STAR
Carolyn Parrish, a 20-year political veteran, sets out on the campaign trail from her Mississauga office.
She is seeking the Ward 6 spot on Mississauga council,
which would put her in perfect position to succeed longtime Mayor Hazel McCallion.
Door-knocking is one of the most elemental ingredients of political campaigning, a critical gumshoe tactic that connects politicians to people.
But selling yourself on the front porch can provoke all kinds of discomfort: "You don't want to be trapped in there with some weirdo. Some people come to the door with just their undershorts on," says Carolyn Parrish, a 20-year political veteran.
It takes more than that to make her flinch. Parrish is running for a new council seat in Mississauga's Ward 6 and approaching doorsteps with a smidgen of trepidation this election season, if only because it's her first election season since she was ejected — with much fanfare — from former Prime Minister Paul Martin's caucus two years ago.
Her descent from federal politics came after what she calls several "bouts of truth," including being overheard calling "damn Americans ... bastards," and stomping on a George W. Bush action figure on TV.
Though Parrish started her political ascent as a Peel Region school trustee, it's been years since she's run in a municipal election. Still, the 60-year-old is using her own time-tested strategy to help her survive stoop scrutiny: Tylenol Ultra Relief.
"I have a bad knee," she says on a recent Saturday, post-Tylenol, on her way out to the Smart Car plastered with a smiling, larger-than-life decal of her face she uses when campaigning.
On this day, Parrish is testing the waters in an area of Mississauga that has a good provincial and federal voting record, but municipal voting numbers are abysmal. It's also an area she says she's never canvassed.
"The Tylenol is kicking in," Parrish says, rapping on a door. She has no idea what to expect.
"Hi there. My name is Carolyn Parrish," she says to a man who looks rather ambivalent.
"Uh huh."
"I'm running for council in this area."
"Okay."
"I used to be your member of Parliament."
"Okay."
"I was the bad member of Parliament that stomped on the Bush doll."
"Oh yeah." The man rewards Parrish's impishness with a slow grin.
She lets out a chortle, and soldiers on with her pitch.
"We're coming out to try and stir up interest because we have very little voter turnout. Of course, I want them to vote for me."
"Yes, I know."
Without any more selling, Parrish is already told she'll "most likely" have the man's vote. So she ventures further, and asks about putting a sign on his law. The man turns on his heel, and speeds back into the house to ask his wife.
Parrish, ever the sensitive campaigner, senses opposition as the wife comes down the hall.
"I hate politics," the woman says. Parrish gets in a quick thank you before the door's abrupt closing.
She smiles more, trotting down the driveway: "It wasn't that bad."
Not bad, compared to a doorstep encounter the day before that went a bit sour when a man told Parrish he didn't think she'd been punished enough for her "transgressions."
"Then I turned around to his wife," Parrish says of the encounter, "and I said, `I guess this means no lawn sign, eh?' She broke up. I laughed. He didn't."
Keeping a sharp sense of humour is one of Parrish's tenets, and it shows. Variations on her doorstep intro include describing herself as "Your former MP ... the bad one that gets into trouble."
But when it comes to politics, Parrish is actually quite serious. She says she decided to run municipally because she can be herself, and have a more immediate effect on people's lives.
"I don't have to fib for anybody, or couch things because the party doesn't want you to say it," she says, adding a caveat: "But municipal elections are much tougher. It's your ego on the line — people vote for you or they don't."
With no incumbent to battle in her riding — it's newly created, and has drawn a six-way race — Parrish has already emerged as a strong candidate.
Her most forceful opponent, she says, is Ron Starr, a former city councillor who was charged in 2000 with fraud for allegedly mismanaging funds at a children's camp. The charges were dropped the following year.
Critics of Parrish argue she's using the council run as a stepping-stone for her mayoral aspirations, but she says she only runs "one election at a time. And in four years, I might just decide I've had enough."
Regardless, if Parrish wins, she'll be in perfect position to succeed long-time mayor Hazel McCallion — something voters are already picking up on.
At a door near the end of Parrish's Saturday route, she introduces herself again. The man peering at her through a crack in the door is nodding as she repeats her name.
"You're running for mayor," he says, still nodding.
"Not mayor. Not this time," she says, carrying on with the pro-vote spiel she gives to those who keep the door open long enough. "We only get one out of every five people out to vote in municipal election. I think it's because Hazel doesn't have any competition," she smiles and winks. "Yet."
---
Home Page - Main Table of Contents - Back up a page - Back to Top
---
[COMMENTS BY DON B. - ]