Scanned, recopied or Internet copy, if there are errors, please e-mail me with corrections:
---
Opening comments: More at the end.

More Peel police in elections. They must love this, it sets them up to look like they do good and it is right to arrest candidates in an election. Hope they do not start to think they can decide this election.
---
Toronto Star & Mississauga News - Oct. 18, 2006 - By San Grewal, Staff reporter.


Council candidate charged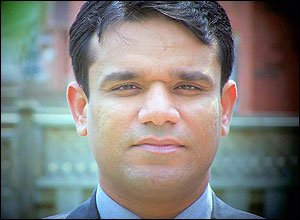 Adnan Hashmi, 32, one of 23 candidates running for a
council seat in Mississauga's Ward 10,
denies he is intimidating rivals to drop out of the race.
A Mississauga City Council candidate has been charged with impersonating a police officer and intimidation after a rival candidate alleged he tried to force her and other candidates out of the race.
Ishrat Nasim, a candidate in Ward 10, claims Adnan Hashmi, 32, went to her Mississauga residence Sunday afternoon in an attempt to get Nasim's landlady to say she doesn't actually live there and is therefore ineligible to run.
Hashmi, editor of the Urdu-language Sunday Times newspaper, denies the allegations. "It's all lies," he told the Toronto Star.
There are 23 candidates running in the newly created ward for the Nov. 13 municipal election. But it's the back story of possible dirty tactics used by one Pakistani-Canadian candidate against others of similar backgrounds that has turned the race into a police investigation.
"Two male parties forced their way into the home," said Det. Sgt. John Mans of Peel Region police, reading from the official incident report.
"They forced the lady in the house, the homeowner, to write a note saying another candidate did not reside in the home. They told her they were police officers."
The charge of impersonating a police officer carries a maximum sentence of six months in prison, a fine of $2,000, or both.
Hashmi remains confident.
"I'm in a good position to win this election," he said, repeating his contention that Nasim actually lives in Brampton and is using a fake address in Mississauga.
He refused to comment further, referring questions to his lawyer, Ferhan Javed.
Javed said his client "wants to clear his name and is going to stay in the race." He said Hashmi has already lodged a complaint with the city regarding Nasim's statements about where she resides. "We're hoping the city will investigate and he's going to stay out of it."
Hashmi is not scheduled to appear in court to face the charges until Nov. 16 — three days after the election.
Nasim denied being ineligible to run in Mississauga, saying she had listed her official residence as 55 Dundas St. E., the location of a business she said is owned by her husband — qualifying her as a candidate. The Star was unable to confirm that fact.
According to the police report, Hashmi entered Nasim's Mississauga home with Mohammed Bajwa, who faces similar charges. Both men are also charged with being unlawfully in a dwelling.
Speaking to the Star, Nasim claimed Hashmi has already forced another Pakistani-Canadian candidate out of the race and has tried to pressure a third into dropping out.
Candidate Faisal Javaid said he was also pressured to drop out of the race.
"I was approached two or three times by friends of his and asked to drop out for Mr. Hashmi's benefit," said Javaid. One community observer says the allegations of intimidation, lies and disregard for the democratic process may be an echo of old country politics.
"Some of the people who come here to Canada from Pakistan try to play the same games," says freelance journalist Javed Zaheer, who knows all the parties involved in the story. "This is what they know. They try to suppress the other candidates, to pressure them to sit out of the race or dig up some dirt."
Zaheer says that, because politics in Pakistan is controlled by feudal lords in rural areas and draconian parties — often backed by the military — in urban centres, that's the style of intimidation that gets imported here.
---
Home Page - Main Table of Contents - Back up a page - Back to Top
---
[COMMENTS BY DON B. - ]