Scanned, recopied or Internet copy, if there are errors, please e-mail me with corrections:
---
Opening comments: More at the end.

Yes rub it in - "she will be a few months shy of her 90th birthday."

"Twenty-eight years (in power) is ridiculous. When are Mississaugans going to wake up?"

"The lack of an interesting mayoral race has affected voter turnout in Mississauga. Last election it was around 20 per cent,"
---
Toronto Star - Sept. 29, 2006, Fri. - By Mike Funston
Who will follow Hazel?
McCallion will be almost 90 at end of four-year term
Possible successors gauging chances for future run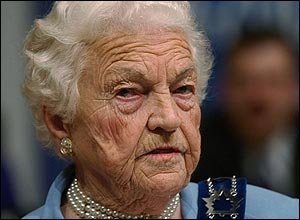 IN Mississauga Mayor Hazel McCallion

The deadline for candidates to file nomination papers for municipal elections across the GTA is 5 p.m. today, but there won't be any suspense in the Mississauga mayoral campaign.
The big question isn't who's going to be mayor, but who will be in the hunt to replace Hazel McCallion when she eventually leaves office.
McCallion, 85, is expected to coast to an easy win without a campaign. If she completes the four-year term, she will be a few months shy of her 90th birthday.
That's when Mississauga is expected to have its first wide-open, hotly contested race since McCallion upset incumbent Ron Searle in 1978 to begin her 28-year reign.
Several members of her council say they would be interested in the top job, along with former Liberal MPs Carolyn Parrish and Steve Mahoney.
They all know running now would be political suicide.
"I can't beat her, for starters," Mahoney said. "And I have such enormous respect for her I would have difficulty answering the one question that would need to be answered and that is, why are you running against her?
""... By and large, I cannot think of a mayor in this country or even North America who has made a greater contribution to the municipal world, not only for her own city but across the land."
The lack of an interesting mayoral race has affected voter turnout in Mississauga. Last election it was around 20 per cent, compared to almost 40 per cent in Toronto where there was a close race to succeed Mel Lastman.
Roy Willis, a retired businessman, citizen watchdog and unsuccessful council candidate in past elections, again plans to run against McCallion. Also in the hunt are Don Barber, an environmentalist and citizen watchdog and Grant Ouellette, a chartered accountant for Ontario's finance ministry.
Willis thinks council veterans are too comfortable to risk taking on McCallion and losing their $120,000-a-year salaries "and I think that's wrong," Willis said. "They're the ones with the political experience who should be going after the job."
On the present council, his personal favourite to run for mayor would be Katie Mahoney, Steve's wife. But that's unlikely to happen with her husband, a cabinet minister under Jean Chrétien and a former Mississauga councillor admitting he has a strong interest in the job after McCallion leaves.
If Mahoney and Parrish run at some point, it will be a rematch of sorts. The two went head-to-head in a bitter fight for the Liberal nomination in Mississauga-Erindale after riding redistribution. Parrish won.
Mahoney was recently appointed to a three-year term as chair of the Workplace Safety and Insurance Board. The end of his term will dovetail nicely with the 2010 municipal election, he said.
---
He describes himself as a good friend of McCallion's.
'She has given me every indication this will be
her last term'
Steve Mahoney, likely candidate
---
"She and I have talked and she's given me every indication this will be her last term, which I expect would be the case as she'll be close to 90 (by then)."
He and his wife haven't decided if they'd both run — for mayor and councillor in 2010 — "but I don't think that would be a problem for the voters. Look at Jack Layton and Olivia Chow (former Toronto councillors and now with the federal NDP in Ottawa)."
Parrish, the MP who got booted out of caucus by then-prime minister Paul Martin for questioning his leadership and for making controversial remarks about Americans, is running for a Ward 6 council seat. After sitting as an independent in the riding of Mississauga-Erindale, she decided not to run in the last federal election.
"I've always committed my energies to running for one job at a time. Many of those who look two or three steps ahead slip and fall on an unexpected patch right under their noses," she said.
"Hazel has outlasted several who openly coveted her job. None should underestimate her strength or longevity.
Former mayor Searle named three veteran councillors as potential mayoralty candidates, including Ward 1 Councillor Carmen Corbasson.
"Carmen would make a damn good mayor. She works her butt off. In fact, I think she works too hard. She'd be good," Searle said.
His other choices would be Ward 9's Pat Saito and Ward 2's Pat Mullin.
Therese Taylor, a citizen activist and environmentalist who has fought council on development issues, also likes Saito, Mullin and Parrish.
"One-on-one (Saito and Mullin) they seem like decent people. I wouldn't even mind seeing Carolyn Parrish as mayor. She was right about (U.S. president George W.) Bush. She just went too far calling all Americans bastards.
"Any of them would be better (than McCallion). Twenty-eight years (in power) is ridiculous. When are Mississaugans going to wake up?"
Asked if they're considering the job when McCallion leaves, Corbasson, Mullin, Saito, plus Ward 3's Maja Prentice and Ward 4's Frank Dale, all expressed some degree of interest.
Despite being a multicultural city, Mississauga does not have a visible minority represented on council.
Asked if he would like to see such a person as mayor of Canada's sixth largest city, with 700,000 residents, Naveed Chaudhry, director of the Peel Multicultural Council, representing 130 groups and agencies, said:
"What we believe is that people should be elected for their ability and not their skin colour."
He noted that several Peel federal and provincial ridings have visible-minority representation and that it is bound to happen at the municipal level sooner or later. "As the population becomes more and more diverse we will move in that direction."
He wouldn't comment on who would make a good successor to McCallion because the issue hasn't been discussed by the board, Chaudhry said.
---
Home Page - Main Table of Contents - Back up a page - Back to Top
---
[COMMENTS BY DON B. - ]