Scanned, recopied or Internet copy, if there are errors, please e-mail me with corrections:
---
Opening comments: More at the end.

---
Toronto Sun Oct. 18, 2006, Wed. - By Tom Godfrey
Candidate charged
Woman in Mississauga says one of her rivals tried to force her out of council race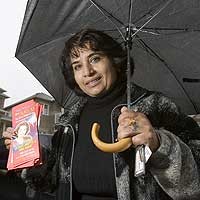 Mississauga council hopeful Ishrat Nasim poses in the city's Ward 10.
Nasim says two thugs got into her home and tried to force her out of the race. (David Lucas, Toronto Sun
A candidate for Mississauga's Ward 10 race for councillor is facing criminal charges after allegedly pretending to be a cop to try to intimidate a female rival to quit the race.
Peel police confirmed yesterday they have charged two men in connection with an incident last Sunday.
One suspect, Adnan Hashmi, is one of 23 candidates competing for the newly created Ward 10 riding, in northwest Mississauga.
Const. Peter Brandwood said the charges stemmed from an alleged altercation between the suspects and a woman at a Mississauga home.
Ishrat Nasim, a broadcaster and businesswoman, who's also competing for Ward 10, said she was threatened and left horrified by the ordeal.
---
Home Page - Main Table of Contents - Back up a page - Back to Top
---
[COMMENTS BY DON B. - ]