Scanned, recopied or Internet copy, if there are errors, please e-mail me with corrections:
---
Opening comments: More at the end.

The old girl is playing around in her CLOWN suit again - knew she would never show the wisdom to throw it away. This time she is trying to pawn it off as a gym wear. Well if that is the case why was she wearing it in the past to formal events where normal people were putting on their Sunday best. Having a Mayor who can't dress herself is a special shame for Mississauga and this problem has not shown up lately, it goes back decades. More here.
---
Mississauga News - Oct. 18, 2008 - By: John Bkila.



Community centre marks 30 years with new gym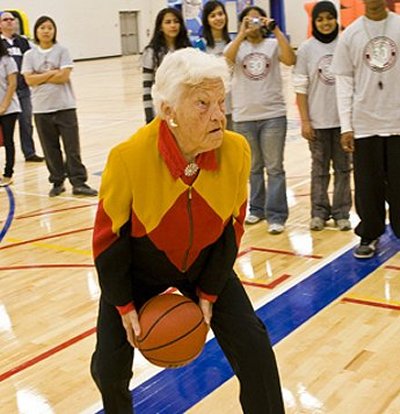 Mayor Hazel McCallion takes a shot in the newly opened gymnasium at the Mississauga Valley Community Centre this morning.
Photo by Steven Der-Garabedian

The Mississauga Valley Community Centre celebrated its 30th anniversary today with the opening of its new gymnasium.

"It's wonderful," said facility manager, Bev Litman. "It's extremely invaluable to have a place for this community to go to. We're fortunate enough to have an arena, a pool, a fitness centre, a library, and now a gym. All within this one facility."

The new 9,000 sq. ft. double-gymnasium had been the home of Gymnastics Canada since 1984.

"In 2007, they moved to the Hershey Centre because they needed more space to expand their program," said John Rydzewksi, director of the Hershey Group. "But plans for the redevelopment of the gym began in early 2000."

City of Mississauga Councillor Frank Dale said the rationale behind redeveloping the gym was to add another piece to the centre's puzzle.

"We wanted to make the gymnasium as flexible as possible, so it could host a variety of activities," he said.

Mayor Hazel McCallion, who was celebrating her own 30th anniversary as mayor of the City, was also there to commemorate the opening of the new gymnasium with a ribbon-cutting ceremony.

"It's so important to allow people to gather in one spot and enjoy the many programs this centre has to offer," said McCallion. "Growing up in 1978, I was in this community centre more than any other place.

The Mayor urged community members to take over the centre.

"It's yours to use," she said.

The anniversary celebration featured a variety of activities for children and adults alike, including free swims and skates, pumpkin decorating, and a corn roast.

Sponsors included Lions Clubs International, Kelsey's, and Stonehaven Farms, who donated food, decorations and equipment to the anniversary event.

The Mississauga Valley Community Centre is located at 1275 Mississauga Valley Blvd. For more information on the centre and its activities, visit www.mississauga.ca/mississsaugavalley or call 905-615-4670. mississauganews@live.com
---
Home Page - Main Table of Contents - Back up a page - Back to Top
---
[COMMENTS BY DON B. - ]