Scanned, recopied or Internet copy, if there are errors, please e-mail me with corrections:
---
---
Opening comments: More at the end.
Where did the cocaine come from that was used in the charge? Maybe this is a clue - one thing for sure a Peel police was not charged by the Peel police. Interesting how it appears that other police departments charge Peel police member then the Peel police do.

Yes I asked the question first and in later years it came out - a PEEL cop who was involved in the arrest and who was accused of planting the cocaine was charged a month before with stealing what they thought was cocaine - then it was their turn to be in Court. I was wrong about them not being charged and I was wrong about how dirty they were but I was right, the cop they should have for trying to frame a black man was not charged. As it was the RCMP that nailed them, maybe, if it was the Peel police who did the investigation, it would likely have ended very differently. Interesting to read all the articles to see how the facts or story changes that the media presents.

Lots more to this story here.
---
Mississauga News - Dec. 26, 2005 - By Louie Rosella, Staff.

Police testimony "unworthy of belief"
Former Argo acquitted of assault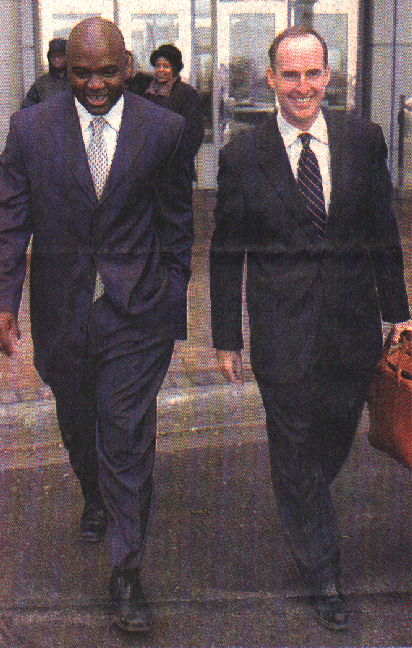 Free man - Former Toronto Argonaut football player Orlando Bowen walked out of Brampton Court with his lawyer David Humphries
Thursday afternoon after he was acquitted of charges of assault with intent to resist arrest and possession of cocaine. Staff photo by Fred Loek
Calling the evidence of two Peel Regional Police officers "incredible and unworthy of belief," an Ontario court judge Thursday acquitted a former Toronto Argonaut linebacker of assaulting the two constables and possessing cocaine outside a Mississauga adult club.

Orlando Bowen, 30, told The News after Justice Ford Clements' decision at he always knew he was innocent. He just didn't expect the judge to acquit him before Christmas.

"It's a little overwhelming because we anticipate (the judgment) today, but we're ecstatic. It's awesome that me and my family are able to celebrate Christmas with this not hanging over our heads, as it has been for the past two years," Bowen said. "We're happy that through it all, the truth was able to come out and their (the officers') lies were expose."

Clements was supposed to render his decision Jan. 31 of next year, but chose to instead make a ruling Thursday after the Crown prosecutor in the case, N.J. Bridge, asked the judge to withdraw the charges.

The Crown wanted the charges dropped because she felt her "prosecution (was) flawed" after one of the officers who charged Bowen with assaulting police with intent to resist arrest and possession of cocaine, was himself charged with drug possession and drug trafficking last month.

Peel Cst. Sheldon Cook, a 14-year veteran of the force, was charged by the Royal Canadian Mounted Police (RCMP) on Nov. 18 after federal officers tracked a shipment of cocaine from Pearson International Airport to a home in Cambridge and discovered 15 kilograms of cocaine with a street value of more than $500,000.

The charges against Cook were laid after closing arguments in Bowen's case. Bridge said 'the charges "could impact on (the officers') credibility."

But, in a strange twist Thursday, Bowen's lawyer, David Humphrey, said it was too late to withdraw the charges, and said his client wanted the judge to render a verdict.
Acquitted man considers civil suit against police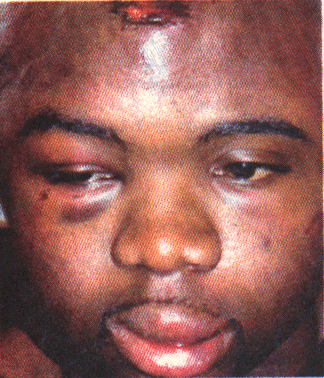 Aftermath - Orlando Bowen claims he suffered significant injuries after police beat him.

Humphrey said withdrawing the charges sends the wrong message, giving the public' the impression that Bowen "just got lucky" that the officer was charged.

Bowen, who is married with two sons and expecting another shortly, said he maintained his innocence even before Cook was arrested.

He pleaded not guilty to charges he assaulted police and had cocaine on him the night of March 26, 2004, in the parking lot of the Locomotion adult club, on Eglinton Ave. E. near Dixie Rd.

"What has transpired with the officer really doesn't have much to do with our case in terms of what our stance was," he said, adding the injuries he sustained from the encounter with police kept him out of training camp.

"For them to raise the notion that (the charges were being withdrawn) just because of this was unfair."

Bowen said he is considering a civil lawsuit.

The judge determined there were inconsistencies and contradictions in the officers' testimony, and said he had no choice but to acquit Bowen.

During the trial, the Crown alleged Bowen, who played four years in the Canadian Football League, dropped a tiny bag of cocaine containing 1.7 grams when arrested by Cook and Peel Cst. Grant Gervais, and assaulted them with fists and an elbow while trying to escape.

Humphrey contended his client was searched without cause and assaulted by the officers, who planted the cocaine to justify their action.

During the incident, Gervais insisted Bowen had a cell phone in his right; hand while Cook testified it was in Bowen's left hand and he removed and dropped the drugs from his waistband with his right hand. Humphrey cited that as a key discrepancy in the officers' testimony.

Humphrey also pointed out that police testimony about a mask and tire iron being found in the middle of Bowen's car seat was contradicted by a police photograph showing a child car seat there and that the officers differed on when the alleged drug was retrieved by one of them.

Bowen, who partnered with police to teach youths to stay away from criminality before he was arrested, said he will still continue that partnership.

"As difficult as it may be, it's something that will have to be done," he said. "It's not going to spoil everything."
---
Home Page - Main Table of Contents - Back up a page - Back to Top
---
[COMMENTS BY DON B. - ]