Scanned, recopied or Internet copy, if there are errors, please e-mail me with corrections:
---
Opening comments: More at the end.
---
---
The Mississauga News - June 12, 2007 - By: Louie Rosella

Officers' actions a 'disgrace'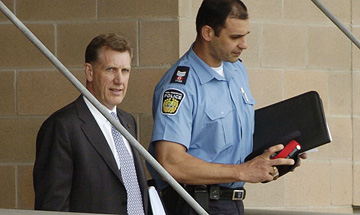 Inspector Steve Burns (left), the prosecuting officer in the case of 14 Peel Regional Police officers
who were involved in an after hours booze party behind a Mississauga furniture store,
leaves a Police Services Act disciplinary hearing with Sgt. Taufic Saliba of the force's public affairs bureau.

Calling their actions disgraceful and damaging to the reputation of Peel Regional Police, a Peel staff superintendent today punished 12 officers who last summer hunted down two men who had videotaped the cops' rowdy booze party behind a Mississauga furniture store.

Two constables have been demoted, while 10 others, including two sergeants, must work between four and seven days without pay, Staff Supt. Blair Foley ruled at today's Peel police tribunal.

"Trust and integrity are hallmark qualities that are necessary to ensure to the public that police officers will conduct themselves in the appropriate manner both on and off duty," Foley told each officer. "Police are not above the law. I consider that an aggravating circumstance in this case."

Foley added, "you have brought discredit and disgrace upon yourself as well as the good men and women, both sworn and civilian," who work for Peel police.

All the officers pleaded guilty to discreditable conduct charges laid under the Police Services Act.
They were off-duty on the evening of the incident.

The two officers demoted, Constables Michael Bishop and Mark McLaughlin, were given the harsher penalty because their actions were "most serious," Foley said.

Hours prior to the gathering last Aug. 27-28, Bishop and McLaughlin caught three men consuming beer near Vic Johnston Arena in Streetsville, Peel police lawyer Linda Bordeleau told the hearing.

After charging the men, the officers seized two cases of beer and placed them in the back of Bishop's vehicle.
McLaughlin then told Bishop, as the latter officer was writing notes about the seizure, "This is how we do it in Peel. You write. I seize the beer. (Write) that I disposed of it and...we're all good."

Then, Bordeleau added, the men brought the beer to the after-hours party.

While every other officer pleaded guilty to one count, these two officers each pleaded guilty to two counts of discreditable conduct.

The demotion results in a loss of more than $7,000 in annual salary.
Both officers "participated in the misappropriation of property seized from the public and used the property for the benefit of (their) platoon," Bordeleau said.

Foley also came down hard on two sergeants, Tom McNulty and Peter Steringa, both veteran officers who must work five and seven days, respectively, without pay for their roles in the party.

Foley said one issue plaguing the Peel force is "mid-managers (such as sergeants) who find it difficult to understand their role as a supervisor, leader and mentor."

He urged the two sergeants to "set an example, show leadership and act appropriately" in future.

The working without pay penalties will cost the officers between $989 and $2,300, depending on their rank.

Foley said the punishment had to "send a clear message that such behaviour will have severe consequences."

Two others charged — Csts. Jason Ross and Erin Korslick — pleaded guilty today to discreditable conduct and will return tomorrow for sentencing.

The officers who pleaded guilty today admitted to consuming alcohol in a public place while off-duty and many admitted they failed to follow proper procedure when detaining and questioning the two men.

Bordeleau said several officers failed to properly identify themselves as police officers, and didn't explain to the men why they were being detained.

Ten other officers have had their pay docked after admitting guilt in connection with the drinking party.

These officers were given the choice of taking an early guilty plea, as opposed to going forward with the public hearing.
The internal affairs investigation was sparked last September when Richard Cimpoesu, 24, and Orlando Canizalez, 20, came forward with allegations.

They claim they were chased down and assaulted in the early morning hours last Aug. 28, after several officers who were drinking beer and acting rowdy behind Ethan Allen furniture on Dundas St. W. caught the two men videotaping them.
Despite allegations of assault, none of the officers were charged with excessive use of force, and there were no criminal charges laid.

Canizalez and Cimpoesu have filed a $12-million lawsuit against Peel police.
---
Home Page - Main Table of Contents - Back up a page - Back to Top
---
[COMMENTS BY DON B. - ]