Scanned, recopied or Internet copy, if there are errors, please e-mail me with corrections:
---
Opening comments: More at the end.
---
---
Mississauga News - May 18, 2007 - By Louie Rosella

Chief considers appeal of racial profiling decision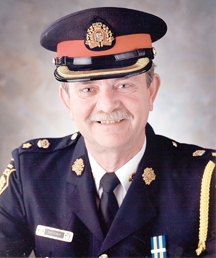 Peel Regional Police Chief Mike
Metcalf may appeal the ruling that one of his officers used racial profiling.

Peel Regional Police Chief Michael Metcalf says he disagrees with yesterday's ruling by the Ontario Human Rights Commission that one of his officers racially profiled a single mother from Mississauga.

The tribunal found that Jacqueline Nassiah, who is black, was wrongly accused of shoplifting at a Mississauga department store and that she was a victim of racial profiling by a Peel Regional Police officer.

She was awarded $20,000 in damages after the court ruled in her favour. Additionally, the tribunal has asked Peel Regional Police to develop policies to prevent racial profiling.

Metcalf said today he isn't happy with the ruling.

"I am very disappointed in the finding of the Human Rights Tribunal regarding this incident," he said in a written statement. "Further, I will be seeking legal advice regarding an appeal."

The chief said his force "has always sought to provide the highest level of service to all members of the diverse Region."

The Diversity Relations Unit of the Peel Regional Police educates and trains officers on diversity issues, and maintains a related directive to guide officer relations with our citizens, Metcalf said.

"Peel Police respects and abides by the provisions of the Ontario Human Rights Code and is committed to preventing racism of any kind in policing."

In February of 2003, Nassiah was apprehended by security at a Mississauga department store on suspicion of stealing a bra that cost less than $10. The tribunal found that Peel police officer Richard Elkington, who responded to the call, discriminated against Nassiah by "assuming that the white security guard was telling the truth and that the black suspect was not, without properly looking at all the evidence, including a videotape of the alleged theft which exonerated her."

The tribunal also found that Elkington verbally abused Nassiah.

Tribunal chief commissioner Barbara Hall said the case showed racial profiling and that a judgment was necessary to highlight the injustice.
---
Home Page - Main Table of Contents - Back up a page - Back to Top
---
[COMMENTS BY DON B. - ]