Scanned, recopied or Internet copy, if there are errors, please e-mail me with corrections:
---
Opening comments: More at the end.
---
---
Mississauga News - Oct 13, 2006 - Louie Rosella
School girls testify against officer Const.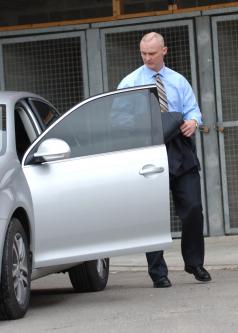 Roger Yeo pleaded not guilty yesterday to Police Services Act
charges of discreditable conduct relating to allegations of stalking girls and,
in some cases, attempting to lure them to his car, in 2005.
A Peel Regional Police lawyer wants several Mississauga school girls to testify behind a screen so that an officer accused of stalking can't see them.
The girls, seven of whom are under 16 years of age, will be testifying against Cst. Roger Yeo, 36, at his Police Services Act (PSA) disciplinary hearing, which began yesterday.
Yeo pleaded not guilty yesterday to PSA charges of discreditable conduct relating to the allegations of stalking girls and, in some cases, attempting to lure them to his car, over a five-month period in 2005.
Peel police lawyer Linda Bordeleau asked the hearing officer, Staff Supt. Roman Boychuk, if the girls could testify behind a screen.
Bordeleau requested the measure because she believes it will ensure the girls give "complete and accurate testimony."
Peel Det. David Andrews of the force's internal affairs unit, who headed the investigation into Yeo, testified yesterday the girls were worried about the officer being present at the hearing.
"There wasn't one girl who didn't raise the issue as to whether Cst. Yeo was going to be present and whether they would be able to see him, and he able to see them," Andrews said. "There was genuine concern. They were obviously intimidated."
Yeo's lawyer, Harry Black, challenged Bordeleau's request, saying it's an "entitlement of law" that an accused be able to face his accuser.
Black said none of the girls have indicated they're afraid to testify in front of Yeo, or that they cannot give evidence if he is in their presence.
Allowing the girls to hide behind a screen creates the aura that "Mr. Yeo is a scary person who...strikes terror into their hearts," before he has even had a chance to defend himself, Black said.
Boychuk is expected to make a decision whether the girls can testify behind a screen, today.
Internal affairs allege an off-duty officer was monitoring and following girls as young as 14 in Erin Mills and other parts of the city between June 8 and Oct. 7 of 2005.
In most of the eight incidents described in police tribunal documents, it's alleged the officer would ask the girls for directions to various Mississauga locations, often trying to lure them to his vehicle by asking them to "come closer" because he couldn't hear them.
None of the young girls he allegedly targeted entered the vehicle.
In the last known incident, an undercover Peel officer posing as a young student at the Meadowvale Town Centre is alleged to have been followed by the officer in his SUV to the point where she feared for her safety, according to the allegations.
In the first known incident on June 8, the officer is alleged to have called out to three students from his vehicle in a church parking lot, asking for directions to Erin Mills Town Centre.
On June 23, it's alleged the officer monitored the activities of three young girls while he was driving his vehicle on Quill Cres. near Inlake Court, and followed one of the girls down a dead-end street.
According to the tribunal documents, the girls became frightened and notified school officials.
None of the allegations have been proven.
If found guilty, Yeo could face dismissal from the force, direction to resign, demotion, suspension, forfeiture of pay or reprimand.
A three-year veteran of the force who works out of 21 Division, Yeo has been suspended with pay pending the outcome.
---
Home Page - Main Table of Contents - Back up a page - Back to Top
---

[COMMENTS BY DON B. - ]