Scanned, recopied or Internet copy, if there are errors, please e-mail me with corrections:
---
Opening comments: More at the end.
---
---
The Mississauga News - Sept 20, 2006 - By Louie Rosella

Allegations of police abuse probed
Residents complained about 'parties' and disturbances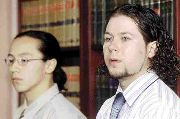 Caught on film -- Orlando Canizalez (left) and Richard Cimpoesu say they got roughed up after videotaping off-duty police officers drinking and partying behind a furniture store on Dundas St. W. near the 11 Division police station last month.
Peel Regional Police are investigating allegations that as many as 14 officers, both male and female, beat up two Erin Mills men who were videotaping them drinking alcohol and partying behind a plaza.
Richard Cimpoesu, 24, and Orlando Canizalez, 20, claim they were chased and punched in the head and body in the early morning hours of Aug. 28, after several off-duty officers who were allegedly drinking beer and acting rowdy behind the Ethan Allen furniture store on Dundas St. W. caught the men videotaping them.
The men sustained severe bruising to their stomachs and heads from the alleged attack. They also claim they were threatened by the officers to tell them where the camera was and to turn it over. Police didn't find the video camera, and the two men later recovered it in nearby bushes, they said.
None of the allegations have been proven.
Cimpoesu said yesterday he's fearful of repercussions.
"I'm upset. You don't expect this kind of thing to happen. We went out there. We didn't mean any harm. We didn't expect the people that are supposed to protect us would come after us," said Cimpoesu, a St. Joseph Secondary School graduate. "I'm scared. I can't walk down the street without having to look if police are after me."
A police spokesperson said the Peel police internal affairs unit is investigating the alleged assault, but he refused to verify the video or provide any other specifics.
"All we are able to say about this is that an incident involving several off-duty officers is being investigated by our professional standards branch," said Peel Cst. Pete Brandwood. "We unfortunately can't say anything else because it might jeopardize the integrity of the investigation."
The two good friends took it upon themselves to gather video footage after several residents complained about "wild parties" and disturbances in the area.
"They decided before they would make a complaint, they would have some evidence because they didn't think anything would be done without having some proof," said William Bain, lawyer for the men.
As a result of their actions, said Bain, the men were discovered and allegedly assaulted and threatened.
"From the pictures that we took, it's apparent they were struck in the head and the body a number of times," said Bain. "The threats were significant enough to cause my clients concern, and to cause them to have an ongoing fear of the police."
Bain and his clients allege the men were assaulted because they wouldn't give up the videotape and they wouldn't identify themselves initially. They were released with a warning from the officers, they claim.
"My clients haven't been charged with an offence. They haven't done anything wrong," said Bain. "They were endeavouring to gather evidence to make a valid complaint and they were set upon by these people, and they were chased, assaulted, threatened and are traumatized by what was done to them. Our (allegation) is they (the officers) went way overboard."
Bain didn't rule out a civil suit.
Both men were to be interviewed yesterday by police.
Canizalez, an Erindale Secondary School graduate, said he still has faith in police.
"A few bad apples shouldn't spoil the rest of them," he said. [1]
---
Home Page - Main Table of Contents - Back up a page - Back to Top
---

[COMMENTS BY DON B. -

[1] - How many does it take to spoil the whole lot - that is the question! And just how many rotten to the core apples are there in Peel police? Do they set the tune for the rest? Also, I do not know about you but I am sick of the police coming out with this same old tied cliché when ever the police do something wrong or kill someone's children for no good reason - what do they think, we are programmed to forgive them or loss interest automatically just by saying those words? ]