Scanned, recopied or Internet copy, if there are errors, please e-mail me with corrections:
---
---
Opening comments: More at the end.
Lots more to this story here.
---
Torstar Network - Feb. 18, 2009 - By


Court hears officer planned on returning 'bricks'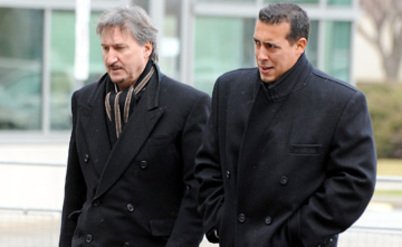 Const. Sheldon Cook. The trial of Peel Regional Police Const. Sheldon Cook (right),
seen here with his lawyer Pat Ducharme, continued today. Torstar photo
A Peel Police officer never explained in a series of calls or meetings what happened the night he is alleged to have stolen 15 bricks of suspected cocaine, another officer testified today.

Const. Sheldon Cook, 40, has pleaded not guilty to seven criminal offences, most in connection with a botched RCMP-controlled drug delivery on the night of Nov. 16, 2005.

Const. Warren Williams said Cook told him the next day that he discovered the bricks in the trunk of his cruiser and had taken them home. He was going to take them back to the morality squad the next day.

"Mistakes happen. Then they get corrected," said Williams, who was with Cook when he and other officers found what they believed to be 102 bricks of suspected cocaine hidden in boxes of mangoes in a courier delivery truck.

The drugs turned out to be white flour, part of an RCMP-controlled delivery from Peru to Canada that went missing 12 hours earlier after arriving at Pearson International Airport.

Cook's lawyer, Pat Ducharme, has suggested his client was surprised when he found the bricks in the trunk of his cruiser about four hours later in the early hours of Nov. 17. He suggested Cook's boss, Det. Marty Rykhoff, told him to take it home and secure it and that he would pick it up the next day but he didn't.

Williams denied ever seeing the bricks in Cook's cruiser, only that Cook told him the bricks were at his Cambridge home.
"He was going to take it back to Morality," Williams said. "I believed him. I didn't ask him any questions. I wished I had."
Two days later, Cook was arrested.

RCMP investigators used a GPS signal hidden among the missing fake drugs to find them in a compartment in a Sea-Doo in a garage at Cook's home.
A search warrant also uncovered marijuana and several MP3 players allegedly taken from an unrelated investigation.

Federal prosecutors David Rowcliffe and Ania Weiler say Cook, a 14-year veteran, took the drugs, which he believed were real, during his involvement as part of Rykhoff's crew probing the drug seizure.

Williams had several conversations in person and over the phone with Cook in the days following the officer's arrest.
He was concerned when Cook was arrested. He "reached out" to him to find out what happened.
"I would have gone to investigators...but he never told me anything," Williams said.

Williams has been on the stand for three days in this continuing judge-alone Brampton trial before Justice Casey Hill.

He has denied most of Ducharme's suggestions, including that he and Rykhoff let Cook take the fall for not returning the suspected cocaine.
Williams couldn't recall specific details about various conversations with Cook that Ducharme suggested he had, about his arrest, charges and status of the investigation.

Court heard through Ducharme's cross examination of Williams that Cook never took fake drugs back because he had court the next day and became involved in an arson investigation until the early hours of Nov. 18, the day he was arrested.

Ducharme suggested Rykhoff removed one of the boxes and placed it in Cook's unmarked cruiser without his knowledge.

The boxes were initially removed from the courier truck and placed in a police van because officers thought wires found in the boxes might indicate a bomb.

Court heard Rykhoff, who has denied any involvement in the missing suspected drugs, went to Halifax with friends for a college football game, faking illness and phoning in sick the next day.
He was subsequently convicted of Police Act offences, docked five days pay and suspended until mid-January 2006.

Cook is charged with attempt to possess a controlled substance for the purpose of trafficking, possession of marijuana for the purpose of trafficking, possession of stolen property (MP3 players) from a police investigation and breach of trust as a police officer. He remains suspended with pay.

The RCMP wasn't on the scene when Peel Police found the dummy drugs. They had no idea their shipment had been picked up from Pearson earlier.
A courier driver became suspicious and drove to a Peel community police station on Lakeshore Rd. in Mississauga where officers, including Cook, later found the hidden cargo.

The trial continues.
---
Home Page - Main Table of Contents - Back up a page - Back to Top
---
[COMMENTS BY DON B. - ]