Scanned, recopied or Internet copy, if there are errors, please e-mail me with corrections:
---
---

Opening comments: More at the end.

A good summary (from the Courts point of view) of how bad - bad apples in Peel police are - surprising if you list them out and the civil case is still going on - we are all still paying!

Lots more to this story here.

---
Torstar News Service - June 23, 2010 - By

Peel officer found guilty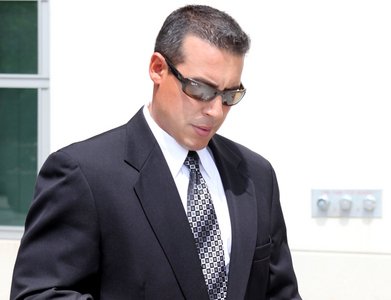 Sheldon Cook. Const. Sheldon Cook, 42, was found guilty of unlawful attempt to possess an illegal substance for the purpose of trafficking,
three counts of breach of trust, theft and unlawful possession of stolen property, and possession of marijuana. Torstar Network
A Peel police officer has been found guilty of seven criminal charges including some related to the disappearance of fake cocaine that was being used in an RCMP drug sting.

Const. Sheldon Cook, 42, remains on bail ahead of a sentencing hearing set for Aug. 10 in Brampton.

Cook was found guilty of unlawful attempt to possess an illegal substance for the purpose of trafficking, three counts of breach of trust, theft and unlawful possession of stolen property, and possession of marijuana.

In a 141-page judgment released Wednesday, Justice Casey Hill also criticized two of Cook's superiors for their roles on and in the days after the night of Nov. 16, 2005 and during the lengthy trial.

Neither Det. Marty Rykhoff nor Const. Warren Williams was charged criminally in connection with Cook's trial, but both were disciplined under the Police Act. The Peel police internal affairs unit is still considering whether other discipline is necessary. Cook had pleaded not guilty in the judge-alone trial that started in November 2008.

He maintained he knew the bricks of cocaine were fake, and that he had been ordered by superiors to take them to his house. Cook denied any wrongdoing when he took the stand last August, insisting he would have never risked his career and home, or jeopardized the lives of his wife and two children to suddenly turn into a drug trafficker.

But Hill said Cook's testimony was "scripted and rehearsed," and concluded that the lure of a big score was too much to turn down.
"The temptation of a million dollars of suspected and untraceable cocaine can ruin an unblemished reputation and be too much to resist for one person," Hill said.

Cook was in unlawful possession of what he believed to be suspected cocaine although it was white flour, Hill said.

In the drug sting known as Project O'Caper, the Mounties arranged for the purchase of 147 bricks of cocaine in Peru and replaced it with white flour. When the fake shipment reached the Lima airport, one brick was missing and 11 others had been replaced with concrete powder. The project went completely off the rails when the fake cocaine shipment, now hidden inside 88 boxes of mangoes, arrived at Pearson International Airport on Nov. 16, 2005.

When the legitimate courier driver received a mysterious phone call ordering him to drive the shipment to a deserted trucking yard, he panicked and went to Peel police.

Hill believed Cook and others thought the cocaine taken that night was real even though it was actually white flour and part of a controlled shipment from Peru that was supposed to lead RCMP investigators to a Canadian connection.

The 15 bricks later found by a GPS tracking device inside a personal watercraft in Cook's garage were part of the 44 packages that mysteriously vanished after Peel took control of the suspected drugs. Another eight ripped-open bricks were also found in a dumpster. The rest have never been located.
In his judgment, Hill described Rykhoff as an "unimpressive witness" who lied during his testimony, noting the Crown later believed he was involved with Cook in "skimming" a number of bricks of suspected cocaine from "the bad guys' load."

Hill said Williams also misled the court and investigating officers but felt he was driven by a "dangerous and warped code" of behaviour to not tell on fellow officers.

He didn't believe Williams was involved in the conspiracy to steal any of the packages of suspected cocaine. Hill found no evidence to conclude Williams and Rykhoff colluded to tailor their evidence to frame Cook, as defence lawyer Patrick Ducharme maintained.

Crown prosecutors David Rowcliffe and Anya Weiler maintained Cook, after realizing the drugs were fake, didn't have time to get rid of the bricks before RCMP officers in bulletproof vests raided his home. But they said Cook must have had a clever co-conspirator, namely Rykhoff and perhaps even Williams.

During the raid on Cook's house, the Mounties also found a small quantity of marijuana hidden in a box on the top of a storage shelf. They also found 21 MP3 players, which they believed were stolen from an unrelated Peel police investigation. Cook insisted the MP3 players belonged to his brother, who bought them at a Brampton flea market to be used as gifts for his real estate clients.

Cook also insisted the marijuana belonged to a tenant, who rented a condo from his brother. The drug was found in a box being temporarily stored in his garage.

As a result of Cook's arrest, the federal justice department decided not to prosecute at least six drug cases involving Cook as the arresting officer. A month after he was charged, a Peel judge acquitted former Toronto Argonaut Orlando Bowen of drug charges and assaulting police. The charges were laid by Cook and another officer. Bowen alleged at his trial that Cook planted a small amount of cocaine on him during his arrest.

A $14 million lawsuit filed by Bowen against Peel police and several officers, including Cook, is still pending.
---
Home Page - Main Table of Contents - Back up a page - Back to Top
---
[COMMENTS BY DON B. - ]