Scanned, recopied or Internet copy, if there are errors, please e-mail me with corrections:
---
Opening comments: More at the end.

I was going to look into this matter myself as never see any reports as to how many cases they handle in a year and what the results were.

This is just another case of taxpayers being shafted by the police and law enforcement in general. Those who would claim they are there to protect Canadians are really just laughing all the way to the bank while actually endangering our lives by way of their lack of action.

Accountability for police in the post 9/11 age of fear mongering - NEVER.
---
---
Toronto Star - June 8, 2007 - By Rob Ferguson - Queen's Park Bureau
Police watchdog faces probe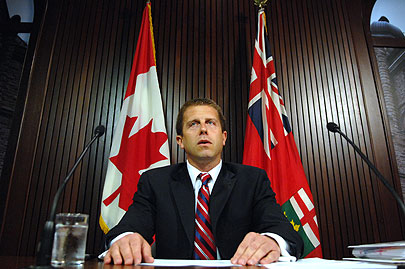 CARLOS OSORIO/TORONTO STAR
Provincial Ombudsman André Marin announces a probe of the Special Investigations Unit yesterday,
citing eight cases he said are "compelling enough to warrant a field investigation."
Ontario Ombudsman André Marin has launched a probe into the province's Special Investigations Unit over its handling of cases in which civilians are killed or seriously injured in incidents involving police.
Marin said yesterday that he was launching the probe after receiving 20 complaints about the SIU since the beginning of last year.
Eight cases are "compelling enough to warrant a field investigation," Marin told a news conference where he invited others concerned about SIU investigations of police since 2003 to contact his office.
He declined to name the cases, but lawyers for complainants later identified three:
The 2004 killing of Jeffrey Reodica, a teenager fatally shot three times in the back by an undercover police officer on May 21, 2004, following 911 calls reporting a fight between white and Filipino youths near Bellamy Rd. and Lawrence Ave. E. Police said Reodica swung at them with a knife during a struggle, and the SIU concluded the officer acted in self-defence.
Reodica family lawyer Barry Swadron said he was pleased to hear Marin is asking questions.
"I tried in many ways to obtain information from the SIU ... but was stonewalled by the SIU at virtually every turn," he added, noting a coroner's inquest revealed "glaring deficiencies" in SIU procedures.
The death of Nicholas Vanderboom, 19, killed Oct. 2, 2005, when a speeding motorcycle that police had been seeking hit the car he was driving near Yonge St. and Finch Ave. The SIU cleared two Toronto police officers who had been looking for the motorcycle in relation to an earlier stabbing.
(The officers have now been charged with neglect of duty and discreditable conduct under the Police Act. Julian Falconer, the lawyer for Vanderboom's mother, Anne Jacot, said the charge is related to accusations the officers saw the motorcycle hit the car but turned away when they could have rendered aid at the scene. "The police are pursuing these officers more aggressively than the SIU," Falconer said yesterday. Toronto police spokesman Mark Pugash said the officers have a hearing on the charges next week.)The alleged beating of Hafeez Mohamed, arrested for drunk driving in Pickering on May 23, 2006, after a short pursuit by police.
Falconer told a news conference yesterday Mohamed is an alcoholic who had four times the legal limit of blood alcohol and was laid on the ground to be handcuffed when he was beaten by Durham Region police officers. The SIU report last August clearing police of wrongdoing said an eye injury did not appear to be serious at the time but it turned out to involve facial fractures, which Falconer said landed Mohamed in intensive care at St. Michael's Hospital for 42 days.
Mohamed told reporters he can't remember if he was resisting arrest. He still suffers headaches and dizziness from the injuries.
"That police officers would need to lay a beating on a man who is face down on the ground in that condition ... is appalling, disgusting and one of the saddest experiences I've ever had with the criminal justice system," Falconer said. "There's a potential reality that a pro-police culture has taken over the SIU."
So far this year, the SIU has looked into 104 cases, and laid three charges against police officers.
The SIU was set up in 1990 to probe deaths or serious injuries to civilians involving police, replacing a system in which police investigated those cases themselves, raising questions about impartiality.
"It's where the buck stops in police accountability," Marin said of the unit. He plans to report on his findings in November.
Marin, who was SIU director for two years ending in 1998, said there has been a "troubling increase" in complaints about it in the last few years. "The allegation is the SIU is not doing its job properly."
"The issues ... involve the competence in the investigation, the fact that there are some forensic tests which were not conducted and ought to have been conducted, evidence that should have been preserved was not preserved, issues involving the impartiality and objectivity and thoroughness of the investigation."
The SIU hailed itself yesterday as "a world leader in civilian oversight of police" and promised to co-operate in Marin's investigation.
"I have confidence in the professionalism of the men and women of this unit and that the ombudsman will conduct an impartial and professional investigation," director James Cornish, a lawyer and former prosecutor, said in a statement.
The unit has 70 staff, 54 involved with investigations.
Half the investigators are former police officers while the other half come from civilian investigative backgrounds.
They have an average of 26 years' experience each.
Marin said he will not reinvestigate questionable cases handled by the SIU, but review the unit's investigations to determine if they were conducted properly.
Recommendations could include "referring a case back to the SIU to conduct an investigation where things were missed," said Marin.
NDP justice critic Peter Kormos said Attorney General Michael Bryant must have known about complaints regarding the SIU and turned a "blind eye" to them.
"The last thing (Premier) Dalton McGuinty wanted was another scandal on his hands," said Kormos.
McGuinty said he welcomes the probe. "We'll do what we can in government. He can do some stuff outside that we can't and he'll come up with, I'm sure, some very substantive, reasonable recommendations and we look forward to moving on those," McGuinty told the Star's Kerry Gillespie.
Toronto police said it's "not appropriate" for the force to pass judgment on Marin's investigation.
"It's really a matter for the SIU to comment on," said Pugash.

---
Home Page - Main Table of Contents - Back up a page - Back to Top
---

[COMMENTS BY DON B. - ]