Scanned, recopied or Internet copy, if there are errors, please e-mail me with corrections:
---
Opening comments: More at the end.
---
---
Toronto Star - May 18, 2007 - by Christian Cotroneo, Staff Reporter - with files from Canadian press.

A victim of racial profiling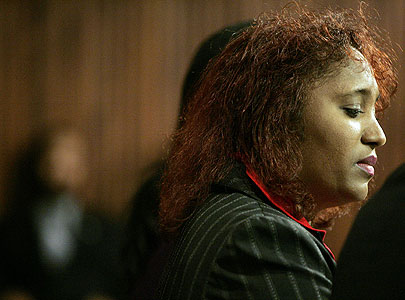 TARA WALTON / TORONTO STAR
Jacqueline Nassiah of Mississauga appears at a news conference on May 17, 2007
after winning a racial profiling case against Peel police at the Ontario Human Rights Commission.


When asked why she was wrongly accused of shoplifting a $10 bra, searched repeatedly, threatened with jail and subjected to an obscene racial taunt by a police officer, Jacqueline Nassiah could muster only one simple, sad reason.
"Because I am black," she said yesterday, after the Ontario Human Rights Commission determined a Peel police officer had racially profiled the single mother from Mississauga - intensely questioning her for several hours before releasing her without charge.
As a result, a tribunal has for the first time declared racial profiling contrary to the Ontario Human Rights Code and ordered Peel Region police to pay Nassiah $20,000.
It also ordered the force to make systemic changes, including training all officers in how to handle such investigations, developing a directive on racial profiling, and hiring an expert to advise the department.
"We welcome the decision," said Nassiah's lawyer, Davies Bagambiire. "We can view it as an advancement of the principles and values that we as Canadians espouse in this society, that we want our children to inherit. Namely, that no one should be presumed to be either guilty or engaged in conduct or behaviour contrary to law on the simple basis of the colour of their skin."
Flanked by her lawyer, pastor and sister-in-law, Nassiah wiped away tears as she described a life that will never be the same after a short shopping trip to the Dixie Outlet Mall in February 2003.
"With the outcome, I see that justice has been served and I'm glad for that," the 40-year-old woman said. "But the fear has changed my life. I'm not the same. I'm not the same."
Her complaint stems from an incident in 2003, as she was leaving a Sears outlet in the Mississauga mall. Store security staff stopped her, accusing her of stealing a bra.
Nassiah repeatedly denied the allegation, even volunteering to be searched by staff in the washroom. The officer ordered a second body search after the first failed to find anything.
According to the report from the Human Rights Tribunal of Ontario, police "conducted a discriminatory investigation."
The report cites several factors leading to its decision:
The arresting officer, Richard Elkington, assumed that because she was black, Nassiah might not speak English. He refused to look at all the evidence, including a security tape, "assuming that the white security guard was telling the truth."
"Officer Elkington was asked to conduct what in ordinary circumstances would have been a routine investigation," Bagambiire said yesterday. "He assumed, for no reason that makes sense certainly to anyone ... that because the subject of the investigation was a black woman, that she perhaps would not speak English."
Along the way, according to the tribunal decision, Elkington referred to Nassiah as a "f---ing foreigner" and threatened her with jail time if the bra was not produced. Ultimately, Nassiah was released for lack of evidence.
Elkington has since transferred to the Sudbury police department. It's not clear whether he ever faced an internal disciplinary hearing in the case.
"We will be conducting a review of the decision and will comment at the conclusion of that review," said Const. Samantha Nulle of Peel police.
Although Nassiah has received no apology from Peel police or Sears, her case sends a potent message to police services across the country.
"The Ontario Human Rights Tribunal obviously takes this very seriously and orders a number of systemic remedies that will be enforced systemwide at Peel," commission lawyer Raj Dhir said yesterday.
Although the commission has already developed detailed policy on handling racial profiling, this is the first test of that policy as it relates to how police conduct an investigation.
There are at least seven racial profiling cases before the tribunal and several others in the investigative stage, said Dhir. Two involve Peel Region officers, while the others involve police forces from across the province.
---
Home Page - Main Table of Contents - Back up a page - Back to Top
---
[COMMENTS BY DON B. - ]