Scanned, recopied or Internet copy, if there are errors, please e-mail me with corrections:
---

Opening comments: More at the end.

It comes as no surprise to me to hear that Peel police would be considering Appealing a Human Rights ruling that would interfere with the police's right to terrorize or bust the heads of all those they feel are getting uppity and don't know their places.
---
---
Toronto Star - May 19, 2007 - Bob Mitchell, Staff Reporter
Police may fight rights ruling
Peel eyes appeal of racial profiling case as officer's new force probes his hiring.

A victim of racial profiling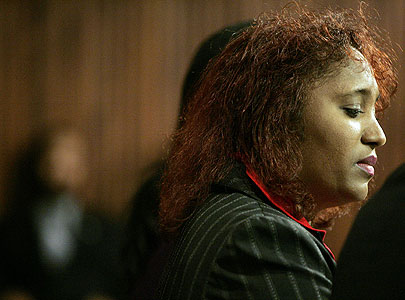 When asked why she was wrongly accused of shoplifting a $10 bra, searched repeatedly,
threatened with jail and subjected to an obscene racial taunt by a police officer,
Jacqueline Nassiah could muster only one simple, sad reason.


Peel police will be seeking legal advice on whether the force should appeal a human rights decision that a former officer used racial profiling in detaining and questioning a suspected female shoplifter.
A Ontario Human Rights Commission tribunal announced Thursday it had ordered Peel police to pay $20,000 in damages to Jacqueline Nassiah, who is black.
It's believed to be the first time the tribunal has ever ruled a person was wronged through racial profiling.
"I am very disappointed in the finding of the human rights tribunal regarding this incident," Peel Region police Chief Mike Metcalf said in a statement released yesterday. "Further, I will be seeking legal advice regarding an appeal."
Metcalf said his force has always sought to provide the highest level of service to all residents of Peel's diverse region.
"This commitment is demonstrated through the many long-standing programs that serve to maintain our excellent relationship with the public," Metcalf said in the statement.
The former Peel officer, Const. Richard Elkington, was hired by Sudbury police shortly after the 2003 incident. Informed of the ruling, Sudbury police Chief Ian Davidson said yesterday he was shocked by the behaviour detailed by the commission tribunal: "This comes as a surprise," he said.
He said his force is now investigating Elkington's hiring and will consult with Peel police.
Nassiah claimed she was detained, questioned for several hours, and subjected to racial taunts solely because of her race.
The single mother from Mississauga was stopped by a security officer on Feb. 18, 2003, when she was leaving a Sears outlet store at the Dixie Outlet Mall and accused of shoplifting a $10 bra.
The tribunal found Elkington assumed Nassiah didn't speak English, ignored videotape evidence exonerating her, assumed the white security officer was telling the truth, and called for a second body search when he didn't find the allegedly stolen item. She was released without being charged.
The human rights tribunal ordered Peel police to make systematic changes, including training all officers in how to handle such investigations, developing a directive on racial profiling and hiring experts to advise the department.
Peel Chief Metcalf said his force's diversity-relations unit already educates and trains its officers on diversity issues.
"Peel Police respects and abides by the provisions of the Ontario Human Rights Code and is committed to preventing racism of any kind in policing," Metcalf said in his statement.
Nassiah's lawyer, Davies Bagambiire, sounded incredulous when he heard that Peel police may request a judicial review of the tribunal decision.
"They are not apologizing?" he asked over the phone from Ottawa yesterday.
"That would have been the responsible thing to do. They should not wait for an order of the tribunal to directly apologize. They should do that as good citizens of society -- as people that are entrusted with the most responsible position in society."
"I'm confident a court of law would not lightly change the finding of facts in these kinds of matters."
---
Home Page - Main Table of Contents - Back up a page - Back to Top
---
[COMMENTS BY DON B. - ]