Scanned, recopied or Internet copy, if there are errors, please e-mail me with corrections:
---
Opening comments: More at the end.
---
---
Toronto Star - Sept. 20, 2006 - By Bob Mitchell, Staff Reporter.

Police party video leads to claim

Camera caught loud, drunken bash

Officer parties said to be regular events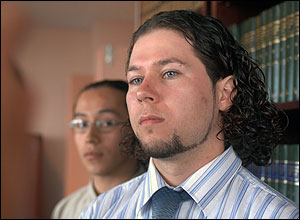 Orlando Canizalez, left, and Richard Cimpoesu
claim they were roughed up by off-duty police after refusing to give up their videotape of officers partying behind a strip mall.
COLIN MCCONNELL/TORONTO STAR
Two young men claim they were chased, threatened and assaulted by as many as 14 Peel Region police officers who tried to intimidate them into turning over a videotape they had shot of a rowdy post-shift beer bash, according to allegations made by their lawyer yesterday.
The Mississauga men, Richard Cimpoesu and Orlando Canizalez, suffered bruises and scrapes in the incident they say took place in the early hours of Aug. 28, behind a strip plaza near the 11 Division police station at Burnhamthorpe Rd. and Erin Mills Parkway.
No charges have been laid. [1] The Peel police internal affairs unit is probing the complaint but has refused to confirm any details about the incident, which may have been attended by as many as 20 officers, none in uniform.
On a video shown to reporters yesterday in the office of Mississauga criminal lawyer Bill Bain, some appeared intoxicated.
While much of the 10-minute footage — some shot from the roof of a nearby business overlooking the impromptu party site — is grainy and dark, participants can be heard yelling.
One person is heard shouting, "Hey, Sarge," while others shout, "Don't ever get transferred, ever."
The party took place near a local townhouse complex.
"Having an end-of-shift party is not the worst thing; it's not the crime of the century," Bain said.
"The problem is what occurred after these officers discovered these young men were filming them," the lawyer said. One of the men says he threw the camera into bushes while fleeing, where it lay undiscovered until they recovered it the next day, Bain said.
Cimpoesu, 24, and Canizalez, 21, who were interviewed late yesterday by the officer conducting the probe, met earlier with the media on condition they didn't have to answer questions about their allegations.
Photos viewed by the Star that Bain said were taken the day after the incident show a large welt on Canizalez's right side near his kidney, as well as marks by his ribs and under his right ear.
Bain claims the pictures show that the two were struck in the head and about the body a number of times. "They wouldn't give up the video and wouldn't identify themselves at first," Bain said. "At some point they were released with warnings. I can't say what these threats were, but they were significant enough to cause my clients concern and have fear of the police."
Peel Police Chief Mike Metcalf said his force is taking the allegations very seriously.
"If there is any evidence of any wrongdoing and charges are warranted, they will be laid," he said last night. "I've said from the first day that I became police chief that this would be a transparent organization.
"Our officers need to be accountable for their actions. How can you not take these allegations absolutely very seriously."
Metcalf didn't know how long the investigation would take.
"But if the number of people that are supposed to be involved are actually involved then our investigation of the matter is going to take some time," Metcalf said "But it's got to be done up properly."
In recounting the incident, Bain said the officers identified themselves as police to the two men, who were chased a "fair distance" in separate directions, one by five or six officers, the other by seven or eight. He wouldn't say how the injuries occurred — whether by being tackled to the ground or kicked.
Both young men said they've had a difficult time sleeping since then and are now extremely frightened of the police.
"I'm upset ... You don't expect these things to happen," said Cimpoesu, a contractor and former St. Joseph Secondary School student. "You don't expect the people who protect you to come after you.
"I'm scared. I can't even walk down the street without looking to see if police are after me.
"Anybody would be scared if they had 15 people in front of your face, especially if you know they're police officers and they're trying to intimidate you."
Canizalez said he now finds himself looking over his shoulder a lot while out in public. "My family wants me to see a doctor to get some sleeping pills," said the unemployed former Erindale Secondary School student. "No words can really describe this."
Canizalez said he didn't want to paint the entire Peel police force with the same brush. "There are only a few bad apples," he said, "not the whole force ... just some individuals."
Bain suggested the officers' response may constitute several criminal acts: assault, robbery and uttering threats.
"My clients were never charged, so there's no reason for them to make accusations against the officers," Bain said. "They eventually caught both of these young men, questioned them at length about the camera and roughed them up a bit and then let them go."
Bain said the young men decided to tape the party because of complaints from area residents about the noise. He said the parties had been going for a few years, once or twice a week.
"They thought they needed some evidence before they complained to police about the noise, and that's why they went out that night and decided to videotape it. They didn't think anything would be done unless they had some kind of evidence to show police."
Bain said he believes 10 to 14 officers, male and female, were involved, if not directly, then by yelling encouragement. "Police and criminal lawyers, everybody in the system, knows police often blow off a little steam with these end-of-shift parties that are usually held in places where nobody is going to be bothered," Bain said.
"But now it's the duty of the police to restore confidence to both of my clients and to the citizens that the force will take care of the rogue elements."
Bain said photos later taken in daylight show the scene littered with dozens of beer caps, beer and pop bottles, and coolers.
---
Home Page - Main Table of Contents - Back up a page - Back to Top
---

[COMMENTS BY DON B. -

[1] - Yes when it involves a fellow Peel police officer they take their sweet - long - time in laying charges, hoping we will forget the whole thing as time goes by. ]