Scanned, recopied or Internet copy, if there are errors, please e-mail me with corrections:
---
Opening comments: More at the end.


To the main Judicial Inquiry page - to the Hazel McCallion page.

Comments by others to this web-page - 7 - to this web-page at time of posting;
---
Globe and Mail - Jul. 4, 2010 - By Ann Hui

Mississauga judicial inquiry costs jump to $5-million
Probe looking into alleged conflict of interest involving McCallion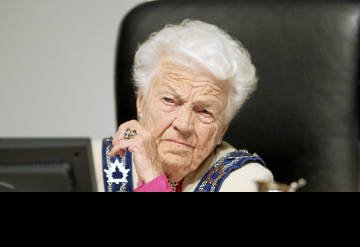 The Mississauga judicial inquiry tasked with investigating a number of controversial council decisions by Mayor Hazel McCallion is expected to cost up to $5-million, according to a city report.
The inquiry has already cost the City of Mississauga more than $2.3-million, an expense report from City Solicitor Mary Ellen Bench states, and city council is now being asked to approve an additional $2.5-million in funding. That decision will be made Wednesday.
"City Council had previously approved funding for the judicial inquiry based upon a preliminary budget estimate of up to $2.5 million," the report says. "Based on the costs incurred to the end of May, this figure has already been exceeded."
Legal expenses and other staff salaries have been two of the highest costs for the inquiry since hearings began in late May.
The probe, expected to run until mid-August, is looking into allegations of conflict of interest involving the mayor, after a failed land deal between her son Peter McCallion's company World Class Development, and OMERS, the municipal employee pension plan.
Ms. McCallion is accused of failing to declare a conflict of interest during a council meeting when the issue of re-zoning came up for that particular piece of land. She is also accused of violating conflict-of-interest rules by attending two private meetings about the deal.
Hearings were set to continue Monday, but were stalled after Ms. McCallion and her lawyer requested clarification on the term "conflict of interest." As a result, the inquiry will not hear evidence until commissioner Douglas Cunningham makes a ruling in response to her request.
---
Comments by others - 7 - to this web-page at time of posting;
---
miketurner7​9

7/5/2010 6:39:43 AM
She's a crook, give her the Conrad Black treatment
[Recommend This Comment]
3
[Disapprove This Comment]
9
Report Abuse

Darren in TO

7/5/2010 8:11:07 AM
For 5 million they could have started work on an actual transit system for this burg, and that is assuming its better than their current Mississauga Transit
[Recommend This Comment]
4
[Disapprove This Comment]
4
Report Abuse

Michael Manning

7/5/2010 9:34:57 AM
What's missing from this story is the role played by Carolyn Parrish, disgraced Liberal MP turfed by Chretien for lacking judgement.
Ms Parrish is the driving force behind this absurdity. Ms McCallion had announced her conflict of interest repeatedly in previous meetings. The failure to do so was a procedural oversight and nothing more. Ms Parrish, however, desperately wants to be mayor and figures if she can topple "Hurricane Hazel" she'll get her chance.
Hazel McCallion is hardly without her faults but the suggestion that she is somehow profiting from city business is absurd in the extreme.
[Recommend This Comment]
5
[Disapprove This Comment]
3
Report Abuse

pokey46

7/5/2010 10:06:51 AM
This is nothing compared to the 20 plus million for the MFP inquiry in Toronto!
[Recommend This Comment]
6
[Disapprove This Comment]
1
Report Abuse

Hwy1

7/5/2010 1:02:55 PM
The 5 million dollar cost is the real conflict of interest! Another government make work project.....eh?
[Recommend This Comment]
6
[Disapprove This Comment]
0
Report Abuse

skessels

7/5/2010 2:58:57 PM
If the complaint is found to be true, can't cost be recovered from those responsible? The inquiry is paying for the legal fees of the Mayor and his son.
[Recommend This Comment]
2
[Disapprove This Comment]
1
Report Abuse

Doggiez

7/5/2010 5:23:36 PM
Welcome to Canada, the land of "judicial inquires" where there are just two possible outcomes:
1) The inquiry costs MORE than the issue being inquired
2) No money is every repaid (Deschenes Commission, Investigation into Toronto's computer leasing scandal, and about 10,000 other examples).
These BS "judicial inquiries" are one holdover from the British legal system that we can do without, thank you very much!
[Recommend This Comment]
4
[Disapprove This Comment]
0
Report Abuse

Darren in TO

7/5/2010 10:53:33 PM
skessels
"his" who??
Do you even know which city this article is about?
[Recommend This Comment]
1
---
---
Home Page - Main Table of Contents - Back up a page - Back to Top
---
[COMMENTS BY DON B. - ]