Scanned, recopied or Internet copy, if there are errors, please e-mail me with corrections:
---
Opening comments: More at the end.


To the main Judicial Inquiry page - to the Hazel McCallion page.

Comments by others to this web-page - 5 - to this web-page at time of posting;
---
Globe and Mail - Jul. 8, 2010 - By Ann Hui

McCallion inquiry examines e-mails on land deal
Commissioner rules that the inquiry into Mississauga mayor's dealings should go ahead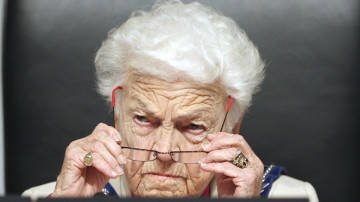 Mississauga Mayor Hazel McCallion.
Charla Jones/The Globe and Mail
The judge in the Mississauga judicial inquiry tasked with probing allegations of conflict of interest against Mayor Hazel McCallion looked at e-mails and handwritten notes that suggested she had at least one planned meeting with the sellers in a land deal involving her son, Peter McCallion, and his company, World Class Development.
"Meeting with Hazel is on Thursday (March 28) @ office @ OMERS," a handwritten note reads, scrawled on the corner of an OMERS – the seller in the land deal – memo.
Though the deal eventually fell through, Ms. McCallion is being accused of failing to declare a conflict of interest during one council meeting when the issue of zoning came up for that piece of land. She is also accused of violating rules by attending at least two private meetings about the deal.
Douglas Cunningham, the judge overseeing the inquiry, was also shown e-mails exchanged between the sellers – OMERS, the municipal employees pension plan, and Oxford Properties, a subsidiary of OMERS – which suggested concerns about the mayor.
"I don't trust the buyer, and there is no doubt they are using Hazel in this process," reads a December, 2008, e-mail from Michael Kitt, Oxford's executive vice-president, to Michael Nobrega, president of OMERS. "But it is difficult to tell her that, especially with her son involved."
Another e-mail, also from Mr. Kitt to Mr. Nobrega, reads, "The deal to sell the lands to 'WCD-Tony Dicicco' [one of the principals at World Class Development] will very likely lapse next week and Hazel will not be happy..."
Ms. McCallion, through a spokeswoman, declined to comment Thursday on any matters related to the inquiry.
The inquiry, expected to cost $5-million, began in May and will run until mid-August.
Ms. McCallion and her lawyer were dealt another blow Thursday morning, when Judge Cunningham announced he was rejecting a request by the pair to delay hearings until a further definition of the term "conflict of interest" was given.
He made his ruling in a pointed statement, saying conflict of interest is common sense, and there was no reason to stall the hearings.
Earlier this week, the mayor's lawyer, Elizabeth McIntyre, had asked that conflict of interest be limited in accordance with the existing Municipal Conflict of Interest Act, saying that to rule on anything else would be "changing the rules after the fact."
The act's guidelines for officials surrounding conflict of interest focus mainly on voting situations and council meetings, and when an official can and cannot participate in a vote. The act does not, however, deal with all situations in which an elected official might be able to use his or her powers to wield influence.
"When Mayor McCallion swore her oath or declaration of office yet again on Dec. 4, 2006, she agreed inter alia to '... truly, faithfully and impartially exercise this office...,'" Judge Cunningham said. "She did not simply say she would abide by the Municipal Conflict of Interest Act."
---
Comments by others - 5 - to this web-page at time of posting;
---

John Smith1

7/8/2010 7:46:02 PM
When she became mayor Mississauga was a sleepy suburb. Today it is a booming metropolis.
--------------------------------------------------
Either you have never been to Mississauga or you have never been to a booming metropolis, but thanks for the best laugh of the day.
Why do this? Because Hazel did not do her homework (her famous stupid saying) on conflict of interest to say nothing of betrayal of civic trust.
[Recommend This Comment]
11
[Disapprove This Comment]
4
Report Abuse

---
E.M

7/8/2010 6:40:21 PM
I just can't understand why people are beating up on this 80 year old woman. She has probably been one of the best mayors in all of Canada. When she became mayor Mississauga was a sleepy suburb. Today it is a booming metropolis.
____________________________________
Blame Parrish. That enormous liberal mutant who is always shooting her mouth off. Caroline Parrish has always been bad news.
[Recommend This Comment]
8
[Disapprove This Comment]
7
Report Abuse

---
Brian S.

7/8/2010 3:53:36 PM
Sorry Hazel - we only limit the scope of inquiries for former Conservative PM's.
[Recommend This Comment]
11
[Disapprove This Comment]
3
Report Abuse

---
JayDubya

7/8/2010 3:23:59 PM
Hazel just resign and pass on this inquiry and save Mississauga $millions that will in the end find nothing but won't exonerate you becasue there were some shanigans but they give you a pass on it.
[Recommend This Comment]
5
[Disapprove This Comment]
3
Report Abuse

---
KevinBrown2​009

7/8/2010 2:20:51 PM
I just can't understand why people are beating up on this 80 year old woman. She has probably been one of the best mayors in all of Canada. When she became mayor Mississauga was a sleepy suburb. Today it is a booming metropolis.
[Recommend This Comment]
7
[Disapprove This Comment]
15
---
---
Home Page - Main Table of Contents - Back up a page - Back to Top
---
[COMMENTS BY DON B. - ]